phile under: dance
Review: Mathern and Tran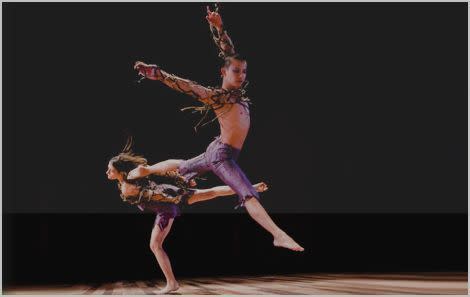 Like a pairing of a work by Sol Lewitt with one by Matthew Barney, a Mies van der Rohe building with one by Frank Gehry, John Cage with Richard Wagner, the White Bird program of two Portland-based dance companies, Tere Mathern Dance and Minh Tran & Company at the World Forestry Center is a study in contrasts. Mathern's work, "PIVOT," is the meeting of intellectual and physical exploration while Tran's "KISS" is narrative, emotional spectacle.
The two pieces are so different, in fact, that it's right that there is a palate cleanser between them. And "Twine," the piece Mathern and Tran perform together is a perfect bridge between the two. I'd not seen the two dance together before, but they have, and are so well matched it's a shame that they won't dance together again (Tran has said this is his last performance). In the dance's most riveting sequence Mathern and Tran symbiotically curl around one another, unwind and intertwine again, making, for some time, a single, shapeshifting form. They do not clutch or hold but wrap and unwrap as connected but independent figures.
Pivot is both the point around which something turns and the act of turning. Beginning slowly, moving like spokes of a wheel around a hub, Mathern's six dancers moved in trios and duos through rigorous sequences with dispassionate purpose that made for some extraordinarily beautiful contemporary dance. In unison and complimentary variation, the grounded dancers move into and out of lunge and turn with extension of arm and leg drawing invisible lines, creating angled forms. Mathern cleverly plays with juxtapositions of pace between groupings sharing the stage and creates moments of tension as a lean becomes a cantilever becomes a fall. In one remarkable sequence four dancers gather in a corner, execute a series of independent cross-floor movements in close quarters, then return to the corner, reset and scroll through the actions again as time pivots back and forth on the moment of now. The score by Tim DuRoche, performed live by viola, saxophone, electronics, and drums, is at times melodic, loose, swinging, and insistent.
The six dancers of PIVOT share the stage with a giant sculpture by David Eckard that inscribes a circle on the square of this "theater in the round." Four truss-like metal arms high overhead extend from a center hub to the edge of the dance space. From each is suspended (at varying heights) a length or three of canvas strap with a metal cage plumb bob suspended from it. Periodically, the dancers rotate the arms of the sculpture and/or slide the straps to the center or edge of the stage. Could the choreography have been more circumscribed by the sculpture than it was, its areas of operation more clearly delineated by the position of each pendulum? This might have strengthened the relationship between movement and sculpture.
Like the moment when one has finished shuffling a deck of cards together and 52 become one, it is not until the dancers of Minh Tran and Company strut onto the stage and strike poses in ripped t-shirts with words like "rice queen," "fem," and "top," that the many episodes of "KISS" cohere into the personal narrative/identity piece that it is.
Early on, Tran's capable dancers engage in duet after duet, scrolling through the many variations that a couple can enact: embrace, clutch, move in parallel, challenge one another. The Margretta Hansen and Suzanne Chi duet crackles with an erotic charge and angular power concluding with one blowing the other off lightly as one would a dandelion. Then there are episodes depicting isolation in ways that are at time benevolent—the blindfolded dancer is guided, prevented from leaving the stage by the rest of the company—at times ominous as when another dancer moves on the ground as the company circles him. Heather Perkins' score sustains a tension and forward momentum that prods and girds the choreography.
The end of the strike-a-pose episode, when the dancers take off first one slashed t-shirt then another down to skin, sums up the nature of the piece's tendency toward over-the-topness—e.g. colored strobe lights and a full-floor video projection of red satin sheets and skin—which culminates in Tran's final entrance in a remarkable leather cage corset and bent wire tutu…one flutter of his lovely outstretched arms and Tran is tellingly Odette. Presumably just at the moment that Tran is free, he dances his swan song.
Full disclosure: Composer Tim DuRoche is my partner.