phile under: art
Review: Julia Mangold at Elizabeth Leach Gallery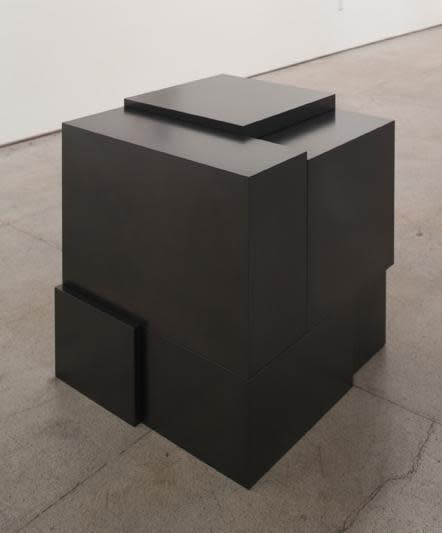 Julia Mangold's New Work at Elizabeth Leach Gallery is deeply rewarding. Julia Mangold's sculptures are monumental not in scale but in visual weight. Floor pieces hunkered down in groups of rectilinear volumes and wall pieces, (pairs and trios of staggered vertical slabs emerging from the wall) Mangold's sculptures are precise and authoritative with graphite-rubbed surfaces that seem both impenetrable and deep, betraying no mark of the artist's hand.
Her drawings use the same graphite to a completely different effect: a dark grey rectangle drawn on a sheet of vellum hangs over a black board from which another rectangle of similar size but slightly different location has been cut. Like the sculptures, the drawings are formally strong and poetically minimal, but when shown with their sculptural cousins, the unforgiving grey forms of the drawings become about light, transparency, openness. There is even a tiny sparkle in the graphite where the vellum is attached to the top of the board when the light hits it just so.
Born in Munich, Mangold has had solo shows throughout Europe and at at Rhona Hoffman (Chicago, IL), and Jim Kempner Fine Art (New York, NY). This is her first solo exhibition at Elizabeth Leach.
Mangold's show is complimented by a handful of Donald Judd prints hung in the second gallery as if to acknowledge this lineage. But like Mangold's floor sculptures that feel solitary and strong, Mangold's work holds its own against the weight of minimalism's history.
Julia Mangold, New Work is on view through May 1.