music
Album Review: Ashia Grzesik
Bison Rouge honors its title with earthy, crimson old-world tones.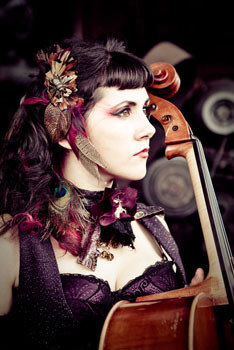 Cellist Ashia Grzesik may sing music from the old country, wear ruffled skirts and cook borscht, but she's no neo-bohemian gypsy-punk poser. Though she currently hangs her plumed hats in Portland, this sultry songstress hails from the old country—Wroclaw, Poland, to be exact.
Grzesik, a classically trained musician, has been very active in the local music and theater communities, playing in both the Portland Cello Project and Vagabond Opera, and winning a Drammy Award in 2010 for her cello score to Third Rail Rep's The Gray Sisters. This coming Friday the 25th, Grzesik is set to release a 5-song EP entitled Bison Rouge, a follow-up to her 2007 debut album Pay To Be Loved.
Listening to Bison Rouge, one can't help but hear a collage of influences. Grzesik can certainly give Joanna Newsome a run for her whimsy, she possesses the old-world charm and quirky dramatics of Regina Spector and the cello-punk instincts of Bonfire Madigan, and her voice vacillates between the throaty alto of Amanda Palmer and the ethereal soprano of Maria Callas. Simply put, she's got a little bit of everything.
The album starts off with a playful number, "Country Will Do Her Well," in which Grzesik's operatic voice shares the stage with her penchant for theatrical storytelling. "Rip Up your Stitch" is the one of the more accessible songs on the EP, with Grzesik going easy on her vocals to let the lyrics sleepily tumble out. The song "Broken Crowns" starts with a beautiful string arrangement, very much in the classical realm until her cello kicks into high gear. She sings the chorus, "Its a long way down, it's a long way down" climaxing in a cacophony of descending strings and a deep primal wail, (which is quite cathartic and pleasing to the ears, though I'm not sure that it's supposed to be).
On "Prosto Do Nieda", Grzesik sings in her native tongue, and the song seems to ooze with seduction. She could be singing about Pierogis for all I know—but something about foreign languages and cellos just sounds sexy. As the song moves toward its final conclusion, Grzesik spits out the lyrics dramatically, and though liner notes reveal that the piece is about her grandmother, I prefer to imagine her admonishing a lover (or perhaps a Pierogi).
Grzesik's last song, "Ode to Bison," swaggers and teases relentlessly. Her voice is cool and confident, as she casually states, "I'll get a blade to skin your heart, don't you worry about the pain." This track sounds like it belongs in a Broadway musical; in fact, I can clearly picture Roxie Hart slinking around her cellblock to this number, proclaiming, "You've got nowhere to go, you've got nowhere to run" in a mockingly saccharine tone. As for the other songs, It's easy to visualize any one of them being performed in some smoky nightclub in Eastern Europe, or the south side of Chicago (or perhaps a turn-of-the-century Victorian-era ballroom in Northeast Portland).
Though it's hard to resist comparing her to other artists or sticking her in a box neatly labeled with an obscure hip-sounding genre name (Steampunk freak-folk? Cabaret-core?), that wouldn't be fair. Good music sounds like other good music, and hence can seem so familiar that you can't imagine not having heard it before—but in truth, you haven't. Thus every fleeting moment of recognition that "Bison Rouge" reveals, further solidifies Grzesiks' mastery of craft.
Ashia Grzesik will play an all-ages EP release party on February 25 at The Secret Society with guest performers, including bellydancer Nagasita and members of Vagabond Opera and the Portland Cello Project. Take advantage of the online ticket presale that includes a copy of "Bison Rouge." For more upcoming arts events, visit PoMo's Arts & Entertainment Calendar, stream content with an RSS feed, or sign up for our weekly On The Town Newsletter!