music
Album Review: Loch Lomond
See also: The Band's Misadventures in Scotland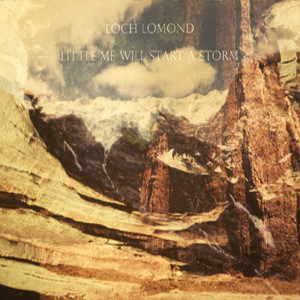 Portland indie pop outfit Loch Lomond has come a long way in the last 8 years. In its infancy, way back in 2003, Loch Lomond was a solo project started by singer and multi-instrumentalist Ritchie Young. Young put out the band's first record, When We Were Mountains, with the help of his friend Rob Oberdorfer who played drums and produced the album. For the next few years Young toured around the Pacific Northwest, sometimes playing solo, sometimes with various configurations of wayward musical souls joining him onstage. Loch Lomond blossomed into a fully formed cast of performers rotating in and out, both onstage and in the studio with Young at the helm. In that time the band put out a number of well-received albums and EP's on Hush Records. In 2008 they toured with local favorites The Decemberists, opening for them on a string of US dates. On Feburary 22, Loch Lomond released their highly anticipated new album Little Me Will Start A Storm, their first full-length album since 2007's Paper the Walls and the first release for their new label Tender Loving Empire.
Little Me Will Start a Storm is filled with songs that are perched firmly in the place where the (blissful) ignorance of youth intersects with the initial letdown of life and lost innocence. Most of the tracks on this album don't immediately grab you, especially the latter half of the record. They're growers that slowly plant themselves in your head and by the 5th listen you're ready for 5 more. Though all of the songs have the layered delicate instrumentation and lush sound quality that the band is known for, there are subtle stylistic differences. Some songs are accessible straightforward indie pop hum-alongs (of the Belle & Sebastian/Decemberists variety) while others fall into the sprightly chamber folk category where it's not hard to imagine wee birds fluttering out of the instruments and landing on your shoulder as the band plays on.
"Blue Lead Fence" leads off this collection of 9 songs with a hurried insistency. Young sounds mischievous as he delivers the lyrics that are the album's namesake; "It feels good to be young, little me will start a storm". The steady unrelenting rhythm evokes the image of a child, busy with his own gargantuan agenda, itself born from fantastical imagination.
The single "Elephants & Little Girls" starts in with a beautiful waltzy melody of layered strings and dainty bells. Young joins in, backed up by heavenly harmonies that turn into a rousing chorus as they sing the refrain, "Now we're having fun. Now we're living life" with a gusto that juxtaposes the fragility of the rest of the song.
"Blood Bank" is an indie charmer, and easily one of the best tracks on the album. Young reigns in his falsetto, delivering the lines with a world-weary gruffness to his voice. You can easily picture a bar room of British gents singing along as they wave their mugs back and forth to this ditty.
The melancholy closer "Alice Left with Stockings & Earrings" starts with a slow build of ambient sounds joined by a delicate string arrangement. Young sings in a high falsetto and then effortlessly switches to that plaintive gravely voice that was on full display in Blood Bank. His voice is so versatile it almost sounds as if he's playing different characters but to his credit, he shows restraint with his voice, always singing in a way that feels right for the song.
Loch Lomond's new album Little Me Will Start a Storm was released February 22 on local media arts collective/record label Tender Loving Empire. For more about Portland arts events, visit PoMo's Arts & Entertainment Calendar, stream content with an RSS feed, or sign up for our weekly On The Town Newsletter!