cirque du critique
Review: Dralion
Cirque du Soleil delivers a technical stunner, sans some of the brand's signature moods.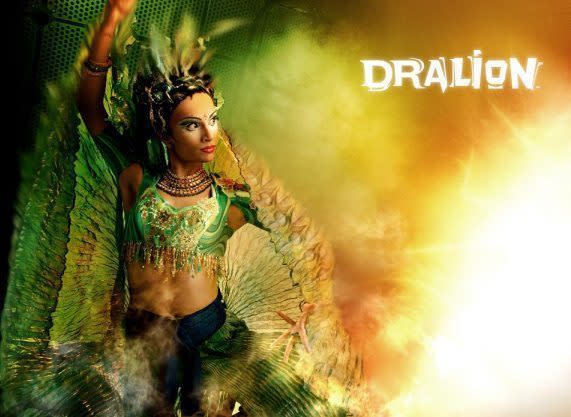 By now, it's common knowledge that Cirque du Soleil has a lot of tricks up its sleeve—from credulity-straining contortionism to death-defying trapeze leaps. But technique alone can't be credited for catapulting the company to worldwide acclaim. Cirque shows' best trick is creating a nuanced, well-paced show that covers the "palate" of human moods, in the same way that a well-spiced dish engages all 5 sectors of flavor.
Dralion is full of exhilaration, dazzling displays of skill, and lighthearted humor. Fluffy dragons waggle their shaggy bootys and potbellied clowns perform slapstick. Hordes of Asian acrobats balance on giant balls and attack jumpropes with fast-paced tumbling routines. A miniature flamenco-styled sprite spins frighteningly fast on a hoop above the crowd. Wow. Haha. Wow. Almost every number feels like a triumphant finale. If you've never seen Cirque's work before, you'll be bowled over by Dralion 's unbridled awesomeness.
But if you have, you might begin to feel a keen yearning for some emotional elements that seem, in this case, to have hit the cutting-room floor: those piquant hints of mystery and those dusky touches of ennui that we associate closely with the French aesthetic. The reverie of sparkling fireflies, the heartbreak of a slowly plummeting angel, the existentialist tension of a hobo clown slow-dancing with an empty trenchcoat and hat. Moments of hush and awe make the technical triumphs that much sweeter—but in Dralion, they're virtually absent. Some otherworldly pageantry has also been stripped away. Rather than fitting the whole cast with extravagant tailoring and elaborate headdresses, makeup, and masks, Dralion puts many of its performers in costumes that are literally no-frills: either one piece unitards or street style attire*. As a result, at times they look as much like a luge team or a crowd of ravers, as the denizens of another dimension. And without the company's old signature tent **, the Rose Garden arena's atmosphere presses in on all sides. Vendors troll the aisles in ball-caps, barking "Popcorn! Red vines! Ice cream!" as audience members munch on their wares, or mow down Subway sandwiches. There's nothing explicitly wrong with any of these creative compromises, except that put together, they leave the audience harder to hypnotize.
What remains is a showcase of skill from some of the best acrobats, aerialists, and musicians in the world—so you really can't complain. But longstanding fans may rightly pine for moments from other shows, when deeper emotion and suspense made the tricks seem slightly more magical.
Some of the costumes from last night's performance were completely different from what's shown on promotional material—most notably, the skipping rope costumes. Maybe a tragic tale of lost airport luggage, or a dry-cleaning disaster?
*Cirque du Soleil's original tent has reportedly been scrapped and recycled into branded canvas messenger bags.


For more about Portland arts events, visit PoMo's Arts & Entertainment Calendar, stream content with an RSS feed, or sign up for our weekly On The Town Newsletter!