sweets in stockings
OBT's Holiday Revue: Assorted Delights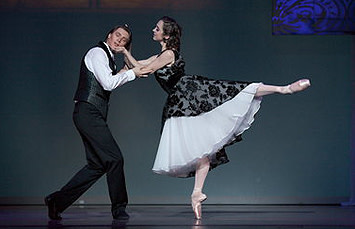 Every year, Oregon Ballet Theatre serves up its delectable Balanchine* version of The Nutcracker, attracting droves of all-ages devotees. But Holiday Revue is the company's way of catering to the cocktail crowd, rolling out a grand piano so Broadway grande dame Susannah Mars can toast all the holiday standards, as well as rarer, cheekier selections like the shopper-scolding "Twelve Days 'Til Christmas" and the 60's society housewife sendup "Lime Jello Marshmallow Cottage Cheese Surprise." Like Mars' past holiday revues, the production is witty, sentimental, and in a word, "nice." Here are some memorable features:
Pretty in Purple
Defying the holiday color-scheme cliché, there's nary a wisp of red-and-green on stage or dancers. Instead, bold patterns like classic damask and houndstooth are rendered in a purple, black, white, and silver palette.
Dancers Get a Voice
Ballerinas chime in with light "la's while dancing on "Holiday Lament," and later—look out, Dean Martin—Brett Bauer takes the role of seducer opposite Mars in beloved winter duet "Baby It's Cold Outside." And dancers collaboratively penned the lyrics to "8 Days of Chanukah." Usually seen and not heard, OBT's dancers get a rare new way to shine.
Equal-opportunity Holiday Fare
Susannah Mars honors her own half-Jewish half-Christian heritage with her diverse song selection, and OBT proves similarly versatile, infusing straight-from-the-shtetl folk steps between ballet moves. "8 Days of Chanukah" retrofits "The Twelve Days of Christmas" with irreverent Jewish tropes like, "Five moyles moyling! Oy!" while a rendition of Fiddler on The Roof ballad "Far From The Home I Love" balances out the Christmas cheer with its wistful melancholy.
Three cheers for the little guy!
Javier Ubell uses his small frame to great advantage, despite being mostly relegated to solos between pairs of dancers. By closing bows, the puckish newcomer earns the loudest cheers.
Familiar Flourishes
A couple of elements echo last season's Stravinsky Project, longtime OBT dancer Anne Mueller's choreography debut. Tiered curtains, ambiently lit, gracefully frame the stage's wings, extending the atmosphere while containing the action. It's a nice contrast to starker sets from last season. A relatively rare lift that flips dancers completely upside down, also reappears here. (Have Mueller's new moves turned OBT on its head?)
The wrap-up
Contrary to its Adults' Table aspirations, Revue is arguably milder than Nutcracker, and might be ideal for verbally precocious or swordplay-sensitive children, or fine for a lighthearted grandparents' date.
*FYI: In the ballet world, the right to perform George Balanchine's choreography is actually fiercely guarded and rarely granted. Approach even this candycane romp with due reverence.
For more about Portland arts events, visit PoMo's Arts & Entertainment Calendar, stream content with an RSS feed, or sign up for our weekly On The Town Newsletter!