Dancing Queen
Review: Gossip's "A Joyful Noise"
Album out today and record release concert streaming live at 6:45pm!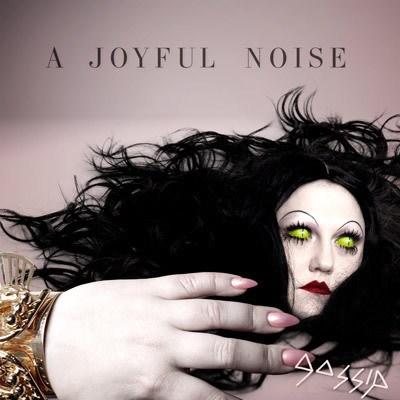 Today, Portland band Gossip (formerly "The" Gossip) releases its fifth studio album, A Joyful Noise, on Columbia Records. To celebrate, the band is streaming their record release concert tonight live from NYC's Terminal 5 beginning at 6:45pm. As if that's not enough for the Portland powerhouse, they'll also be on the Late Show with David Letterman tonight.
Since its formation in 1999, Gossip has evolved from riot grrl roots to bluesy garage punk to recent forays into electro-pop on 2009's Music for Men, but along the way it has never failed to incite your body to move, whether a simple bop or all out dance. With the new album, the urge is still there, but Beth Ditto's fierce vocals, drummer Hannah Billie's thrashing beats, and guitarist Brace Paine's ragged riffs have been replaced by the kind of glistening post-disco pop music that Madonna would be proud to call her own. The sweat, lust, betrayal, and blustery abandon of the earlier albums are absent, and it's difficult to hear exactly what Billie and Paine's contributions are due, to the pro-toolification of A Joyful Noise. It sounds like Ditto's solo debut as a disco diva. However, it's important to remember that since Gossip's start 12 years ago, it's had a battle cry that simply proclaims: "… Our mission is to make you dance, and if you're not gonna dance, just stay at home and listen to the oldies station." Though A Joyful Noise is all nightclub glamour in place of basement punk grit, the band unequivocally stays true to this mission statement.
Beth Ditto has slowly risen to feminist-icon status because of her fierce, unapologetic persona, which is in full force here. In the very first lines of opening track "Melody Emergency," you get the feeling that Ditto is preempting the inevitable backlash by impassively purring "You got a head on your shoulders/ You got a bone on your back/ So you're not a rock and roller/ And there is nothing wrong with that." There's no ambiguity with this album: it's pure dance pop, made glaringly obvious on the polished synth, steady beats, and dramatic chorus of lead single "Perfect World. "Get A Job" features a bitter-sounding Ditto chiding spoiled rich girls, and begins with an awkward pseudo-rap that's only slightly less uncomfortable than Liz Phair rapping on her last album. "Move in the Right Direction" is the album's standout track: It's a self-affirming, club-thumping disco anthem that could easily be mistaken for a Cher song (See the new video for "Move in the Right Direction" below). "Casualties Of War" starts off with a cool beat and a plucky bass riff, as Ditto's wispy croons swell into a sugary chorus. Ditto has stated that she listened to nothing but ABBA for a whole year before making this record, and their influence is most prominent here, as well as on the down-tempo breeziness of "Into the Wild." The album hits a lull after this, offering up a few uninspired filler tracks. It recovers near the end with the electro-funk of "Horns" and the disparate "I Won't Play," where an indignant Ditto spews contempt at a former flame. It's the only song on the album that recalls the brasher vibe of past albums.
Music critics will likely turn up their noses at this album, flagging it as proof of a band trying to jump ship on their designated genre for the glittery pastures of the Top 40. Longtime fans might declare this a sell out. Considering Ditto's iconoclastic nature, though, my guess is that she doesn't care. After all, this band never succumbed to the posturing and self-seriousness that some of their contemporaries in the punk and indie scenes chose to embrace. Gossip just promised to make you dance. Although they've defected from the indie/punk rock ranks to make a record that sounds half a world away from their start 13 years ago in Olympia, they still make good on their promise—this album will make you dance.

Check out the brand new video for "Move in the Right Direction" below, or stream A Joyful Noise at gossipyouth.com.
For more about Portland arts, visit PoMo's Arts & Entertainment Calendar, stream content with an RSS feed, sign up for our weekly On The Town Newsletter, or follow us on Twitter @PoMoArt!