Review
Joy to the Pearl
With first-rate pasta and rustic pizza, Bella Gioia succeeds in its quest for authenticity.
Our lives are lousy with decisions. Every road, a fork. Every turn, another series of choices waiting to be explored. Debit or credit? Paper or plastic? Some fresh-cracked pepper with that?
After walking through the door of this sweeping trattoria in the heart of the Pearl District, I was faced with a new decision: ramp or stairs? Entering a restaurant should be fairly straightforward, yet there I stood, in the foyer of a onetime antiques showroom, wondering whether to climb the three short stairs that lead to the middle of the dining room or to travel the inclined catwalk to the bar. In the end, it didn't matter. Bella Gioia has no discernable host stand, nor, as far as I could tell, a designated host. It also has a bar that really isn't a bar, and an open kitchen that resembles a makeshift pantry.
What it does have is authenticity: an Italian restaurant owned and operated by Italians, with everything from the floor tiles (Siena) to the pizza tomatoes (Naples) to the wisecracking pizzaioli (Sicily and Puglia) shipped from the Old Country. This is co-owner Altea Marin's first go as a restaurateur; the Milan native and former fashion model brings with her four generations of family recipes, along with a two-ton Ambrogi wood-burning pizza oven.
Bella Gioia—Italian for "beautiful joy"—traffics in traditional, unvarnished trattoria fare: pasta, pizza, a few light appetizers. Not that low-maintenance cooking can't be sophisticated. Take the creamy burrata (a cousin of mozzarella, with an oozing milk center) served over arugula and ringed with cherry tomatoes and slices of prosciutto crudo. The cheese—imported from Italy—is slightly sweet and delicately textured, but more important, it's free from the blasts of oil and balsamic vinegar that many cooks often douse it with. Similar restraint is shown with the cozze alla pescatora appetizer, a bowl of steamed mussels plump-bellied with white wine and a subtle garlic reduction. Bright, simple, and not overly infused with spice.
Chef Emilio Barbero's (Turin) rustic handmade pastas enliven the two-page menu. He enriches thick pappardelle (prepared al dente, of course) with a slow-cooked wild-boar ragù . The house specialty, lasagna alla Bolognese, swaps boar for pork in its ragu, which is folded between eggy sheets of noodle, mozzarella, parmesan, and béchamel cream before being zapped in the oven. What emerges is gloriously firm and crunchy on the outside, gooey in the middle.
But the soul of Bella Gioia is its pizza—about a dozen vibrant hand-tossed pies rendered in the classic Neapolitan style: thin but not flimsy, rustic but not messy, each spun to include the perfect ratio of sauce to cheese to crust. Classics like the Napoli (tomato sauce, mozzarella, and anchovies) and the Diavola (with hot sopressata )—are so understated and spare that it's easy to write them off as matter-of-fact. Don't. Only a few places in Portland dish up the real thing; this is one of them.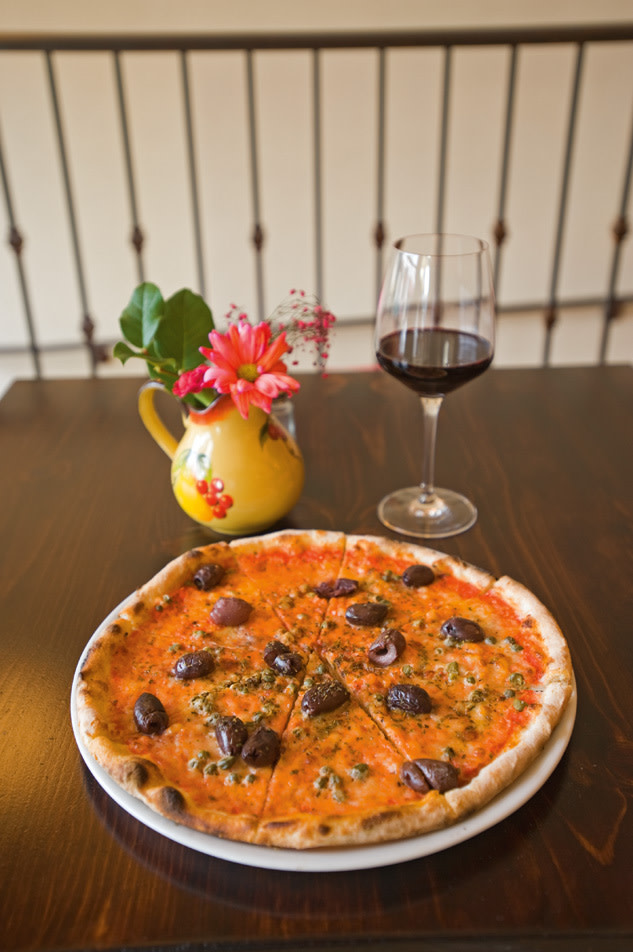 Still, at times the restaurant suffers an inconsistency that can feel maddening. On one visit, a fennel, apple, and gorgonzola salad came out glowing, the flavors crisp and distinct; a week later, the same dish emerged looking limp and haggard. The shaved fennel was missing, and the apples had been replaced with spotty, overripe pears. And at times, the staff seems less than familiar with the menu. When I asked my waiter what kind of beans were served in the maltagliati e fagioli (a peasant noodle soup) he replied, "They're sort of white," but promised to check with the kitchen. I'm still waiting for his answer. 
Despite the soft-hued filament lights, the earth-toned interior, and the warm wood and stone in every corner, the space makes you feel disconnected. Three thousand square feet is a lot of room to fill; it can make a person feel small.
At the end of the ramp, no one came to greet me. A pizza cook finally picked up a menu and we both started toward the dining room. When I looked at him for a clue to our final destination, he shrugged as if to say, "You tell me."
Another decision to be made.