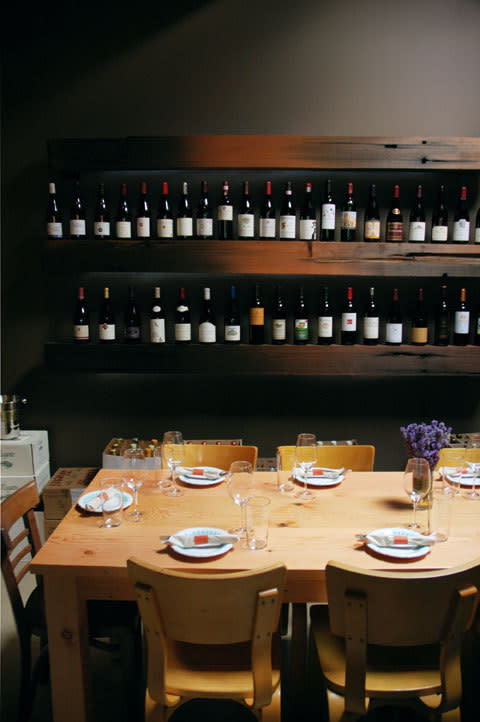 CALLING ALL DAWDLING diners and languorous drinkers: There are few estimable places in this town willing to welcome our kind with open arms. We take forever to order because we talk too much. We finally order a couple of Campari and sodas, then a bowl of olives, and then we put down the menu for a while and become ensconced in a discussion on the state of the economy. A half-hour later, we've finally worked up an appetite for chicken-liver pâté and pickled vegetables, and maybe a bottle of albariño. Later we're ready for something heftier, say a plate of sopresatta and bresaola, or a roast-pork panino to share, and then we see a friend pass by on the street and invite him to join us. And so we start all over again. In Europe they may like us, but here in America we're just a wrench in the move-'em-in-move-'em-out restaurant machine.
However, Bar Avignon—a new addition to the SE Division Street dining scene that was opened by Randy Goodman, formerly the wine director at Wildwood restaurant, and his wife, Nancy Hunt—wants nothing more than to cater to folks like us. It's meant to be a casual drinking and snacking establishment for all manner of diners—be they soloists perched at the bar, parties of four hunkered down in a leather booth, or a group of 10 gathered around a communal table in back. Without a doubt, this is a place that's meant for lingering—it has an impressive, affordable wine list that's 80 labels strong, and a food menu offering everything from charcuterie ($5 per cheese or meat selection) to chilled potato-leek soup ($5), or a warm panino of roasted tomato, pesto, onion, and ricotta salata ($9).
For those of you who don't typically tarry over a meal, beware: This is just the kind of food and ambience that could bring you over to our side. Permanently.