Cart Commentary
NY Times Frugal Traveler on Portland
Matt Gross finds the lifeblood of Frugal Portland.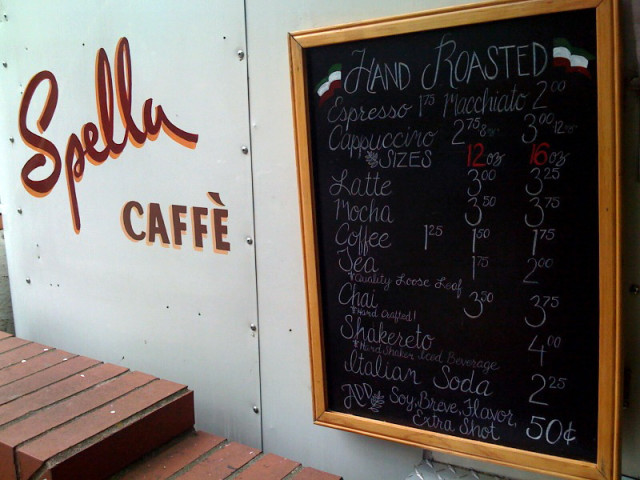 Matt Gross might have the best job in the world.
Better known as the author of the Frugal Traveler column and blog for the New York Times, the thirtysomething Brooklyn-based freelancer spends two weeks of every two months trotting the globe to eat, drink, and sleep cheaply for the collective economic good of budget travelers worldwide. In early April, Gross called Portland his temporary home for a fortnight, and the result is perhaps the most excellent 3,000-word guide to budget Portland I've seen in a national publication. Then again, maybe I'm biased. Gross and I share a friend in New York, and I (along with quite a few other journalists in town) had the opportunity to join him on his Portland adventure. He's a super-nice fellow with an iron metabolism (I'm guessing he downs six meals per day while researching) who loves to stop and take pictures.
Gross nails the lifeblood of Frugal Portland. He discovers free beer at a First Thursday event, edible-cute Scandinavian breakfast at Broder, ristretto-style espresso at Andrea Spella's eponymous coffee cart on SW Ninth and Alder, coffee-smith Billy Wilson's living museum to so-called third-wave coffee at Barista in the Pearl, and Willapa Bay oysters for a buck apiece at Ten 01's excellent happy hour. (Though slightly less excellent since the crispy Thai-style pork ribs disappeared from the menu in mid-March.) Gross even discovered rare locals-only delicacies not on the menu, such as Bunk's superb sausage, egg, and cheese breakfast sandwich with the addition of anchovies, a concoction created by Bunk employee Shawn Khoury that enjoys a small but rabid cult following of about ten people, including myself. Seriously, go order what Gross calls the "best breakfast sandwich ever."
What was most interesting about the piece was the space Gross gave to our burgeoning food-cart scene. Portland is now home to nearly 400 mobile kitchens, and new carts continue to open every month. From superb Bosnian pitas at Ziba's (next door to Spella), to poutine (that'd be Canada's greatest contribution to modern culture: a cocktail of French fries with pork gravy and cheese curds usually served slightly before or after last call) at Potato Champion, to the YouCanHasCheesburger, a coma-inducing number that sandwiches a half pound of ground beef between a pair of grilled Tillamook cheese sandwiches. That the excellent Brunch Box food cart sells this marvel of modern culinary tomfoolery for five bucks is worthy of a James Beard award.
Speaking of Beard awards, Portland didn't win any last Monday. What's more, in Travel & Leisure magazine's 2009 list of the top 50 new American restaurants, Portland had only one entry (Beast) to Seattle's seven. Does this mean we're losing our touch?
Hardly.
Better than any I've read, the Frugal Traveler article explains why Portland remains one of the country's most interesting and relevant food towns. We have great restaurants, sure, but, increasingly, some of Portland's most interesting fare is found in nontraditional places. In Portland, it's about the food, not the venue. Of course, we locals take for granted five-dollar Bosnian pitas and excellent espresso served from a trailer. That's why it's nice to have folks like the Frugal Traveler remind us all once in a while of how special these things are.
That said, what did Gross miss? Is Andrea Spella's espresso really the best in Portland? Is the Acropolis a worthy stopover for the budget traveler?