Review
Street Cred
Pok Pok owner Andy Ricker's latest venture breaks new ground in the heart of Old Town.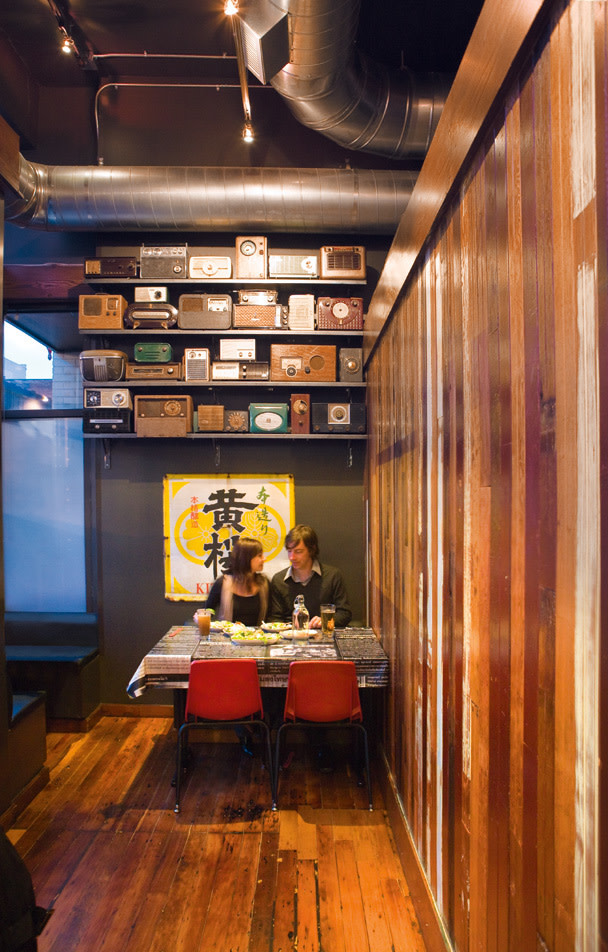 From my vantage point at a small corner table, I can only imagine that the name of Ping's premier gin cocktail, "Slow Monday'" is tongue-in-cheek. It's the first day of the workweek, and even as happy hour fades with the spring twilight, an assortment of diners—Pearl District businessmen, pipe-cleaner-skinny fashionistas, couples, families, perfectly unkempt twentysomethings—steadily stream in, talking and pushing tables together near the restaurant's large front windows.
Just beyond the opaque glass is the junction of NW Couch Street and Fourth Avenue, where denizens of the street wander past a backdrop of weathered storefronts. Open since February in the building that once housed dive bar Hung Far Low, Ping brings with it a whispered promise of neighborhood revitalization. Nevertheless, its unlikely milieu is one of the restaurant's charms: its Pan-Asian pub aesthetic seems right at home on this gritty corner in Chinatown.
Ping is the latest venture from Pok Pok mastermind Andy Ricker, along with co-owner Kurt Huffman and a supporting cast of Portland power players, including Wieden & Kennedy executive creative director John Jay and his wife, style consultant Janet Jay. The restaurant is both as cool and as unassumingly popular as you would expect from a place with such a pedigree. Like Pok Pok, which brought true Southeast Asian street food to Portland, Ping insists on authenticity in its beguiling menu options: brined and skewered chicken butt, chewy pieces of baby octopus marinated in lime and garlic, and eggs steeped in black tea, ginger, and anise. Wash it all down with a cloyingly sweet artichoke iced tea or a Japanese soda with a marble in the bottle neck. You won't find fusion here.
But unlike Pok Pok, Ping doesn't have standout dishes. (In other words, leave your expectations for Ike's famed fish sauce wings at the door.) What you'll find instead is an intriguing collection of novelties. The tapas-like menu encourages you to sample all the options. 
We decide on two skewers of quail eggs wrapped in bacon, Chiang Mai pork sausage, and a mystery called the Nonya carrot cake. "Great'" our waiter says, "let's start there." He leaves our menus. The order-as-you-go, try-a-little-of-this-and-a-little-of-that approach to dining is one of Ping's selling points. Plates arrive one by one as they're prepared. The procession of bite-size dishes invites you to settle in, order a drink, and briefly savor each smoky, sticky, crunchy arrival. Then, order another.
After the first round of food, it's easy to get into the rhythm. The small skewered quail eggs are mild and creamy against the hearty strips of bacon and tangy mayo dressing. Cilantro and lemongrass lighten thick slices of sausage. A blazing-hot dipping sauce accompanies sweet and succulent pork collar marinated in honey and black pepper. The so-called carrot cake turns out to be a revelation: compressed cakes of daikon radish—similar in texture to tofu—are stir-fried with eggs, bean sprouts, and a thick Indonesian sauce similar to soy sauce, but less salty, with deep caramel notes.
We order a second round: the steamed pork buns are pleasantly doughy with a sweet center of shredded pork, and the skewered quail halves are deep-fried to a crispy perfection that makes navigating the tangle of tiny bones worth the effort. Our ever-enthused waiter recommends taking bites of the ginger and whole-pepper garnish to cleanse the palate.
Besides such exotic and varied fare, what Ping dishes up best is an experience—from the do-it-yourself condiment combinations
(like black pepper, sea salt, and lime you mix together to pour over wild prawns) to the evocative shabby-chic décor. Here, laminated tablecloths look like Taiwanese newsprint, languid swaths of rice paper dangle over the bustling open kitchen, and vintage radios fill a wall of shelves. When we walk out into the night, it feels like we could be emerging from a back-alley supper club in some distant Asian metropolis; Chinatown's lacquered red gates loom just down the block.
The authentic experience is complete.