Foodie Festival
Indulge @ The Jupiter
East Side eateries unite for Ecotrust at the Jupiter Hotel.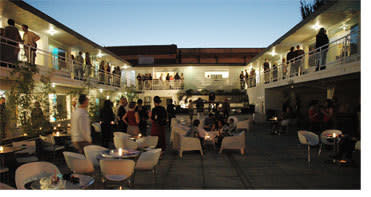 While Portland's East Side has long been home to art and music lovers alike, it has, more recently, hosted the rise of a fast-growing and thriving culinary scene. While restaurants, cafés, bakeries, distilleries, and wine bars line the streets of many Southeast neighborhoods, some of the most popular and innovative joints call the area known as lower East Burnside (not LoBu!) home.
In celebration of the success and popularity of these booming businesses and driven entrepreneurs, on September 24 the Jupiter Hotel is hosting the first ever East Side neighborhood festival in honor of its flourishing culinary arts scene. For $30 you can attend Indulge @ The Jupiter and sample foods, drinks, and pastries from the likes of Beaker & Flask, Bunk Sandwiches, Kir Wine Bar, Le Pigeon, Navarre, the Portland Wine Project, and many more.
All proceeds go toward Ecotrust's Farm to School program, supporting our local food economy and cultivating healthier kids and healthier lifestyles.
Ecotrust does a great deal of outstanding work in the Portland area, and this is a great excuse to support them. Plus, establishments such as Bunk, Beaker & Flask, and Le Pigeon rarely participate in festivals like this, so we predict that Indulge will be a big hit. We recommend buying tickets ASAP as they will undoubtedly be selling out.