PORTLAND PLATED
Whole Hog
Portland chefs carve out a regional style of charcuterie.
Call it by whatever effete moniker you choose, but when all a pig's skin has been flayed, its intestines mulched, and its blood reused, artisan charcuterie is a splendid example of how one culture's art can be born of another's necessity. The alchemy of transforming raw meat into pâtés, salami, and prosciutto by salting, curing, smoking, and preserving it evolved out of two needs: to keep meat from turning rancid and to find a use for every part of the animal—right down to the marrow. The Italians, for instance, grew inspired to create legendary, though rather bizarre, pâtés from disparate bits like lard, pork belly, and pigskin. And the Spaniards have the proud adage: "Every part of the pig is edible, except for the oink."
"Charcuterie and butchering go hand in hand," says chef Adam Sappington of Southern-inspired eatery the Country Cat, in the Montavilla neighborhood. As executive chef at Wildwood restaurant in 1998, Sappington was one of the first local chefs to purchase and use entire pigs. He says his goal at the time was to save cash, but the result was the first so-called "Whole Hog" program in the city. His early forays into charcuterie yielded Wildwood's tasty house-cured bacon and pancetta. Now he's making Italian-style prosciutto and country ham, the latter a uniquely American-style prosciutto that combines traditional salt-curing with flavors derived from the early American sugar trade: rum, molasses, and brown sugar. "The crux of local cuisine has been farm-direct produce," Sappington says. "We wanted ranch-direct meat, and so we learned to preserve the excess."
New to most Portland chefs (although Greg Higgins has been curing meats since 1972), making prosciutto is an uncomplicated affair: cover a pig leg in salt; rinse it after a week or two; and hang it in a cool, humid space for up to three years. Despite the simplicity of the process, every defect can be tasted if the pork is inferior. As Vitaly Paley of Paley's Place cautions, "The flavor depends on where [the pig] came from and what it ate."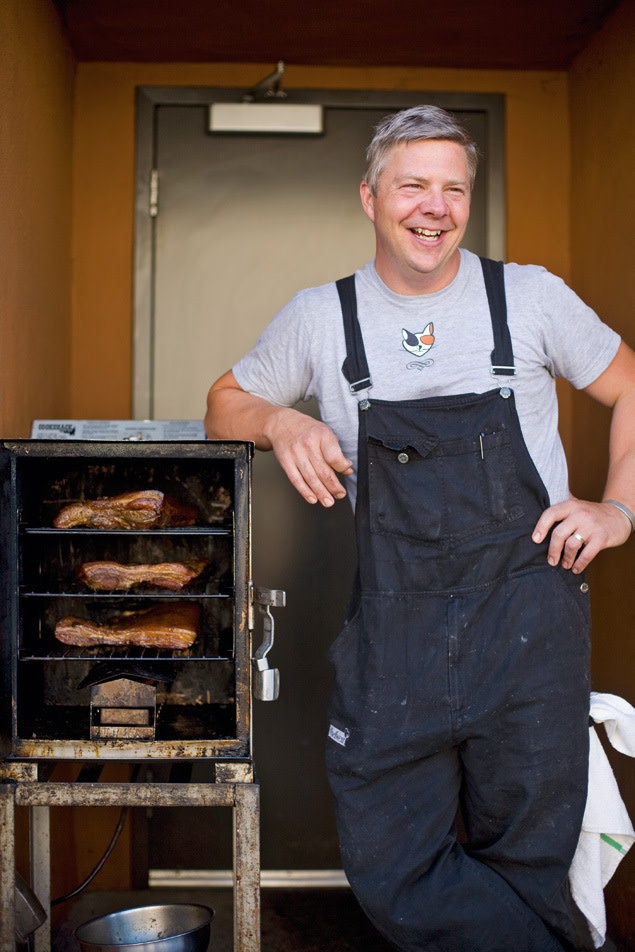 Former poultry farmer Aaron Silverman tasted such subtleties when he attended a prosciutto tasting at the Slow Food Expo in Turin, Italy, in 2004. Each of the 30 varieties of salt-cured ham he sampled had a distinct flavor profile dictated by the pig's diet. The experience led him—along with former Clarklewis chef Morgan Brownlow—to found Tails and Trotters, a pork-to-fork business that raises hogs for wholesale prosciutto production. Inspired by the revered Iberian pigs in Spain, who live among oaks and feast chiefly on acorns, Silverman and Brownlow are collaborating with local farmers to raise hogs that spend the last 90 days of their lives on a diet consisting entirely of Oregon hazelnuts. The result: pork that has a distinctive, nutty flavor reflective of the pig's oil-rich diet and that is marbled with fat throughout. Local gastronomes will have to wait until Tails and Trotters receives a nod from the USDA before they can buy its prosciutto in stores, but the pork is available at the Eastbank Farmers Market on Thursdays, and the company already supplies pigs to such local restaurants as Laurelhurst Market, the Urban Farmer at the Nines Hotel, and Alba Osteria.
Other Portland chefs are striking out for new horizons in charcuterie as well. In October, Clyde Common owner Nate Tilden, chef Jason Barwikowski, and former Castagna chef Elias Cairo (along with five other co-owners) will open Olympic Provisions, a 30-seat wine bar and restaurant. When completed, it will showcase chorizo, prosciutto, coppa, mortadella, and other specialty meats. At Nostrana, Cathy Whims is producing the finest American prosciutto I've ever tasted, and Paley's Place will introduce a new prosciutto by Christmas.
Like the Oregon winemakers who eschewed the replication of old-world pinots in favor of a wine that reflects the region, our chefs and farmers are working to prove that pigs, too, can taste of the place.