Sappington
Chef Q & A: Adam Sappington
Plated talks with Country Cat chef Adam Sappington.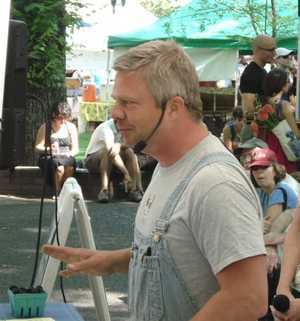 Adam Sappington—former Wildwood chef, current chef and owner at Southeast Portland's American-inspired restaurant The Country Cat, native Midwesterner, and fervent overall wearer—gives us a quick rundown of the foods and places that inspire him.
1) Where did you enjoy your last great meal, and what was it?
A.O.C. in Los Angeles. We had a series of small plates that were paired perfectly with wine.
2) What is the most underrated ingredient and how do you use it?
Dried herbs and spices. I use them for our fried chicken, sausages, & croutons.


3) Oregon is famous for coffee, beer, and, in your opinion, what else?
Locally sourced premium products like meat, produce, and fish.
4) If you could spend a week in anyone's kitchen, whose would it be?
Edna Lewis or David Tanis.
5) It's 2 a.m. and you're starving. Where do you turn?
Trader Joe's Margherita Pizza in my freezer with added sliced sausages that are in my fridge.
Click here for more on Sappington.