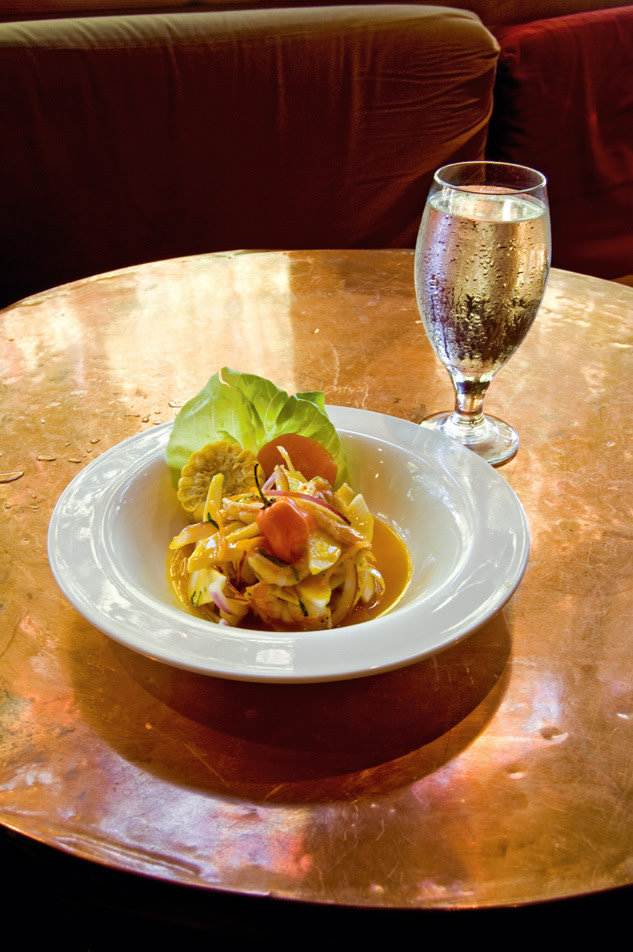 The great cuisines of the world are shaped by equal parts nature and culture: access to exceptional ingredients goes hand in hand with a long tradition of culinary know-how. Peruvians enjoy a particularly complex and deep marriage of these two elements thanks to the country's fine soil, miles of seafood-rich coastline, and a history of migration and trade that brought in Basque, Spanish, African, Caribbean, and even Japanese culinary influences. At Andina, the Pearl District's temple to Peruvian cuisine, you can savor them all in brightly hued, boldly flavored meals.
Like many of Andina's dishes, the chicken causa morada (marinated shreds of chicken sandwiched between layers of lime-spiked, purple potato purée) is both beautiful to look at and delicious to eat. The same is true of the anticucho de pulpo—grilled, skewered octopus set atop a caper-studded potato purée and accented with rocoto pepper and chimichurri sauce. The menu also features an upscale version of the traditional lomo saltado, chunks of beef tenderloin wok-fried in garlic and oyster sauce, and served with Yukon gold french fries and garlic rice. The rotating selection of fresh and local ceviche is always a fine choice if the other options prove too overwhelming. But there's no need to settle on just one entrée; the best way to dine at Andina, where variety is part of the culinary tradition, is to order a number of shared plates, each offered in three sizes.
Although the dining room can be crowded on weekends, you'll find refuge—as well as some of the city's most creative cocktails—in the lounge.