Mudroom
Cash Crop
As the city's economic development efforts rise and fall, the Portland Farmers Market continues to grow.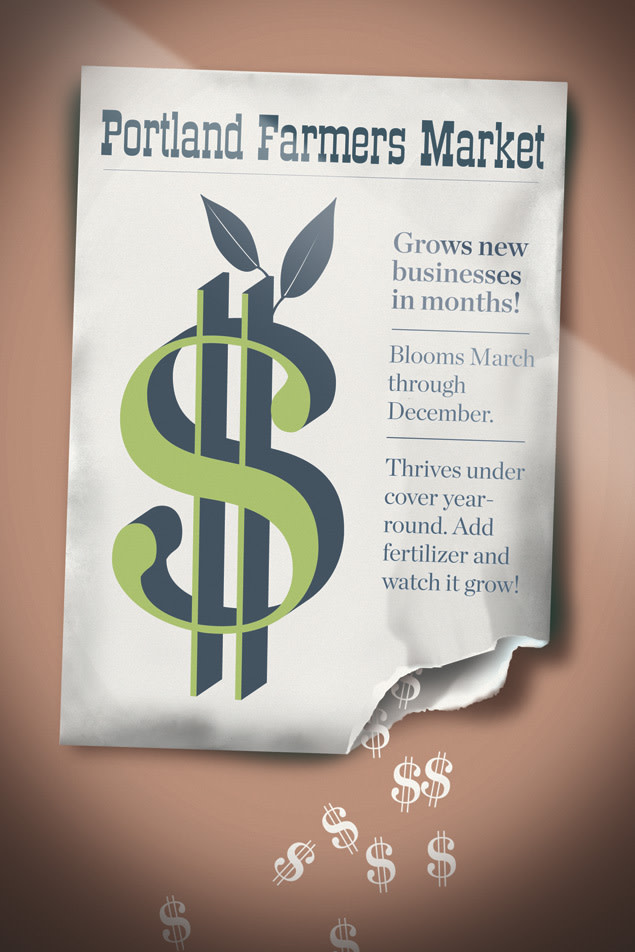 OVER THE PAST few decades, Portland has pinned its economic hopes to a series of ?ever-shifting industries. In the early 1990s, the city established a creative services center to lure dot-coms; when the century turned, it erected an aerial tram to ferry researchers in the biotech industry; and now it wants to develop a World Sustainability Center to support the newest economic salve, "clean tech." With each great hope, some of the anticipated jobs arrive. And with each recession, a lot of them disappear.
All the while, the Portland Farmers Market—which opens on March 20 with the Saturday market at Portland State University—has quietly grown into one of the city's leading economic drivers. From its 1992 incarnation—13 stalls assembled on the edge of the not-yet-built Pearl District—the market has evolved into one of Portland's most successful nonprofits, with 620,000 visitors annually and $6 million in sales in 2009 alone.
But sales are hardly the best measure of its impact. The market is the city's foremost gathering place, a peerless incubator of small business, and a major tourist hub. The Huffington Post called Saturday's market at PSU the country's best, and Delta Airlines magazine named it first among 10 worldwide markets. And unlike the tram and the trolley, the market happened without a cent of public subsidy. Instead, it actually pays the city more than $20,000 each year in rent and permitting fees.
Isn't it time we gave the Portland Farmers Market more than just our love?
"We're the only market of this size and character that doesn't receive city support," says Ann Forsthoefel, the market's executive director, whose $550,000 annual budget comes entirely out of fees paid by the market's 200 vendors. This is despite the fact that for 18 years, the market has provided a steady crop of jobs.
Before cookie artisan Elizabeth Beekley launched her Two Tarts Bakery on NW 23rd Avenue (staffed by nine employees), she peddled her famously diminutive cookies at the Saturday PSU market. Tastebud Farm, Pine State Biscuits, and Podnah's Pit Barbecue began as farmers-market vendors, as did two of the city's best chocolate shops (Alma and Sahagún). Cheryl Wakerhauser, owner of the popular sweet shop Pix, sold her first fruit tarts at the PSU market in 2001 before launching two retail locations. She now has 30 employees. And Salvador Molly's, which began as a tamale stand at the market in 1994, now employs around 40 people.
"The farmers market gave me a chance to showcase my products for a minimal cost," Wakerhauser says.
Meantime, the City of Portland's policies toward farmers markets are confused, if not contradictory. A 2004 food policy broadly supported the creation of more farmers markets as "focal points for revitalization." The Portland Planning Bureau sees the markets as key anchors for the 20-minute neighborhoods it hopes to spawn throughout the city. A study undertaken by Market Thymes, the trade magazine of the Pacific Coast Farmers Market Association, estimated that the average market shopper spends $27 at nearby local businesses. Still, the Portland Development Commission hasn't seen fit to earmark any money for the market, opting instead to invest $80,000 in the proposed James Beard Public Market, a lofty hope for a major year-round market on par with Seattle's Pike Place Market, but one that would require millions of dollars in subsidies and donations to build. Last January, Mayor Sam Adams handed Portland Farmers Market its first $15,000 city check—to pay for composting the trash.
If Forsthoefel had more money, the first thing she says she would do is lower vendors' fees. The current pay-as-you-go budget puts Portland's fees among the highest in the nation. Second, she would build a structure so that the market could operate (and incubate jobs) year-round.
Some cities are already doing just that. Charlotte, North Carolina; Santa Fe, New Mexico; and even Lake Oswego ponied up to build public market facilities complete with plumbing, electricity, and, in some cases, even canopies. And Tacoma, Washington, now subsidizes its market with $85,000 a year. Consider what a similar amount of effort might do for Portland.
"We've moved beyond being an event to being part of Portland's livability," Forsthoefel says. "People move here because of the market and the culture it has created."