Introducing
Lovely's Fifty-Fifty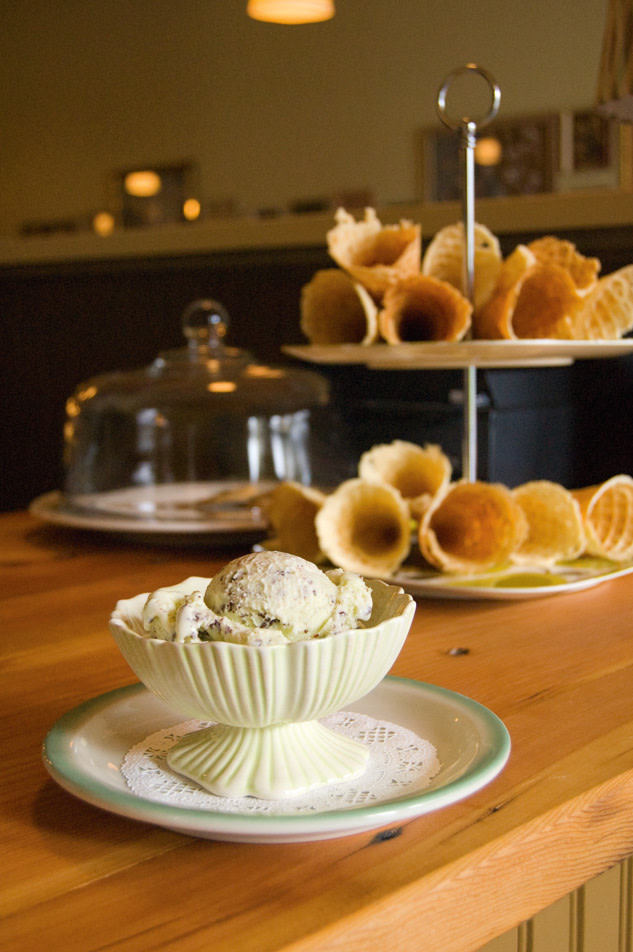 WHEN LOVELY HULA HANDS closed its doors in December, Portland mourned the loss of a local dining treasure. But thanks to the January debut of Lovely's Fifty-Fifty—a pizza joint and ice cream parlor opened by the former owners of Lovely Hula Hands—our grieving was mercifully brief.
The selection of wood-fired pizzas is a departure from Lovely Hula Hands' rustic American focus, but the menu's raison d'être remains the same: to serve up inspired, seasonal fare with a delicate touch. And though the high ceilings and light wood tables impart a modern feel to this cozy dining room, charming touches like mismatched china and embroidered art recall the former restaurant's homey setting.
In the open kitchen, chef James Albee loads pie after pie into the glowing steel pizza oven, each one a 12-inch-wide disc of perfectly blistered dough sprinkled with fresh, locally sourced toppings. On one pie, peppery radicchio and escarole make a bold bed for a soft-cooked farm egg and a dousing of zesty Piedmontese bagna cauda (a sauce of olive oil, anchovies, and garlic); on another, wild spring nettles create an earthy backdrop for paper-thin
slices of salty guanciale salumi.
Saving room for dessert here will be a challenge—but a rewarding one. The restaurant's silky, homemade ice cream comes in decadent flavors like mint stracciatella and salted caramel.
The new menu may not be the most logical step for a restaurant once know for fine dining, but pizza and ice cream is a killer combination that promises a delicious future for Lovely's Fifty-Fifty.