Eat This Now
Just Plain Poetic Tuna in NE Portland
DOC is dishing up a perfect plate of summer — you better hurry if you want to get it while it's hot.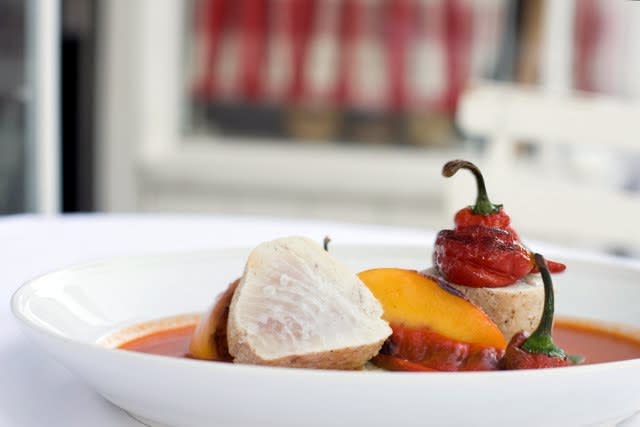 There's something fishy going on at DOC right now and it's amazing and you need to go right now if you want a chance to experience it.
To back up a bit, I am somewhat ashamed to admit that I live in Northeast Portland and I only just made my way to DOC on 5519 Northeast 30th Avenue last week. My only excuse is that "I would say I'm a kinda fly by the seat of my pants gal. You know moment to moment, yeah that's me, that's… yeah." (100 bonus points to whoever can name that film without using Google.) The point is, I rarely think to plan ahead for reservations and the tiny place always looks packed whenever I drive by.
But my husband and I were starving on a Tuesday and bored with our standard options so there we went and we were able to get a couple seats. Thank god. We ate and drank some other stuff and it was great, etc., etc., but the one plate I must talk about and you must eat is the "albacore, peach, corn, nardello pepper" ($22).
This simple and simply flawless dish starts as a whole fish that is butchered in the restaurant, followed by a quick brine to "get the funk off," according to head chef, Timothy Wastell. The steaks then get a very light sear on all sides before they are poached in olive oil at 120 degrees. A plate includes a duo each of these hearty steaks poached to a perfect medium, mouthwatering sweet and sour peach halves that have been roasted with Maldon salt and chili flakes, and blistered Nardello sweet Italian frying peppers, all atop a silken polenta made from fresh sweet corn that the cooks grate themselves on a box grater.
But the most important ingredient is the double pepper sauce. The building blocks of this ruby-red elixir may sound prosaic: more quickly-roasted, juicy Nordello peppers, aged sherry vinegar, salt, and water, all blended up to produce a "pepper water." That's it. But the result is pure poetry. It was like Wastell and his fellow chef Jobie Bailey were somehow able to distill the essence of the peppers and then amplify it into this ridiculously intoxicating edible perfume. Clean, fresh, and luscious, with a delicate sweetness, it provides a bridge between the plate's other components that you wouldn't think was necessary just by looking at it — but after one bite, you couldn't imagine the dish without it.
The flavor profiles of this meal are rooted in Italy, but all you can think about when you eat it is that you're tasting the Oregon sun. It's a fleeting glimpse of summer, both figuratively and literally — peach, pepper, sweet corn, and albacore seasons will all come to an end within a few weeks.
And chances are DOC will only have this dish on their menu for another week or two, tops. I highly recommend you give it a try. As my husband said, "Eating this even made me okay with having to sit at a share table."