Food News
Know SE Portland's Nostrana Inside and Out
Chef Cathy Whims is here to help Portland eaters choose their own food adventure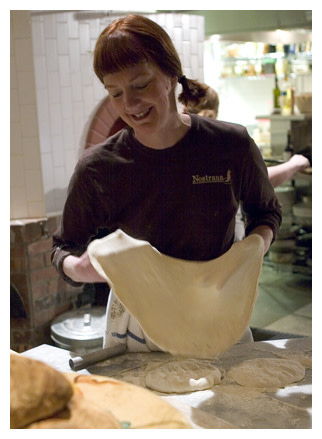 A series of gloriously gluttonous interactive "Chef's Choice" Portland Food Adventures dinners with various local cookery bigwigs kicks off at 7 p.m. on Wednesday, September 29th, and Nostrana chef Cathy Whims is the immensely satisfying first course.
This limited-seating event is your chance to jump into the deep end of Nostrana's farm-fresh Italian fare. Your $99 ticket (which includes gratuity and more, mind you) gets you a multi-course family-style meal that, according to Whims herself, just might feature: four Antipasti Misti, including burrata with cherry tomato salsa and a raisin and olive greens marmalade; a ricotta, spinach, mozzarella, and prosciutto calzone with heritage tomato sauce; a charcuterie plate; the radicchio-based Insalata Nostrana; Lasagne al Pesto; rotisserie chicken with porcini bread salsa, chiffonade of cavolo nero, and assorted seasonal crostini; and five desserts, including plum gnocchi and Schiacciata, a sweet Italian bread similar to focaccia and common in the autumn because it's often topped with juicy black grapes.
I'm leaving stuff out, of course, and the final version of the Chef's Choice menu is subject to Whims' whims, but that's just one aspect of what makes this edible adventure so enticing. Another is that the chef will actually hang with diners and do her best to quell their curiosity about her, her background, her food, or anything else. Good questions to ask: What is day-to-day life like working in a restaurant? How do you stay inspired about food after 30 years in the business? What are your favorite ingredients to cook with? What are your favorite cookbooks? Who inspires you the most in your culinary field? The first time I met Whims, she was hacking up a pig carcass behind me while I read an essay I'd written about being a vegetarian at Livestock, a butchery-and-words event, so you can trust me when I say you won't be bored.
But there's more. During dinner, Whims will dole out $50 worth of coupons (included in the dinner price!) to each diner, that are good for a return lunch at Nostrana and at some of her other favorite foodie destinations around town. Here's the "what" and the "why," straight from Whims' mouth:
"Cliff Allen, owner of The People's Pig, is a former pizzaiolo at Nostrana and his sandwiches are to die for. Porky, delicious, two kinds of salsa — one verde, one rossa. Pickleopolis pickles — heaven. Benessere Olive Oils & Vinegars — who doesn't love olive oil? In fact, butter is the fat for the uneducated palette. Tastebud — Montreal style bagels and fresher than fresh ingredients from the Farmer's Market… need I say more."
The coupons will also include Whims' local watering hole, Division Street's Bar Avignon for which she will announce a date and time where diners can meet her for a cocktail with proprietors Nancy Hunt and Randy Goodman.
$99 never sounded so cheap.