Food News
Breaking Food Cart News
Chef Kenny Hill of Trébol is going to go to-go, Oaxacan-style, with a new food cart in Chinatown.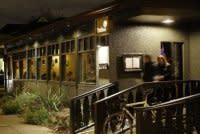 Extra! Extra! Read all about it! Kenny Hill, chef/co-owner of North Portland's Trébol, is entering the food cart fray with the four-item-only Trébol Presents Costillas Diablas (Devil Ribs), scheduled to hit the streets on October 4th. Expect the same Oaxacan-meets-the-Northwest flavors and heavy emphasis on local, sustainably produced ingredients, but fully portable and mad cheap.
The menu: Chocolate-braised short ribs with slaw and seasonal house-made pickles ($6); a pulled braised boar torta stuffed with aged cheese and slaw ($6); and two kinds of tacos: boar and smoked tofu with peppers and greens ($1.50 each). The plan is to always offer a special as well, like chicken or beef tamales. In addition, you can get a real Mexican Coca-Cola (glass bottles, cane sugar, delicious), bottled water, and "likely some sort of tamarindo or carbonated Mexican beverage," says Hill, all for $1 each.
At the same time, Hill is launching a Oaxacan-style, habañero-driven Devil Rib sauce (Salsa Diabla), made with chiles grown by his "farmer-buddy" in Ashland. Soon you'll be able to find it in select stores, but for now you'll be able to sample the spicy goodness at the cart — if you're a fan, you can buy a bottle there for $5.
Hours and Location: The plan is to plop down at 10 a.m. in Chinatown at 2nd and Everett, and then get picked up at 2 p.m., Monday through Friday — but that's subject to change. As this cart is 100-percent mobile, Hill has a mind to go KOi fusion with it. But not if all the hungry office workers in Chinatown looking for a quick bite (like me last week) have anything to say about it…