Vegetarian Viand
Tricycle-Powered Biscuits & Gravy
The brand new Biscuit Bike dishes up hearty vegan fare in the Hawthorne district and beyond.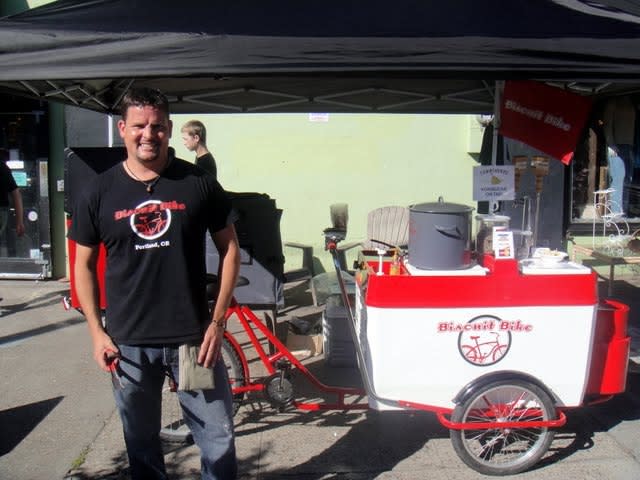 After making a sweet (and savory) inaugural appearance at the 2010 Belmont Street Fair on September 12th, the Biscuit Bike is now lowering its kickstand at 3315 SE Hawthorne, in front of House of Vintage, weekends, from 11 a.m. to 5 p.m.
The menu features three savory options, including the Biscuit Bike Biscuit (an herby biscuit with soy sausage and mushroom gravy), the Blue Biscuit (a "bacon" biscuit with blue "cheese" sauce), and the Nacho Biscuit (a jalapeño biscuit with nacho "cheese" sauce), all for $5. There are also two sweet treats: the Chocoliscuit—a biscuit with chocolate sauce, for $5; and the Jammin' Biscuit—a biscuit with jam, agave nectar, and Earth Balance, for $4. Northeast Portland's Black Sheep Bakery supplies all the biscuits, as well as the gravy, blue cheese sauce, and chocolate sauce. The nacho cheese sauce is a find from Chicago Soydairy.
When I popped by this past Saturday for the cart's home-base debut, I tried all three savory options (I was sharing with my husband). After sampling the goodies, two things really stuck out. First, the biscuits were quite an accomplishment—moist and rich, not too fluffy, not too dense… it's hard to believe there wasn't butter involved. Second, all three of the options were seasoned to perfection and had great flavor, a rarity in vegetarian and vegan fare, as most cooks think veg-heads would be fine dining on a plate of sawdust. My husband and I agreed that the Biscuit Bike Biscuit was the best, thanks to the delicious, earthy gravy with chunks of mushrooms and veggie sausage. The Blue Biscuit was also yummy, with its thick, creamy, garlicky sauce that tasted exactly like real blue cheese salad dressing. As for the Nacho Biscuit, the spicy biscuit is fabulous and the sauce sure did have the flavor and consistency of real nacho cheese—which I happen to hate more than just about anything edible on the planet. So, that one gets an A for accuracy, but I likely wouldn't order it again myself.
I enjoyed my meal, but while I was certainly full when finished, I kind of wished there had been a little something else in the bowl. Some sautéed veggies or fresh tomatoes and onions would have added more texture and moderated the definitely-good-but-intense flavors. That said, this was only the Biscuit Bike's second week in operation so it's probably fair to think of the initial limited menu as a "test drive."
If you're thirsty, the cart also offers two kinds of Townshend's Brew Dr. Kombucha on tap, which is pretty awesome when you consider that the kegs, as well as the counter, cooler, and propane stove, are attached to a working bike. A12-ounce cup by itself is $3, or you can get one combined with a biscuit order for $2. And you can get a dollar off your entire order if you show up on—you guessed it—a bike.