Five Questions
Chef-ish Q & A: Matt Jacobson
Tasty tidbits from the co-owner of Sizzle Pie and the Quality Bar, opening soon on East Burnside.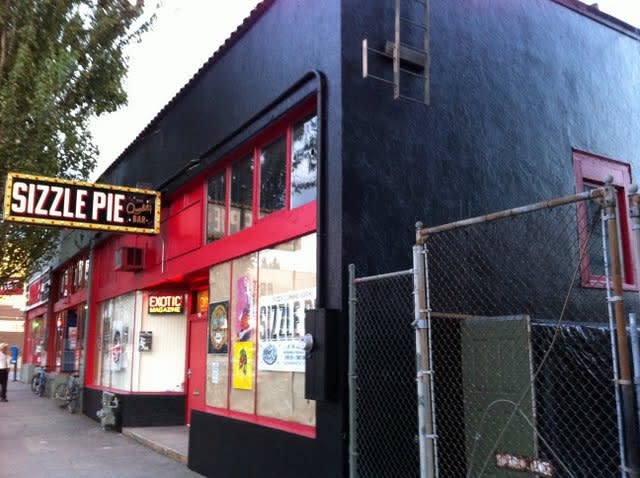 Folks who frequently stumble out of Rontoms wishing they had consumed a few less beers and a lot less cigarettes will soon have a place to sop up the alcohol and their shame: in preparation for a "sometime before Halloween" opening, Sizzle Pie and the Quality Bar has been steadily cleaning up the act at 624 East Burnside, with a dazzling sign and the same exterior burgundy-and-black paint job that graces about 101-percent of the hipster havens in Los Angeles. Scheduled to be open Lunch to Late Night, including serving up slices until at least 3:30 a.m. on the weekends, this all-new pizza pub is the brainchild of Mikey McKennedy, co-owner of the popular vegan dive bar, Tube, at 18 Northwest 3rd Avenue in Old Town, and Matt Jacobson, founder/owner of the 20-year-old indie music label, Relapse Records.
"We're both passionate about pizza and wanted to bring it together with other things we love—art, music, good beer, and Portland," says Jacobson.
Here's what else he had to say:
1) Can you give us a sneak-peek at the stats on Sizzle so that we can brag to our friends that we're in the know?
We will offer what I would characterize as an East Coast-influenced thin-crust pizza, with a focus on farm-direct ingredients. We'll have all the classic topping combinations, as well as a nice selection of veggie/vegan pies and our own recipes, like a super-spicy pizza featuring Secret Aardvark hot sauce as the base with hot peppers on top! In addition to pizza-by-the-pie or by-the-slice, the plan is for the menu to also include Stromboli, grinders, and ice cream from our new neighbor, Fifty Licks—we expect to have the full range of flavors, but we will absolutely have Stumptown Coffee, Maple with Bacon, and Slabtown Whiskey. And we'll have a full bar showcasing local spirits, wine, and Oregon beers like HUB, Ninkasi, and Amnesia.
2) How do you personally like your pizza?
Thin and a bit crispy with a mug of local IPA.
3) With so many pizzazz-y pizzerias in town, what will make Sizzle stand out?
First off, we will have pizza by the slice and be open late—two things that many pizza shops in town don't do. Also, I think our location and vibe will set us apart. The space used to be a hair salon, most recently, and we basically gutted it and put in all new systems. We had to remove much of the wonderful fir floor, but we were able to salvage the wood and use it, along with some reclaimed church pews, to build our booths. We will have a great jukebox filled with a range of indie/rock/metal music like the Pixies and lots of local bands like Red Fang, plus ever-changing art on display and a back patio!!!
4) What made you decide that lower East Burnside was THE place to plop down?
So much is happening on East Burnside and in the surrounding area in terms of art, music, nightlife, creative businesses, the skatepark, and so on… it's one of the most vibrant parts of town. It's also just across the river from downtown and a major gateway to the Eastside. I feel like we will be creating a unique place in a unique area of one of the coolest cities in the country.
5) If you could have any band in the world play at your opening, who would it be?
That is a really, really tough question. Maybe Metallica during the Master of Puppets era, Slayer on the "South of Heaven" tour, or the Melvins, just because they rule.