Six W's
Slooooooooow Food in St. Johns
A peek inside Pitxi (pee-chee), a culinary anomaly on North Lombard.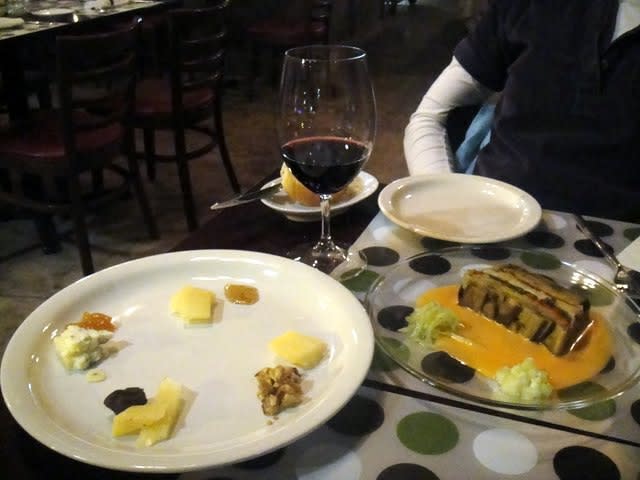 Who: Pitxi Dining Room & Wine Bar
What: A menu inspired by the Northwest, France, and the Basque region.
When: Tues.-Sat., 5-10 p.m.; reservations requested.
Where: 5225 North Lombard Street; 503.360.3963
Why: 1) The mystery. Pitxi first appeared in Sandy, then closed and reopened on the outskirts of St. Johns. Reviews online are all over the place, ranging from adoration to acrimony. 2) The space. Big, airy, elegant industrial, with an open kitchen. 3) The creative menu. Curry squash dumplings were hearty little pillows of savory pumpkin pie spice, paired with three kinds of mushrooms, including the unbelievably odd "chicken of the woods"—essentially flavorless, it has the exact texture of overcooked chicken. Buttery and gamey, the fall lamb stew with Navarra beans came in a little pot with brussel sprouts and sunchokes on the side. At first it seemed strange that the veggies weren't incorporated in the stew, but it quickly became apparent that their simple, tangy preparation actually presented a nice break from the intensely rich lamb. A bright, gently-dry bottle of Benaza Mencia Monterrei was enjoyable with the food and alone—a pleasant surprise, seeing as how at $25, it was the second cheapest wine on the menu.
Why Not: 1) The price. While the intriguing dishes on the Small Bites menu—think eggplant beignets and garlic shrimp pancake—range from $3-$5, the dinner menu is a tad too pricey for the location ($9 appetizers, $18 mains). 2) The service. Unfortunately, I chose to sup on a Tuesday. Apparently this night is typically "dead," so there was only one waitress. Although knowledgeable and gracious as all get out, she simply couldn't serve the five tables in a timely fashion—maybe because she was also helping out the two cooks. Our meal took two-plus hours.
Conclusion: Two waiters and less obsessing over the perfection of each plate would probably improve the service/timing exponentially. The food wasn't mind-blowing, but I couldn't stop eating and I was continuously curious to see what would show up next. I'd go back.