Cheap Eats
Stuff Yourself on Southeast Foster
An Xuyen Bakery has what it takes to sate your hunger without having to starve your bank account.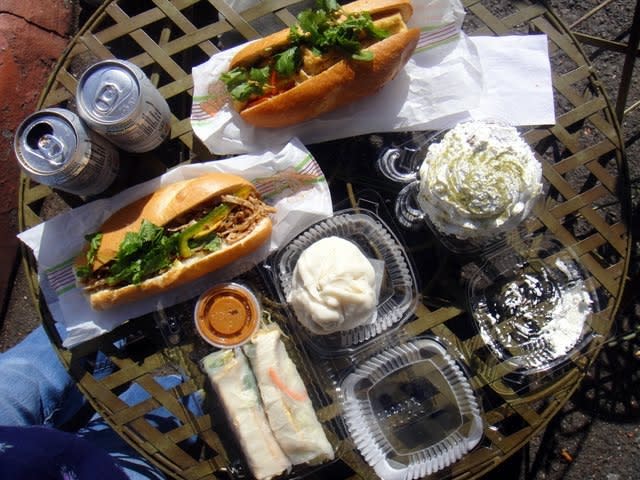 Take a look to your left. See all that food? It's from An Xuyen Bakery, the cute, little hole-in-the-wall located at 5345 Southeast Foster Rd next to Foster Burger, and it cost exactly $12.10. What's especially mind-blowing is that the enormous bánh mì—Vietnamese sandwiches that come in a number of incarnations, including BBQ pork, Vietnamese meatball, pâté, chipotle chicken, and both tofu and "fake meat" for the vegetarians—are only $2.25.
But getting large portions of food for very little money isn't exactly an indicator of good quality or taste, right? Consider the $1 Chinese food (a.k.a. colon-blow) you can get from those establishments in strip malls, for example.
Well, An Xuyen is a satisfying and affordable exception. While they may not be the best bakery in town, and they may not even make the best bánh mì (according to Portland Monthly's food editor Karen Brooks, that title belongs to Binh Minh Sandwiches at 7821 Southeast Powell Blvd), the sandwiches are exactly good enough. The fillings are well-seasoned and not too fatty, and there is plenty of sliced cucumber, daikon, jalapeños, pickled carrot, and cilantro to add a fresh counterpoint and crunch. The key, however, is that their bread actually kicks ass—flaky/crispy/chewy on the outside and soft on the inside, it absolutely makes the sandwich. Ask for a side of sriracha if you like a little extra kick.
As for the rest of it, the steam buns are hearty orbs of curious fillings (the meatball version also contained a creamy yellow liquid) wrapped in a soft, slightly sweet pastry. They are filling if perhaps not the most flavorful. The salad rolls were nothing to write home about, except for proving the point that everything is better with peanut sauce. The green tea cupcake was a super-sweet step above something you might find at Safeway.
But, let me remind you, all that food cost $12.10 and didn't result in severe pain and regret. That's what I call success.