Food Carts
Celebrate the Release of Cartopia
Check out tomorrow night's free book release party and revel in Portland's food cart revolution.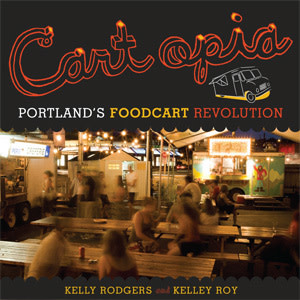 This Thursday, November 18, from 6 to 10 pm, urban design devotees and "micro-retail" foodies (a.k.a. food cart freaks) should make their way to Southeast's Art Department for a gala release party in honor of the new book Cartopia. Free and open to the public, this event is your opportunity to milk the book's authors— Kelly Rodgers, the principal of Confluence Planning, and Kelley Roy, a curator at the Art Department and founder of Sassafras Consulting —for cart-insider info, meet cartrepreneurs and other cartivores, munch on appetizers from Feastworks, indulge in liquid grape and grain from Teutonic Wine and Hopworks, groove to the tunes of various street buskers, and figure out your future with a reading by Dino Tarot. (Sign up for Portland Bicycle Tours' pre-release-party Food Cart Bike Tour and you can get $5 off the book's $25 price!)
"Cartopia is a book for those who are curious to know why the food cart phenomenon happened in Portland, says Rodgers. "It is a discovery of the underlying factors that created it, including the city's regulations, its independent nature, its food culture, and its history of civic spirit. It is also a celebration of the actual vendors, the urbanism, and the food."
Guided by an urban planning POV (check out the forward by Portland Monthly editor Randy Gragg), it provides brief but broad and colorful explanations of street food's role in shaping urban design as well as the loosey-goosey laws, tanking economy, and distinctive food scene that made our tiny metropolis the hub of the food cart rage. Tons of photos and a guide to finding pods and notable loner carts in the city's five districts make it a great read while sitting on the bus, MAX, or, of course, toilet.
You'll have to read the book yourself to get all the goods, but we asked Roy to give us the dish on any lesser-known carts that deserve more cred, as well as what kinds of carts she'd like to see hitting the streets in the future. Here's what she had to say:
5 Carts that Don't Get Enough Air Time
1) Sip, located at SE 21st and Tibbetts—delicious juices in the summer and homemade soups in the winter.
2) Lucille's Balls, in the Good Food Here pod—the best balls in town!
3) Jocelyn's. It took over the old Spud Locker location at SW 2nd and Stark and I have been hearing great things about it.
4) Slow & Low has an amazing pork confit sandwich.
5) The reindeer guy at 5th and Oak.
12 Carts Kelley with an Extra 'e' Would Like to See
1) Japanese street food, such as okonomiyaki—a Hiroshima-style pancake with typical toppings like cabbage, pork, squid, octopus, and cheese, or even yakisoba or udon noodles, a fried egg, and a generous amount of okonomiyaki sauce (similar to Worcestershire sauce but thicker and sweeter).
2) Swedish cuisine, such a meatballs, lingonberries, bords, etc.
3) Bacon. I am really surprised that nobody has done a cart with a menu featuring bacon for every meal.
4) Oysters! I would love to stop and get a dozen oysters on a cold winter night.
5) I know Trey at the Swamp Shack is serving them but I always thought a beignet and chicory coffee cart would be fun.
6) Fans have been trying to get the Victory Bar's Eric Moore to open a Crackeroni cart that serves his baked spaetzle with gruyère cheese, crispy shallots and a side of applesauce.
7) Cape Malay —specifically a bobotie, a curried ground beef and egg custard dish.
8) Basque cuisine.
9) Taiwanese street food, such as hot pot.
10) Classic candy, such as Atomic Fireballs, Lemonheads, candy necklaces, etc.
11) A cart that showcases Northwest mushrooms.
12) Scrambles.
~
You can purchase Cartopia at the release party as well as Powell's and at portlandfoodcartsbook.com, but the KRs will also be selling copies, somewhat fittingly, out of a 1972 Chevy Step Van bookmobile throughout the holidays and into 2011—follow them on twitter (@FoodCartsBook) to find out where they are now.