Food News
Get a Life
Living foods and vegan goods at the all new Green Lady, just opened downtown.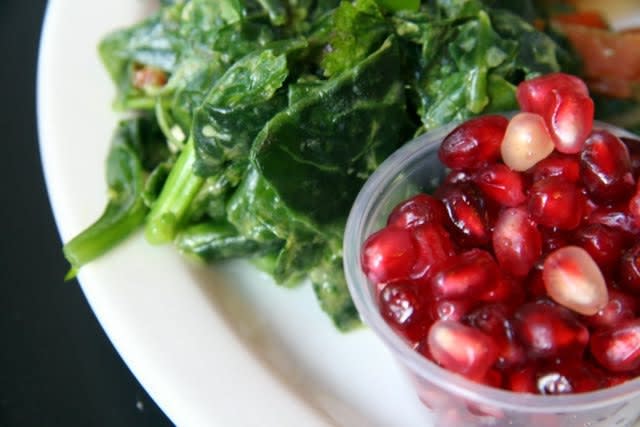 Move over Blossoming Lotus, there's a hot new vegan venue in town. Now in a soft-opening phase at 1016 SW Washington St. ( M-F: 8:30am-5pm, Sat: 10am-5pm, Closed Sun), with a grand opening event to take place January 1, The Green Lady specializes in "living" (aka raw) foods and creative, ethnic-influenced vegan, organic fare, available both dine-in and take-out.
The background for this new gourmet health hub reads like a pitch for a Hollywood movie:
Mississippi lawyer, former hot wings restaurant proprietress, and four-year living foods veteran, Wanda Abioto, moved to Portland with her five daughters—Intisar (24), Hanifah (23), Kalimah (23), Amenta, (19), and Aisha (10)—on "an adventure." Their collective goal? To incubate a restaurant that dishes up edible energy (currently hot as hell in L.A., by the way) and eventually expand their empire back to the south, where an interest in vegan, organic, and living foods has only just begun to sprout.
Fittingly, the menu will continue to evolve, but right now it includes a range of elixirs, smoothies, and drinks concocted with purely living ingredients like spirulina, citrus, leafy greens, cacao, and house-made nut milks e.g. almond, cashew, hazelnut, and Brazil nut, which also come in creams to top tea and cold-press coffee infusions. (Cold-press coffee has far less acid than hot brews, which results in far less gut rot.)
Soon they will offer a range of meals, both cooked (African pho, coconut lentil soup) and purely living, such as tomato basil soup and locally foraged marinated dehydrated mushrooms in a hot & spicy Memphis barbecue sauce. "I never thought I could give up hot wings," says Mama Abioto, "but these pull apart just like chicken!"
Energy-enthusiasts can also look forward to living sweet treats (Amenta's specialty) and themed supper club evenings, including a soul food night and the Midnight Scoffers, Intisar's 12am feast which got its name from an obscure '80s flick.
Perhaps the Abioto clan can make sticking to our New Year's resolutions a little less painful.