Food News
Southeast's St. Jack To Open Soon
The new Aaron Barnett/ChefStable SE Clinton St eatery is opening in three phases, starting Monday, December 13.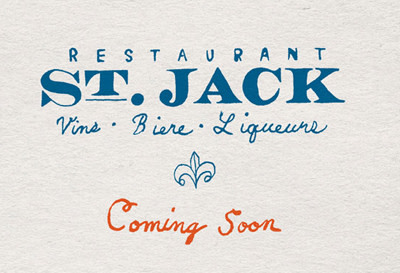 Extra! Extra! Read all about it! In just over a week, the highly-anticipated new venture from chef Aaron Barnett and ChefStable's Kurt Huffman — the Lyonnaise-influenced bouchon and pâtisserie combo, St. Jack — will be welcoming its first customers at 2039 SE Clinton St.
This is a grand opening in three acts.
ACT ONE: Monday, December, 13, the pâtisserie portion will begin serving coffee, pastries, and lunch items seven days a week, 7am-4pm. As EaterPDX reported, former Bluehour pastry chef Alissa Rozos will now be running St. Jack's pasty department (think éclairs, croissants, cannelle, and madeleines), as well as sweetening the deal by producing tasty treats like apple tart tatin with fromage blanc ice cream and chocolate soufflé with Grand Marnier crème anglaise for the restaurant's dessert menu.
"Alissa is super talented," says Huffman. "We are really excited for her to have her own storefront."
The lunch menu will consist of simple, classic French soups, charcuterie, and sandwiches served on the très français baguette from little t american baker.
ACT TWO: Go online at www.stjackpdx.com ASAP to reserve your spot for one of the restaurant's soft-opening preview dinners on December 20, 21, and 22. A jaw-dropping deal, $60 gets you a prix fixe menu with wine and beer pairings and an open bar. You heard me right, and the ticket price includes gratuity.
ACT THREE: The restaurant opens for reals December 27, and will be dishing up delectable down-home French country dinners Monday through Saturday until 10pm. The transition from bakery to restaurant will begin at 4pm, with Happy Hour starting at 4:30pm. Online reservations will be available in a couple weeks.