Food News
A Sneakpeek at St. Jack's Menu
Get a peek at what's for dinner at the new SE Clinton St eatery from Aaron Barnett/ChefStable, open for regular dinner service December 27.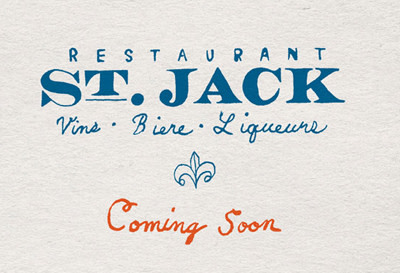 This just in—a snapshot of the preliminary dinner menu for Southeast's St. Jack:
Petit Plats, featuring simple, low-priced nibbles like Local Oysters with mignonette for $2 each, and Cervelle de Canut (warm marinated goat cheese with toasted baguette) for $6.
Hors D'oeuvres, consisting of soups, salads, and light-bites, such as the Salade Lyonnaise (frisee, bacon lardons, poached runner duck egg & bacon fat croutons) for $8, the Fisherman's Stew with scallops, poached oysters, salmon roe & leeks ($12), and Sweetbreads, served with cauliflower puree and bacon, leek & caper vinaigrette ($12).
Plats Principaux, presenting the likes of Fried Rabbit with celeriac remoulade, honey & lemon, Coq a la Biere (half a chicken braised in farmhouse ale, with pearl onions, wild mushrooms & bacon) for $20, and—praise the lord!—Le Hamburger, which comes with gruyere, St. Jack sauce & pommes frites ($10), but you can gussy it up with bacon, caramelized onions, boudin noir, or a different cheese from their list.
There's also a selection of Charcuterie De Maison (duh—this is Portland), and the delectable Desserts we mentioned last Friday.
As noted in that previous post, the pâtisserie portion of chef Aaron Barnett and ChefStable's Kurt Huffman's Lyonnaise-influenced bouchon (with pastries by Alissa Rozos) opens for business Monday, December 13, at 7am. You can also sign-up online now for a series soft-opening preview dinners on December 20, 21, and 22.