Review
Artfully Uncool
Bar Mingo's Italian food master Jerry Huisinga shuns trends for a taste of authenticity.
Scan local menus and you'll turn up plenty of tastes for the times: pork rinds escorting a "mustardy dipper," a sandwich packed with deep-fried Nutella, a chocolate brownie wearing foie gras mousse, even a parfait starring pork livers.
Ever since 2002, when Noble Rot transformed mac and cheese into an icon of serious and Voodoo Doughnut glazed a house special in NyQuil, Portland cooks have been winking their way to notoriety. Fun, of course, is an irresistible ingredient. But, let's face it: everything has an expiration date.
This makes it all the more delicious to find fried mozzarella as the gods meant it to be: crusted in fresh bread crumbs, crackling-crisp, oozing hot white cheese, stretchy and decidedly homemade, served without a pinch of irony. And it comes courtesy of one of the city's great cooking talents, Jerry Huisinga, at an undercelebrated gem of an eatery, Bar Mingo.
Righteous cheese sticks are just the beginning of Mingo's departures from Portland cool. Garlicky fresh sausage snuggles up to hand-beaten polenta and glistening hot greens. Pasta arrives in a whopping six homemade varieties—actually rolled and cut daily. Risotto banishes local competitors simply because it's the real thing, made in fresh batches three times a night with the concentration of a surgeon installing a ticker. The common ingredients? Rigorous technique, simplicity, and time. Most restaurants take the shortcuts and serve you the consequences. 
Long before Portland morphed into Porklandia, the legendary Genoa was the epitome of this style, digging into Italian classics with a bravado that would send a chill through today's bacon-wrapped dreamers. Arguably no other eatery saw so many current Portland stars pass through its kitchen, most notably Cathy Whims (Nostrana), John Taboada (Navarre), Tommy Habetz (Bunk), and Kevin Gibson (Evoe). But over 22 years, as the others came and went, Huisinga remained, until Genoa moved to modernize in 2005. Taboada nicknamed him "The Hammer": "He was one who made us get it right."
Now Huisinga's old-school obsessions live on—but in a casual, affordable, less ritualistic storefront that could be decorated by your aunt. Bar Mingo is the $$ Genoa—steeped in authority and holding plenty of the old recipes, but for a fraction of the price. That includes an impressive repertoire of tone-perfect pastas—Huisinga's specialty at Genoa since 1983—cooked with the right bounce and chew and sauced the Italian way, sparingly but just enough to elicit a gasp of pleasure. A recent haul included long flaps of pappardelle noodles with clinging bits of rabbit ragú, earthy and elegant; about five miles of ultra-skinny spaghetti tangled up the Roman way, with flinty cheese and cracked pepper; and a jewel-like square of lasagna, deep, nubbly, freckled with reassuring browned cheese spots, and weighted with creaminess and tang.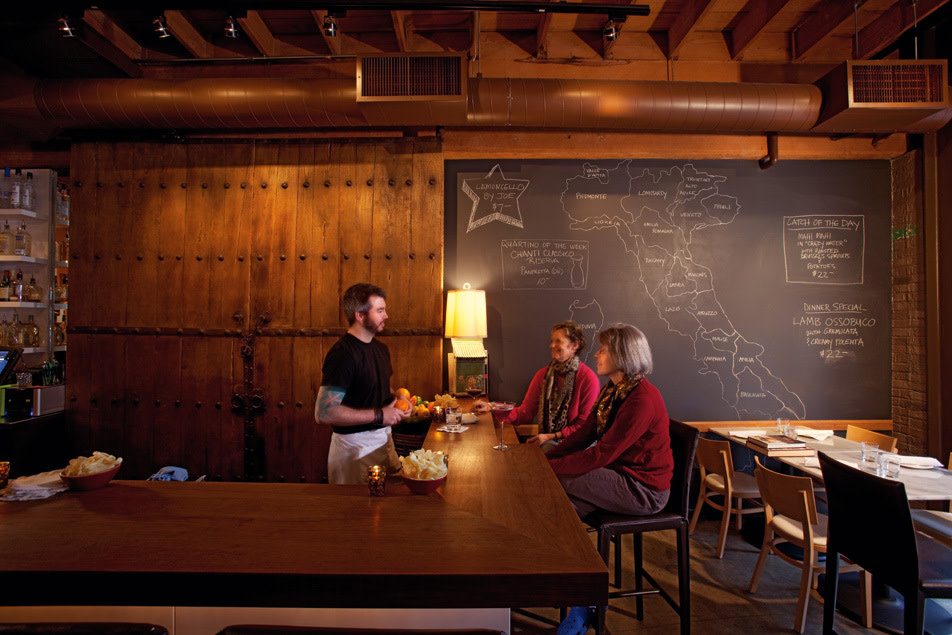 Risotto, a Wednesday specialty humbly broadcast on the chalkboard, is an eye-opener: dense with creamy, swollen rice and a savory intensity earned only when built from scratch with good stock and served within minutes of the last stir. Seafood is often a catch here, as Huisinga hauls out to the airport three times a week for shipments from San Francisco's respected Monterey Fish Company. You won't find fresher, springier, more delicate sautéed calamari anywhere. But I'd also come back for creamy chicken livers, winy, potent and spilling over an enormous slab of toast like a great sloppy joe from heaven.
Of course, Bar Mingo is not the only restaurant keeping Italian tradition alive. And elsewhere on the menu, some of the more ambitious entrées fall short, and only one dessert qualifies as a worthwhile sin: gelato-bulging profiteroles armored in good dark chocolate. But no place, not even Bar Mingo owner Michael Cronan's beloved Caffe Mingo next door, pulls off homey Italian cooking at this level, for these prices. Only one dish breaks the $20 barrier, while most hover in the $8–15 range, with impressive $5 happy-hour deals and well-priced wines, many from reliable Italian and Oregon producers. 
The setting for Huisinga's second act is far from Genoa's intellectual food chamber, where waiters once delivered oral menus as if imparting wisdom picked up in the Himalayas. Bar Mingo is as upbeat as a Labrador retriever, with a happy soundtrack, low-slung couches and flowered pillows, and lots of regulars at handsome marble tables. The welcoming casual ease of the place is embodied by a chef who, when asked what makes his extraordinary meatballs float like fat clouds in the Umbrian sky, sounds more like the Buddha than a commanding voice in a competitive food scene. Everything and nothing are the same:
The meatballs? I don't do anything. Just milk and bread, cooked like cereal. I use lamb, so I guess the meat is good. I treat them gently. If you slam them together they get all tight and weird. I make them to order, so they don't sit in sauce. Maybe that's different. They're rolled in bread crumbs, fried in oil, simmered with tomatoes and mint—lots of fresh mint. And pecorino. Then more oregano and mint and cheese on top. That's it. Nothing to it.