Interview
5 questions for: NE Portland pioneer, Sarah Pliner
As NE Alberta's Aviary takes flight, one of the three chefs talks cuisine and collaboration.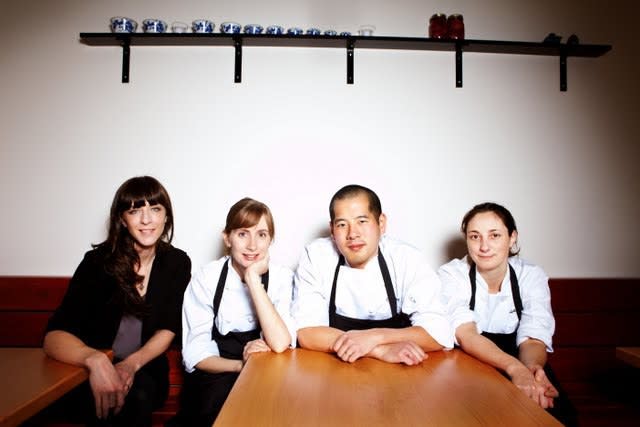 Aviary, a new small-plates restaurant with a we-are-the-world menu and a trio of New York's finest dining-trained chefs, opened for business yesterday at 1733 NE Alberta St.
I have eagerly been anticipating this eatery ever since I received the letter notifying me about their application for a liquor license a few months back—I live about a 30 second walk away from their front door. The Alberta area has its fair share of coffee shops, bars, and quirky boutiques, but it hasn't exactly been a destination for classy dining. Aviary, with its three co-owner/chefs (Sarah Pliner, Jasper Shen, and Katherine Whitehead) is seeking to change that, while also celebrating the neighborhood's communal spirit and strong sense of creative expression—the space features reclaimed wood crafted into everything from pantry shelving to banquettes, lighting from Rejuvenation, and, of course, local art.
A very-busy chef Pliner was kind enough to give us a preview of Alberta's latest nest for nibbles.
1) Why the name Aviary?
It started with a mah jong tile, the smallest bamboo, which has a little bird on it. We thought it was cute but curious, because there doesn't seem to be a reason it should be a bird. Then we were thinking about what we all want to do long-term, and Kat had been doing some freelance dessert work under the name katbird, so we thought that someday there might be other "birds"—a bake shop, a bar, etc. When we got our LLC, we called it Aviary, and while we were trying to find a real name, that place-holder kind of grew on us. I also felt like it had some relevance to what we're trying to do, both with the food and the feel of the restaurant—that it should be a home to many different kinds of birds.
2) Can you give us a snapshot of what you're serving?
The menu features modern French technique, but using ingredients and ideas from around the globe. It's small plates so people can share and try many different things. Three dishes not to miss include: the dungeness crab dressed with a lemon emulsion, brioche croutons, and a thin slice of winter melon, and then topped with mentaiko (spiced cod roe) and kinome, the leaf of the szechuan peppercorn plant, which is citrusy and floral tasting; ox tail croquettes made from ox tail braised with sweet spices, then breaded and deep fried, and served with tomato jam flavored with ginger, lemongrass, cinnamon, and star anise; and brioche-crusted halibut with sea urchin and shiso rolled inside, sesame seed spinach, and a cucumber shiso sauce.
We also have some house cocktails made with local spirits and seasonal infusions, and a small, focused wine list with most of the mainly French and local wines available by the glass or bottle, and we are working on making our own sodas.
3) Three chefs, eh? How exactly does that work?
We argue about all the front-of-the-house decisions, such as chairs, tables, and flatware, until we get sick of arguing and someone gives in. In the kitchen, for the most part, Jasper and I collaborate on the savory, and Kat and I work on the pastry together, but there's nothing that goes on the menu that we don't all agree on. None of the three of us can see the point in giving someone a title that would allow them to ignore useful input—even if we named ourselves chef, pastry chef, and sous chef, that's not how it would work.
4) Why Alberta and what do you think you can add to the neighborhood?
It's a fun, eclectic neighborhood—there are always people out and there's always something going on. I think we bring a different style of food from anything that's on Alberta right now, maybe a little more refined, while keeping the front-of-the-house experience relaxed and casual.
5) What other restaurants in town are currently rocking your world?
I enjoyed Biwa the vegetable dishes. I think the attention to detail there was exceptional, and I really like izakayas and trying lots of different things. Also, Olympic Provisions, because they do their own charcuterie, which is really brave, and they do it amazingly well. I don't get out much right now, so when I do, it's nice for it to be a bit of an adventure.
Hours: Mon-Thurs, 5-10pm; Fri & Sat, 5-11pm