Article
Bike-Centric Food Cart Super Pod in the Works on SE 82nd Ave
This summer, Mississippi Marketplace food-cart visionary Roger Goldingay aims to bring bike culture into the street-food world.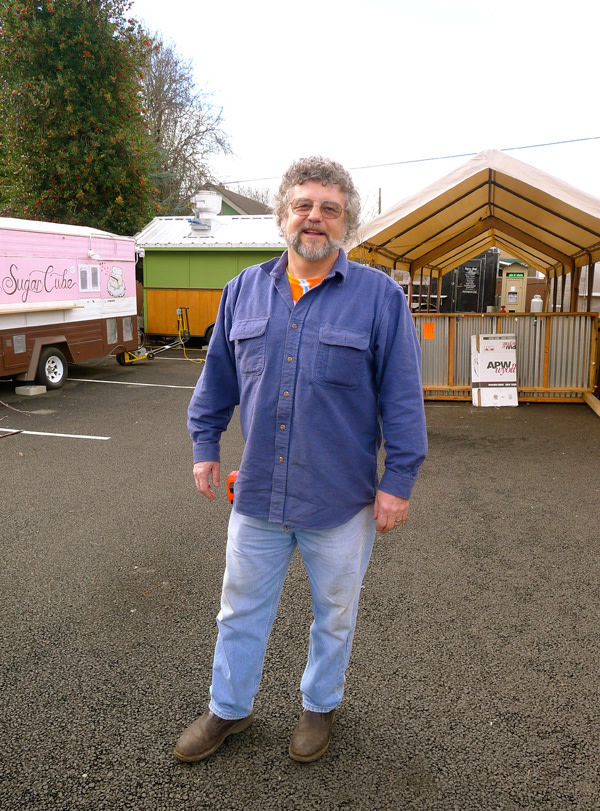 The next phase in Portland's food cart movement could wheel into an acre-sized lot on SE 82nd Avenue this summer. Food-pod pioneer Roger Goldingay is ready to roll on a bike-centric "super pod" smack in middle of the Springwater Corrider bike trail. With a vision for 35 carts featuring bike repairs, air-pumping, and gear—not to mention good food drawing from 82nd Avenue's wealth of Asian, Latino and Russian communities—Goldingay hopes to take the cart village concept to the next level.
An affable, low-key developer, Goldingay emerged as Portland's accidental food-cart visionary when his North Mississippi condo project tanked during the economic lightening storm. Saddled with an expensive, weedy lot (and former drug corner), Goldingay saw the building blocks for a new kind of destination: an intentional food-cart community and neighborhood gathering. Since it opened in late 2009, his Mississippi Marketplace has evolved into the Pearl District of food-cart pods: comfortable, curated and holding its own economically. His success helped pioneer a new street-food industry, a blossoming of lot-sized food-cart settlements that caused a national media frenzy and earned Portland a reputation as the country's leading food-cart destination.
Goldingay's design plan on SE 82nd received blessing from the city yesterday. Construction and land improvements are expected to begin in the next few weeks.
No market analysis was conducted for the project, which could cost upwards of 1.5 million, by Goldingay's estimation. He's going on his gut in a poor neighborhood with crime problems. But beauty is indeed in the eye of the beholder. Goldingay looks around and sees nothing but potential here: access to a popular, scenic bike trail, and one of busiest streets in the city.
"Out here, there's a lot of big box stores and used car lots," says Goldingay. "On the outer east side, there's nothing like central Portland's food cart movement, certainly nothing like what we're going to do. I see families riding through on bikes. Maybe a farmers market. We're close to Happy Valley, East Portland, the north side of Oregon City, Clackamas, Gresham, and Milwaukie. I hope to serve this population, but I'd like to think I'm doing something to improve the area, too, to make it safe and family-friendly— but also a destination location that will draw urban dwellers to an area they know little about."
It's an expensive dream. The property, under a million dollars, was paid with a loan from the Clackamas County Bank. But it's just the beginning. More loans are in the works. "I'm looking underneath my couch pillows," says Goldingay with a laugh. "I'm even eyeing my wife's IRA."