Eat This Now
The Search for Portland's Best Chocolate Chip Cookies
What says perfection…and where you can find it? We pounded the pavement in search of the chewy, the crisp, and the hand-crafted so you wouldn't have to.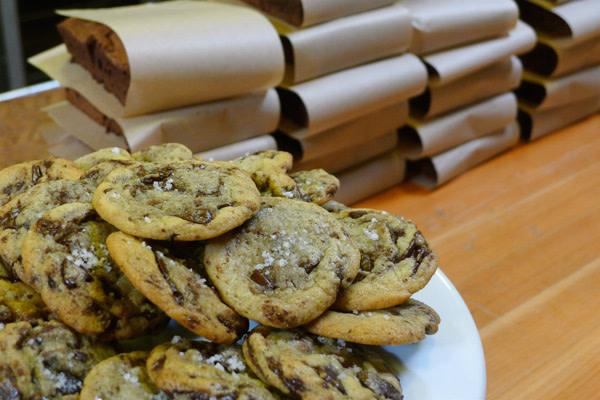 A transcendent chocolate chip cookie is a rarity. When asked to name their favorite version, most local bakers and loyal tasters retorted "my own!" or cited a recipe from the family graveyard. Few agree on what defines chocolate chip perfection, but in the end, depth of flavor, quality of ingredients (from butter to chocolate), and texture (crispy on the outside and chewy-soft at the epicenter) reign supreme. Size and eatability also count, big time, as do personal touches like toasted almonds or a sprinkle of fine sea salt.
To rank Portland's best chocolate chip cookies, we pounded the streets, checking in at the places that take their cookies seriously. Here are the results:
1. Alma Chocolate
This altar to cocoa heaven, known for dark chocolate icons painted in edible 23K gold and aphrodisiacal bonbons, doesn't mess around when it comes to chocolate. And that includes the little-known cookies hiding in a corner case, packed with super dark, 74-percent Dominican chocolate and sporting a buttery, burnished exterior. Toll House die-hards may ask, "Where's the dough in this chocolate delivery service!?" Good question, but we'll still take them over grandma's fresh-baked any day. ($1.25)
2. Pearl Bakery
For guilty gluttons, those who can't help but squeeze out the last dollop of raw dough from the Pillsbury tube, this neighborhood fixture has you covered. The house Chocolate Chunk Cookie is a lofty mound of slightly under-baked dough studded with pecans and a hint of orange zest to cut through the buttery behemoth. ($1.50)
3. Café Velo
While the cookies may not quite fit its Mediterranean menu, this teeny take-out café wedged on the downtown Portland bus mall turns out some of the most delicious versions we've tasted. The recipe, from famed chocolatier Jacques Torres, appeared in the New York Times in a dissertation on the best techniques and flavors. With melting wafers of dark German chocolate and a dainty pinch of fleur-de-sel from Portland salt-slinger Real Good Food, this cookie fires on all cylinders—and it's perfect with Café Velo's famed dripped-to-order coffee. ($1.50)
4. Two Tarts Bakery
For the true salt freak, this little cookie has the sweet-savory department on lock-down. Two Tarts packs a dulcified punch into their mini chocolate chip fleur-de-sel cookies, with the combination of dark toffee undertones and big concentrated sprinkles of crunchy Sel de Guerande adding depth to the classic combination. (80 cents each; $8 for a baker's dozen)
5. Ken's Artisan Bakery
Even the most ravenous cookie monster would be challenged at Northwest Portland's go-to spot for rustic French breads and pastries. The Valrhona Chocolate Chunk Cookies are frisbees of chewy dough with superlative hunks of extra bitter chocolate full of fruity notes. Despite the sugar haze that comes with eating a cookie sized for four, Ken's has the critical crunchy/chewy ratio down to a science. ($2.25)
6. Oui Presse
Toll House traditionalists stick to the back-of-the-bag formula, and no place serves them better than this relative coffee shop newcomer on SE Hawthorne Boulevard. The kitchen specializes in small, homemade batches of perfectly bronzed, buttery-to-the-finish archetypes, and the "afterschool special" of milk and cookies ($2.50) takes the edge off after a hard day. ($1.25)
7. Random Order Coffeehouse and Bakery
At NE Alberta Street's popular coffee spot, celebrated pie bakers roll out a cookie worth mentioning. While not quite the religious experience that the vanilla-salted caramel apple pie is, the kitchen's nutty, multidimensional cookies boast a satisfying almond crunch while oozing two types of super dark cocoa buttons. ($2)
8. Meat Cheese Bread
We thought we'd hit the jackpot when spotting jars of fresh cookies at this killer Buckman sandwich shop. Turned out to be a small payout, instead—a good follow-up to one of the great house sandwiches, but not strong enough for lasting impressions, with a heavy hand of Maldon sea salt inside and out and a scattershot of pecan in every bite. ($1.95)
9. Little T American Baker
The baguettes are to the heavens and the focaccias can make Nonna weep. But the chocolate chip cookies at one of Portland's iconic bakeries simply miss the boat. These chocolate-heavy rounds are missing that essential soft-chew, throwing out an overly resounding crunch to the finish, with a sugar-hangover aftertaste that recalls an unsupervised Halloween. ($1.50)
10. Dovetail Bakery
Operated by Portland's rockstar mastermind of veganism, Morgan Grundstein-Helvey, this little pastry shop on NE Alberta Street usually comes out on top with baked goods. But Dovetail's chocolate chip cookies flopped recently, with wet, oily dough and sugar-forward chocolate chips of no distinction. We'll be back, but for the eyes-to-the-back-of-the-head sticky buns and pitch perfect pies. ($2.75)
Did we miss any of your favorites? Let us know!