Eat This Now
Where the Wild Things Are
Southeast Portland's new Over the Top food cart cooks up a big buck hunter's dream with elk, bison, venison, and boar.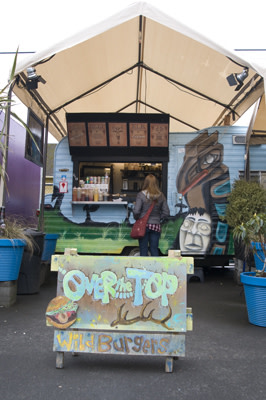 Somewhere between the glittering copper kitchen at Le Pigeon and the screaming-red takeout counter at Little Big Burger, Portland's market for all-American beef burgers officially became flooded.
What were Montana-based chefs Taylor Rea and Ryan Biglione to do when they arrived in Portland only to discover it had already achieved its ground-round apex? Realizing the market was supersaturated with burgermeisters, the two looked back to their rural Northwest roots for inspiration—to the bison and elk of their childhood for a niche that would put them "over the top."
Squished into the quiet jumble of food carts at the A La Cart pod on SE 50th Avenue and Division Street, Over the Top's tin trailer is hard to miss. A giant mural honoring the Native Americans of the Pacific Northwest, the original masters of game, towers over the huddled mass of curious carnivores with a soul and style worthy of Banksy. This homage to the Northwest's wild side lies at the heart of Over the Top's Oregon game burgers.
The selection is, as promised, over the top, with a rotating menagerie of unfamiliar tastes and textures in patty form. Less adventurous game hunters might opt for their regular—but still superlative—menu of elk, bison, and beef burgers sourced from Nicky USA, Oregon's go-to-guy for wild meats. Thrill-seekers can look forward to weekly bush meats like rabbit and venison and out of town specialties like emu, kangaroo, and boar.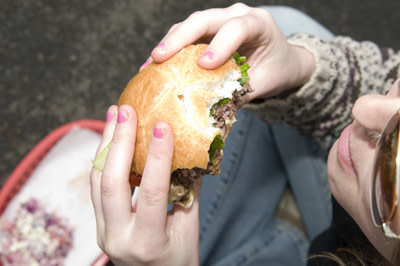 Exotic game may be kitsch, but holy cow, this meat is good. The elk patty itself is a work of untamed perfection: a velvety texture that hints at gamey venison but melts in the mouth with a surprisingly sweet aftertaste. The whole production comes bedaubed in a tangy-sweet cherry demi-glaze, draped in piquant provolone, and finished with a healthy dose of melted caramelized onions on a Portland French Bakery bun. I'm hooked.
Over the Top Game Plan:
1. Aim your sights at the Elk Burger and do not miss the side of gold-medal coleslaw with a zesty apple crunch and tame blue cheese morsels. ($9)
2. Bypass that side of bone-knuckle soup. Even on the most blustery days, a full mouthful of green onions and salty, flavorless collagen won't do you any good.
3. For pickle people, the crunchy, cayenne-spiked, tempura-battered pickles are a must from the selection of hit-or-miss fried veggies. ($3)
Over the Top food cart is open Thurs–Tues, 12:30–8 p.m. on weekdays, 9 a.m.–10 p.m.on weekends. 4926 SE Division St. alacartspdx.com