Out & About
Bellwether Farms Cheesemakers At Cheese Bar April 7
Sample sheep's milk cheese, yogurt, and fromage blanc from a premier American cheesemaker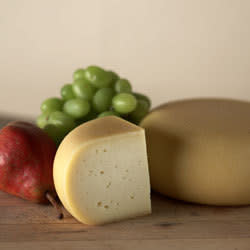 Cheese Bar is a mecca for cheese lovers and beer hounds alike. Whether it's a grocery stop or a leisurely snack with friends, good times and delicious treats are guaranteed at this neighborhood eatery and market. Proprietor Steve Jones is as passionate about community as he is about cheese. Connecting his customers to artisans has been an integral part of his shop since he started selling cheese here in Portland five years ago.
Thursday, April 7, stop by his SE Belmont corner shop for a tasting with Bellwether Farms. At the forefront of American cheesemaking, the Callahan family began making cheese in the mid-'80s, when Wisconsin cheddar was as good as cheese could get in the states. I remember first tasting their Crescenza in 1992 when I was the cheese buyer at La Brea Bakery in Los Angeles. I thought I'd discovered gold, and, almost overnight I doubled our weekly orders; we were hooked on this Sonoma treasure. Since then, Bellwether Farms has expanded their repertoire while still focusing on quality and care rather than big production. You can taste the love in each and every batch of cheese, yogurt, fromage blanc, and creme fraiche.
My personal favorites are their sheep's milk cheeses, milked from herds of East Friesian sheep that graze on their farm in Sonoma, just miles from the coast. Sheep's milk yogurt is a special treat and carried regularly at Cheese Bar. And the raw-milk aged San Andreas sheep's cheese is not to be missed.
See and taste for yourself this Thursday, 6–8 p.m.
Cheese Bar
6031 SE Belmont Street
cheese-bar.com