Best of PDX
Five Places I Love
Eat Beat's newest gastrophile, Allison Jones, waxes poetic about her all-time favorite spots in Portland.
I dine out too much. Though once upon a time I was an avid home cook, these days I spend my time in tireless pursuit of the best things coming out of every Portland kitchen but my own. Sure, you'll find me at whichever new French bistro or offal-in-a-waffle food cart pops onto the scene, but there are also places around town serving crave-worthy dishes that call me back time and time again whenever I think about making my own dinner for once. Here's my list of the five reliable places that keep my home fridge empty.
1) The Burger: Screen Door 2337 E Burnside St
There are plenty of explanations for that infamous line out the door, but in my book there's only one that really matters: Screen Door serves the best burger in Portland. Nothing cures food disenchantment caused by too many gourmet tasting menus than 10 bloody ounces of Painted Hills ground sirloin with thick-cut onions and extra pickles. Insider tip: Ask for the burger on the pulled pork bun for the full experience, and if you're feeling daring, try it with pimento cheese and stuff your face like nobody's watching.
Eat me: Step one: Backyard Burger with french fries. Step two: Banoffee Pie. Just do it.
Drink me: Porch Swing Lemonade with vodka, fresh lemonade, and muddled sage. Like sipping a liquid version of your summer herb garden right after it's been watered. With booze.
2) The Coffee Shop: Ford Food and Drink SE 11th & SE Division St
This offshoot of SE Division's Detour Café serves from-scratch pastries, sandwiches, soups, and focaccia pizza in a huge concrete-chic space that was once a Model T factory. Ford's walls of windows keep the space bright – even when it's pouring – and with plentiful power outlets and tables, you get the feeling you're welcome to stay for hours. And I do.
Eat me: Good Morning Panino – Cream cheese, pepper bacon, oven-dried Roma tomatoes, and fresh basil pesto on house-made foccacia.
Drink me: With rotating beers on tap and a well-curated and affordable wine selection, the good people at Ford do their part to fill your cup with more than just Stumptown brew. The've got Happy Hour 5-7 weekdays, with $3 pints and glasses of wine.
3) The Food Cart:
Los Gorditos Taqueria
SE 50th Ave & SE Division St
I'm not going to involve myself in the eternal no-real-Mexican-food-in-
PDX
debate, but Los Gorditos is easily my favorite food cart in town. With a full covered porch and plenty of seating, this spot is the kind of place where you could throw a dart at their menu board and be completely satisfied ordering anything you hit. Be warned: the cart is closed on Sundays, making it the saddest day of the week, but their brick-and-mortar location on 12th and Division is open every day.
Eat me:
The Soyrizo burrito, a lingering favorite from my vegetarian days – a grilled flour tortilla stuffed with Soyrizo, beans, rice, cheese, lettuce, tomato, avocado, sour cream, onion and cilantro, topped with a lot of their house salsa verde.
Drink me:
Mexican Coke cold out of the fridge under the salsa bar. Because it's the real thing.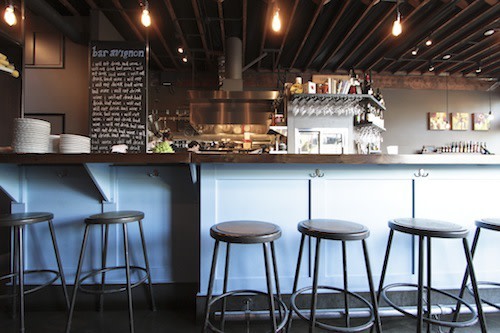 4) The Date Spot:
Bar Avignon
2138 SE Division St
I supposed you could call Bar Avignon a mom-and-pop joint, but only if your pop is one of the most well-respected wine directors in town and your mom makes a truly wicked sazerac. Randy Goodman and Nancy Hunt have created the quintessential neighborhood bistro, with a knockout wine and cocktail list, a full menu of classic, flavorful dishes, and a vibe that manages to be romantic, Euro-chic, and homey at the same time. They've been teasing me with the promise of weekend brunch in the coming months, and when that wish is granted I may never leave.
Eat me:
Head in on Fried Chicken Night (check their website for dates) and feast on golden-crisp Draper Valley chickens drizzled with spiced honey, cornbread with maple butter, and spicy braised greens.
Drink me:
Nancy's take on the Vieux Carré – rye whiskey, Dolin sweet vermouth, Benedictine, Angostura and Peychaud bitters, and lemon.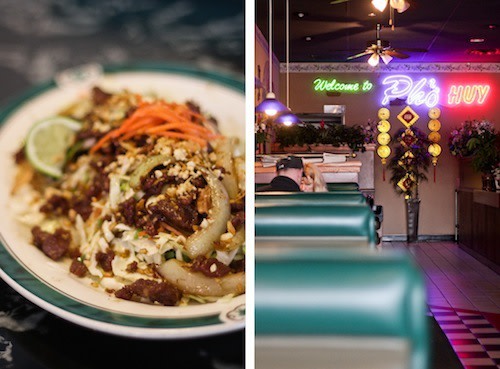 5) The Hole in the Wall:
Pho Huy
11342 SE 82nd, (503) 353-6646
Everyone's got their favorite pho joint, and mine's in the parking lot of a WinCo in Happy Valley. While Pho Huy's take on the sinus-clearing Vietnamese noodle soups are standard, the real reason I'm impelled to drive a half hour for lunch is a salad. The Goi Bo (seared beef salad) is an addictive plate of flavorful steak bits, shredded cabbage, carrots, cilantro, and peanuts in a citrusy fish sauce dressing that manages to become far more than the sum of its humble parts.
Eat me:
Said Goi Bo.
Drink me:
Pho Huy manages to do something magical with their water (yes, as in tap water) involving fresh lime. If it was on the menu I'd order it, but it's free, which is way better.
There you have it, my everyday cravings in a nutshell. What are your top five?