Eat Here Now
Introducing: Aviary
Ambitious entrees are always in season at Aviary.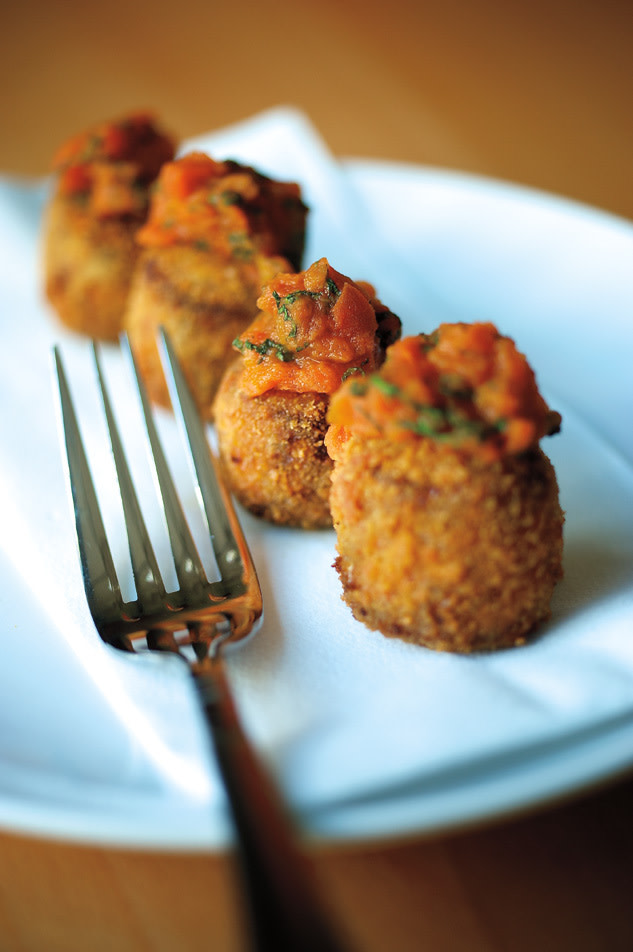 THREE CHEFS arrive in Portland after sweating the line at modernist New York destinations Jean Georges and Aquavit, and what do they do? Put a bird on it! At Aviary, a sign featuring three birds on a branch welcomes diners, and a golden winged warbler, rendered in artist's paint, hawks the scene. But Portlandia quirky ends here. Chefs Sarah Pliner, Kat Whitehead, and Jasper Shen bring something new to the Portland scene: sophisticated Asian-French fusion cooking with hints of molecular know-how in a polished but super-casual setting.
I'd come back just for the blood orange bourbon cocktail, the tiny oxtail croquettes dabbed with tomato jam, and cauliflower soup with a painterly swirl of shiso purée on top and below—deep in its creamy depths—sweet, nutty fresh chestnuts. And Aviary's contribution to Porkland, a New World paella with crispy pigs' ears, coconut rice, and Chinese sausage, is already gaining devotees around town.
But the kitchen is still finding its rhythms—an observation best expressed in a warm snap pea salad. This visually striking dish had, amazingly, about 14 things going on: a swipe of pea purée and cut-open pods revealing delicate peas; spheres of yogurt and orange juice transformed by science into what looked like quail eggs; lily bulbs; itty-bitty shimeji mushrooms; and a fragile handmade barley cracker on top. All this passion and labor for a mere $9. Only one thing was missing: truly memorable flavor.
Still, the art, beauty, and ambition are welcome in a scene overflowing with pork belly sandwiches. Prices are generous, with everything coming in under $16. The room chirps with a quiet urban chic. If Aviary nails a few details—better attention to flavor and temperature control—this place could fly, high. Come get a seat while you can.