Market Watch
Olive Oil for the Masses, B.Y.O.B.
Local foodinista, Jim Dixon, is my olive oil confidante. Find him at his tiny Southeast shophouse every Monday to taste his collection of Mediterranean condiments. He'll also have a stand this Saturday, May 14th, at the PSU Farmers' Market.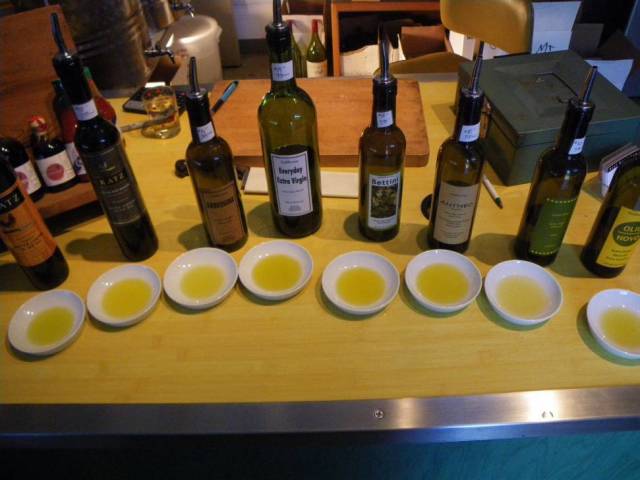 Local foodinista, Jim Dixon, is my olive oil confidante, my vinegar guru, and my salt sage. He searches out some of the best pantry ingredients, near and far. Olive oil is one of his specialties, and right now, he's got a boatload.
If you like fruit in your oil, try the California Olive Ranch Arbequina. Dixon sells it to many of Portland's best restaurants — Nostrana, Toro Bravo, Tasty n Son's, Clyde Common, Olympic Provisions, Bunk, and more. The Katz oil (I wrote about their vinegars recently on this blog), is the house oil at Chez Panisse. I do enjoy a west coast oil from time to time, but if truth be told, the Italians are still the kings. The organic Bettini from Umbria is delicious and both the Madre Terra and Antheo DOP, from Sicily, offer a near perfect balance of fruity, bitter, and pungent, the three flavor notes used to evaluate oil.
If you go to the PSU farmers' market this Saturday, May 14th, look for a long table of oils with little glass bowls in front of them. Jim Dixon will be there with a big smile, his adorable son Tom Dixon, and a terrific line-up of scrumptious oils. While tasting his imports, he'll tell you of his favorite new recipe made with something foraged from the market, cooked in olive oil, and sprinkled with Flor de Sal, a sea salt he imports from Portugal.
Dixon is an advocate of home cooking and convinces people that anyone can cook. He writes on his blog, "I believe that everybody should eat real good food. You don't have to spend a fortune or most of your waking hours in the kitchen, but there are a few things to know that make it easier. You'll find some of them here." If you visit his warehouse in Southeast, bring your own bottles to fill up. It costs $24-$27 to fill a 750-milliliter bottle with one of the Italian oils and California oils are $15-$20 for the same size. At the farmers' market, he sells only pre-bottled oils and vinegars. To join his email list or get updates, check out his Facebook page.
Jim Dixon sells his oils every Monday, 5-7 pm at Activspace: 833 SE Main St. #117
Email him for details.
Jim will be selling at the following PSU Park Blocks Saturday markets in 2011:
5/14, 6/18, 7/16, 8/20, 9/17, 8/8, 9/26, & 12/17