Pick This Up
Dinner Done, Just Like That!
"Making dinner" at home has never been more relaxing. Have dinner ready hours ahead by grabbing a few things to-go while you're out and about.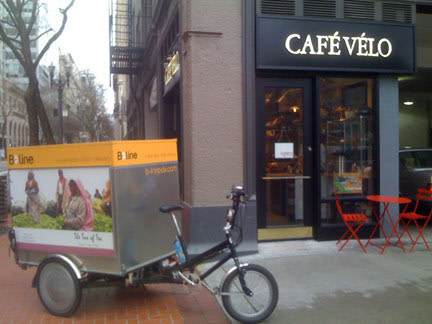 There are so many good to-go spots in Portland these days. With the popularity of food carts in all four corners of town, never do we complain about a cheap and cheerful meal. As I'm racing around on errands during the day, or pursuing a writing deadline, dinner is always looming in my mind…What is it going to be tonight? I cook about five out of seven meals a week. And, while I do get carried away and love to cook, there are nights that I just can't face the stove, like tonight when quesadillas and a salad was all I could muster. That said, there's nothing like picking up supper to-go. I get to waltz in, set the table, and sit down to warm food and relax with the family. Here are a few great pick-up spots to help you break that meat and potato routine. I know there's a lot more, so feel free to share yours. Open some wine, sit out on the porch, and enjoy a summer evening with no pots to scrub.
Cafe Velo downtown (just off Burnside) is a tiny spot that makes delicious and super affordable Mediterranean fare. The specials ($6-$8) such as paella, pork shoulder, or Morrocan chicken tagine (they change daily) make a great dinner later in the day. Add some carrot cumin salad ($3.50) and eggplant spread with their killer flatbread and you're all set. They're closed weekends.
600 SW Pine St.
503.224.9236
7:00 am – 3 pm Monday – Friday
Por Que No Taqueria
You can't go wrong at this friendly Mexican spot specializing in local fish and other sustainable ingredients. For take-out, try the Bryan's bowl ($6) or the Por Que Plate ($11) which comes with your choice of meat or veggies, beans, rice, salad, guacomole, crema, and tortillas.
Open 7 days, 2 locations: NE & SE
www.porquenotacos.com
Pok Pok Noi in NE, Andy Ricker's latest Thai outpost, is on fire. All of the menu works to-go, so call ahead and bring cash. Get the charcoal rotisserie-grilled chicken ($12) and another must-have is the Khao Soi noodles ($12), drenched in coconut curry goodness.
1469 NE Prescott 503-287-4149
11:30 am – midnight, open daily
Zenbu, a recently opened airstream cart on 13th Ave in Sellwood, has become a popular spot for noshing sushi ($3-$4) and other Asian dishes, all easy to bring home. A friend who lives nearby swears by it. (Thanks Julie!)
13th & Lexington in Sellwood
971- 227-7610
Open daily, except Wed. 11 am – 6 pm
Frank's Noodle House
Situated in a Victorian house, Frank's Noodle House is the perfect place to pick up some Chinese or Korean favorites. Call ahead, especially on the weekends. House special is of course the handmade noodles, made fresh every morning on the premises.
822 NE Broadway 503-288-1007
Mon-Sat, 11 am – 9:30 pm, closed Sundays.
Chef Naoko
I love this Southwest Japanese cafe. It's tiny, making it hard to grab a table, but taking a few things to go is a cinch. Call in your order ahead, sampling one of the delicious bento boxes or a Jefferson bowl ($7.50). Add some miso soup ($2) or onigiri too. The Farmers Chicken Teriyaki ($9)plate has seasonal veggies from the farmers market, crisp and never with MSG. It's all organic and super fresh.
To pre-order for take-out, call 503-227-4136
1237 SW Jefferson St
11:30 – 3:00 m-f 11:30 – 9 pm saturdays , closed sun , mon.