Pick This Up
You Say Salami, I say Salumi
Olympic Provisions is Portland's hot spot for all things pork. Stop by and grab a salami or three for your picnic basket, and throw in a few frankfurters for fun. Here's some classes to try your hand at sausage making around town too.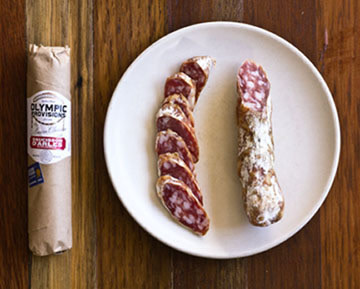 Many of us have been eating salami our entire lives, but do we really know what salami is? True artisanal salami is a fermented, dry-cured product made by exposing raw meat to the air to gather yeasts and cultures, causing the meat to cure over time. Just like cheese, this preserved product requires acids, bacteria, and yeasts, along with serious temperature and humidity control, to thrive and ferment. It's fascinating stuff, an age-old art that's having a renaissance in our country, thanks to people like Elias Cairo, head salumist at Olympic Provisions.
Recently, amidst growing pains and a desire to expand wholesale production, the group of owners at Olympic Provisions moved their main meat curing facility from their eastside restaurant ( the Olympic Mills Commerce building) to Northwest Portland where the Carlyle restaurant was. Their new space also includes a small bar and dining room with a larger deli counter and much larger meat curing facility. "It's my dream, I live for this stuff," claims Cairo, admiring his grand stainless steel room, with a grin that would make a German butcher proud and a pig run for its life.
The salami selection ($9 pound) is vast, my recent favorite is the Nola, an Italian style salami seasoned with black pepper, chile, and allspice. His classic and delicious French salami, saucisson sec, has garlic and black pepper. And if you're a hot dog fan, grab a dozen frankfurters ($9 pound); These foot-long dogs are fantastic.
Olympic Provisions also offers classes, check the website for updates.
Another great source for butchery and meat curing is the Portland Meat Collective. They have a sausage-making class in August.
Here are some facts from the Olympic Provisions website:
DO I NEED TO REFRIGERATE MY SALAMI?
No. Salami is shelf-stable, so it doesn't require refrigeration, but it will continue to dry out. For best results, keep it wrapped in butcher paper and put it in the fridge. DO NOT FREEZE OR PUT IN A PLASTIC CONTAINER! This is a product that needs to breathe.
HOW LONG WILL MY SALAMI LAST?
A really long time. Salami is a shelf-stable product, meaning it has no expiration date. It will dry out the more it sits out, but it will never go bad on you.
IS MY SALAMI SAFE TO EAT IF IT IS SOFT?
Yes. Our salamis are all tested to ensure that they are safe and ready to eat. Salami is a fermented product and meat is cured, not cooked. Because our salamis are much more fresh that what you will find at the store, they tend to be softer. If you let it sit out on your counter, it will dry out and harden a bit more.
DO I NEED TO PEEL TO EAT MY SALAMI?
Olympic Provisions usues all natural hog and beef casings, so there is no need to peel the product, (unless of course you want to).
WHAT IS THE WHITE STUFF ON THE OUTSIDE OF MY SALAMI?
It is a natural edible mold similar to the molds found on aged, soft cheeses. It's called Penicillim, and we inocuate our salami with it to help the aging process. The mold acts as a natural barrier to protect the salami from spoilage, and some believe that the mold aids in digestion as well.
WHAT IF MY SALAMI GETS SLIMY OR THE MOLD ISN'T WHITE?
If your salami gets slimy or their is a change in its appearance or smell, it is usually due to improper storage. Salami is a living product and needs to breathe, and when it is suffocated or held at warm temperatures, it can affect its quality. It's still safe to eat, but we don't recommend eating it for quality reasons. If you just have a color change and it still smells fine, then your salami is fine and you should enjoy it, preferably with some nice wine.
FROM WHAT IS MY SALAMI MADE?
All Olympic Provisions salami is made from 100% delicious, quality pork. Yum.
WHERE DOES OLYMPIC PROVISIONS SOURCE ITS PORK?
We are part of the Heritage Program with Carlton Farms. Their focus is to provide high-quality meat that is antibiotic-free, and their product is raised by a select group of farmers that respect their animals and the environment. Occasionally we will procure our pork from small local farms, and we also have a good relationship with Sweet Briar Farms located in Eugene, OR.
DOES YOUR SALAMI CONTAIN NITRATES? AND JUST WHAT ARE NITRITES, ANYWAY?
Yes. We use nitrites in the salt to cure our product. Nitrites are a natural component of vegetables such as broccoli, cauliflower, celery, beets & spinach, to name a few. We add nitrites because it helps to make our product safe by inhibiting growth of bacteria, and it also helps to keep the natural color of the pork.
(Little known fact: All cured meats contain nitrites in some form. When it is not included on a label, that is usually because the producer has utilized concentrated celery juice which contains nitrite. Sneaky! The amount of nitrite in our salami is similar to eating about a cup of celery.)
IS YOUR SALAMI GLUTEN FREE?
Absolutely.
IS YOUR SALAMI LACTOSE FREE?
You know it.
WHY IS OLYMPIC PROVISIONS SO DARN GOOD?
Because making salamis is our life, and life is good.