Savor
Local Preserver Pink Slip Jam Captures August's Vivid Flavors in a Jar
Suzanne Fuoco's jams combine fruit flavors from well outside the box.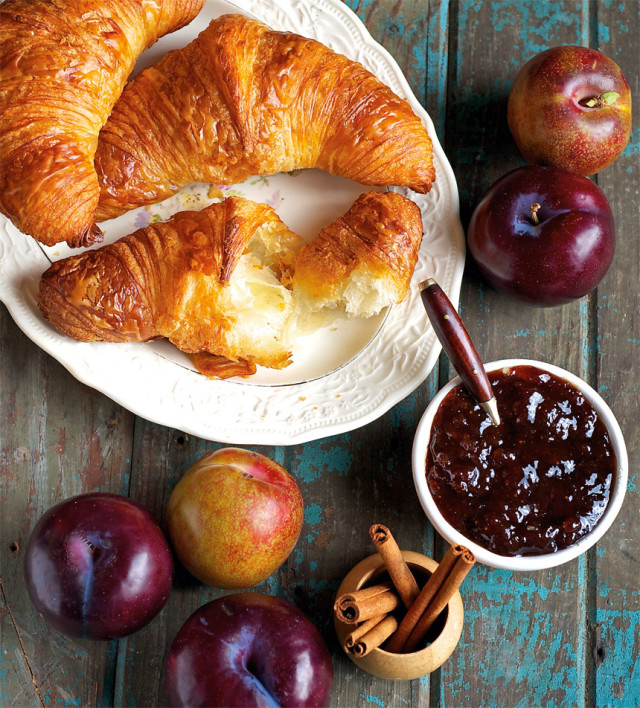 THE SPREADABLE concoctions Suzanne Fuoco dreams up seem to hail from a refreshingly unfamiliar fruit universe. Blackberries, blueberries, and Doug fir tips mingle in Nevermore jam; the Epiphany blend combines clementines, Meyer lemons, Tahitian vanilla, and peony blossoms. Others, like the Love My Manhattan (cherries in brandy with bitters) or Strawberry Dram (strawberries marinated in single-malt scotch), seem best suited to evening. "Think beyond toast," says Fuoco. "From pork loin to popovers to rice pudding, the sky's the limit on how you can use them."
A former nurse who spent time working in famed Bay Area restaurants like Rivoli, Greens, and Alice Waters's Café Fanny, Fuoco moved to Portland with her family in 2008 and started Pink Slip Jam a year later. Today her one-woman company is still decidedly old-fashioned in both scale and process, shipping and hand-delivering jams and special orders through pinkslipjam.com. Her 40 flavors of jams, marmalades, and chutneys are on seasonal rotation, and everything's local and organic but for the citrus and figs, which are gleaned from friends' California trees and sent north. Everything else—berries, herbs, rhubarb, apples, and plums—is grown either in her own lush Southeast Portland garden or sourced from farms on Sauvie Island or in Hood River.
After the hours Fuoco spends peeling, slicing, and stirring her mixes over steaming pots, the results are anything but traditional. Fruits shine and herbs pop in whimsical compounds like this red plum and cinnamon jam, a deep red, glowing summer spread that's lusciously seedless and simple for beginners to make. Fuoco likes to use it for crostatas and other baked goods. Come fall, look for more exotic touches from Pink Slip, like black mission fig, cacao nibs, and cardamom.
Red Plum & Cinnamon Jam
Makes six 8-ounce jars
2 ¼ lbs red plums
2 ¼ lbs sugar
4-inch cinnamon stick, finely ground in a spice mill 
6 full 4-inch cinnamon sticks (one for each jar)
 (1) 
CUT
 the plums in halves or quarters, depending on size, and remove pits. 
(2) COMBINE fruit with sugar, ground cinnamon, and 1 cup water in a large, nonreactive pot or preserving pan. 
(3) COOK over medium heat for 15 minutes, stirring until sugar dissolves. 
(4) INCREASE the heat to medium-high, bringing to a full rolling boil, and cook until jam reaches its setting point, about 5 minutes. 
(5) LADLE jam into hot, sterilized jars, adding a cinnamon stick to each one. 
(6) SEAL jars using the water bath method (pick up Harriet Fasenfest's A Householder's Guide to the Universe for detailed instructions), and label after they are cool.