RECIPE
Fall Colors
A marriage of ripe persimmons with seasoned duck breast brings out autumn's flavors.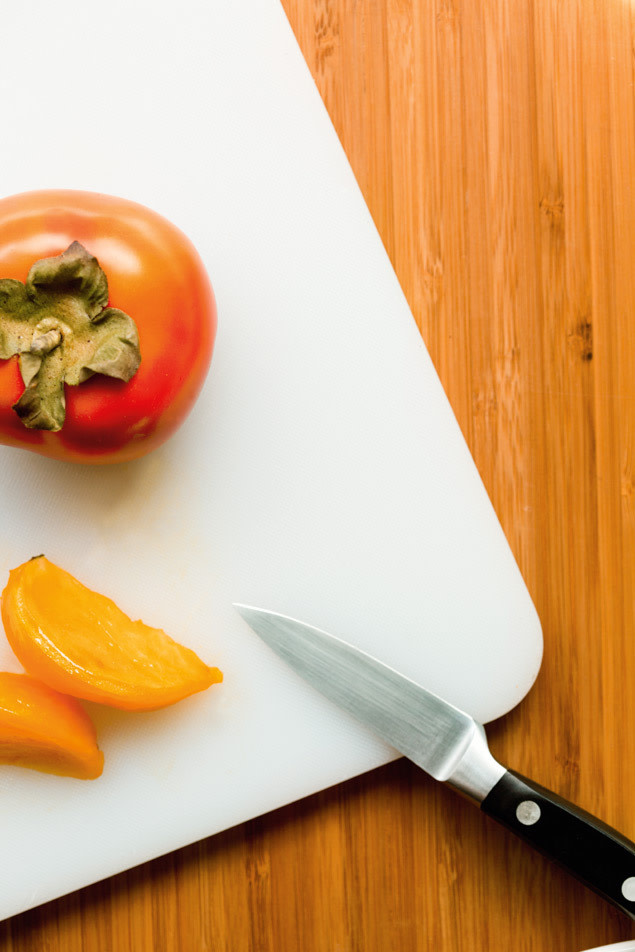 CERTAIN FLAVORS, sights, and sensations unmistakably mark the arrival of autumn for all of us: a nip on the edge of the air, the incline of the sun's evening angles, a thick-skinned winter squash at the market. For Kevin Gibson, chef at the SE Hawthorne Boulevard restaurant Evoe, it's the appearance of sweet, fragrant, bright-orange persimmons.
Both main varieties of persimmon can be found overflowing from our Pacific Northwest backyards. The heart-shaped hachiyas start out with a puckering dose of astringency and are ready to eat only when they soften to a delicious, aromatic, nearly pre-compost mush. The fuyus, in contrast, can be eaten while they still have some firmness, like a cross between a plum and an apple.
Gibson puts both to elegant use at Evoe, a casual eatery that highlights his simple, European-influenced approach to seasonal cooking. He uses hachiyas to make moist, nearly pudding-like cakes, and even sneaks dried persimmons into lamb-based meatballs. When he gets a fuyu, however, he barely does anything at all. "Just make sure that they're ripe," he laughs. "I like the color, the shine, the taste—everything."
In one of his favorite preparations, Gibson pairs peeled and quartered fuyus with a spice-dusted duck breast. "There's a slight spice back note to the persimmon, so the spice rub matches," he says. "And they're tart enough that they cut through the richness of the duck." It's an ideal meal for a dinner party, uncomplicated, impressive—and best of all, you can relax with your guests while the duck rests, taking the time to celebrate the changing of the season. 
Kevin Gibson's Duck Breast with Persimmons
Serves 2
2 tsp whole coriander seed
½ Cinnamon stick
1 tsp black peppercorns
½ tsp salt
1 magret duck breast
2 ripe fuyu persimmons
2 handfuls arugula, dressed with a simple vinaigrette
(1) GRIND together coriander, cinnamon, and peppercorns, and mix with salt. (2) SCORE skin of the duck breast, and rub in the spice mixture. (3) REFRIGERATE duck breast for a few hours to allow the spices to permeate—allow to come to room temperature before cooking. (4) HEAT a dry sauté pan over a low flame, place the duck breast within, skin side down, and cook gently until the color just begins to change above the skin and the meat has the beginnings of structure but hasn't quite become firm, about 10 minutes. (The goal is to crisp the skin but keep the top rare.) (5) SPOON off the excess as fat renders out. (6) TURN meat over and cook for just 30 seconds on the flip side. (7) REMOVE from heat, and let rest for 5 minutes. (8) PEEL the persimmons, removing cores, and cut into wedges while the duck rests. (9) SLICE duck thinly and sprinkle with coarse salt on the cut surface. (10) PLATE duck with the persimmons over a bed of arugula.