RECIPE
Life of the Party
Master caterer Larry Grimes sets a festive table for the holidays.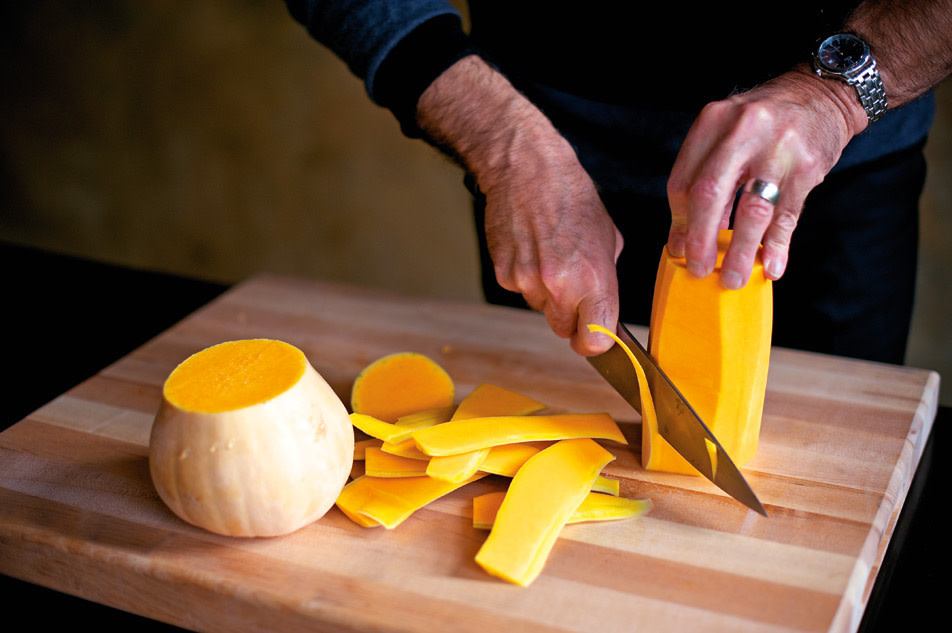 WHEN PORTLAND'S Classical Chinese Garden opened in 2000, Larry Grimes transformed an entire city block into a tented ballroom, treating guests to elegant bites of Pacific sea bass wrapped in banana leaf. For Grimes, it was all in a day's work—from the Trail Blazers' Christmas party to PICA's Dada Ball, he and his ambitious brainchild, Art of Catering, have been throwing some of the biggest, most extravagant, and most delicious bashes in the city for the past 13 years.
When Grimes first launched his business, catering conjured visions of plastic bags of takeout. These days, his Pearl District kitchen hosts some of the biggest food luminaries in the country, showcasing the Vietnamese flavors of food thinker Charles Phan, chef at San Francisco's Slanted Door; the cozy alpine cuisine of Grüner's Christopher Israel; and even the handiwork of Blazers leadman Brandon Roy.
But a holiday party at home doesn't need celebrities to be unforgettable, says Grimes. Step one: set the stage with smells. Hit people as soon as they come through the door "with floral trimmings, spiced cider, mulled wine, and fresh cookies." Step two: lavish your guests with a little presentation. "Decorate the table with holiday fare and bring new twists to familiar dishes—like milk and cookies in a shot glass," he says.
Grimes's classic butternut squash soup combines both nuggets of wisdom into one foolproof appetizer: heady wafts of baked apple, cinnamon, and cloves packaged in miniature demitasse cups garnished with tiny wedges of grilled cheese, perched on the rims. You won't need to worry about your guests at all—at least until they've finished slurping their soup down.
Holiday Butternut Squash & Apple Soup
(Makes 20 two-ounce portions) 
1 stick butter
2 cups yellow onions, finely chopped
1 cinnamon stick
1 tsp whole cloves
2 medium butternut squash, peeled, seeded, and diced into 1-inch pieces
2 Hood River apples, peeled, cored, and chopped
1 quart chicken (or vegetable) stock
1 ¼ cups organic apple cider
Salt and pepper to taste
WRAP
 the cinnamon stick and cloves tightly in a cheesecloth sachet. 
MELT
 butter in a 6-quart stockpot. 
ADD
 onions and cook over low heat until translucent. 
ADD
 squash, apples, stock, and sachet of cinnamon and cloves, and bring to a boil. 
REDUCE
 to a simmer, cover partially, and continue cooking until squash and apples are very tender, about 30 minutes. 
STRAIN
 soup and remove the sachet, reserving the liquid. 
PUR

ÉE 
squash, apples, and onions in a food processor, adding reserved liquid as needed. 
RETURN
 purée to the pot, and add apple cider and the rest of the reserved cooking liquid. 
SEASON
 with salt and pepper. 
POUR
 soup into 2-ounce demitasse cups. 
GARNISH
 each cup with a dollop of whipped cream and a sprinkle of nutmeg, and serve each with a bite-size wedge of grilled cheese on the rim (see photo).