Market Watch
Cooking Like a Local
Sometimes the best recipes come from close to home.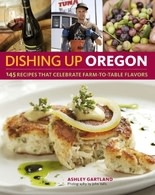 While eating local has been all the rage the past few years – and hooray for that – it's not exactly a new idea. Neither are regionally oriented cookbooks. You might say they started with families sharing recipes on little 3 × 5 cards. And of course there are the spiral bound books put out by church groups and ladies service organizations all over the country. (Portland's Junior League has a couple cookbooks.) In Portland, we might even count among our local recipe recorders the pioneering American gourmet guru James Beard, who often tipped his hat (chef's toque?) to Oregon in his many books.
But some sixty years since his James Beard's Fish Cookery came out, what's on the local cookbook shelf these days? Books from local chefs have an Oregon focus that makes their books especially good for gifts for friends far and near. Caprial Pence has quite a stack to choose from.
Cory Schreiber, Lisa Schroeder, and Vitaly Paley are also all well known for their long established restaurants and have translated that success into some glossy tomes for the home cook.
This year, though, has brought a new overview of Oregon cooking from food writer Ashley Gartland. Her Dishing Up Oregon is a good read for anyone living and cooking in Oregon or elsewhere; it may tempt your far off friends to come visit, since the recipes all relate to particular restaurants, creameries and farms of the region. The photographs by John Valls won't hurt, either. They capture not just the beautifully prepared food but also the various gorgeous scenes that are commonplace in our state.
Like many of us, Gartland is a transplant to Portland; she admits in her introduction,"I had once viewed my adopted state primarily as a producer of beer, berries and pinot noir." She quickly learned, however, as have most of us. This book is a good snapshot of the food scene we're surrounded by today, and is as fun for the foodie as it is for the newbie.