Review
Littlest Italy
With European kitchen finds and dishes of rustic authenticity, Luce is the new mom-and-pop shop.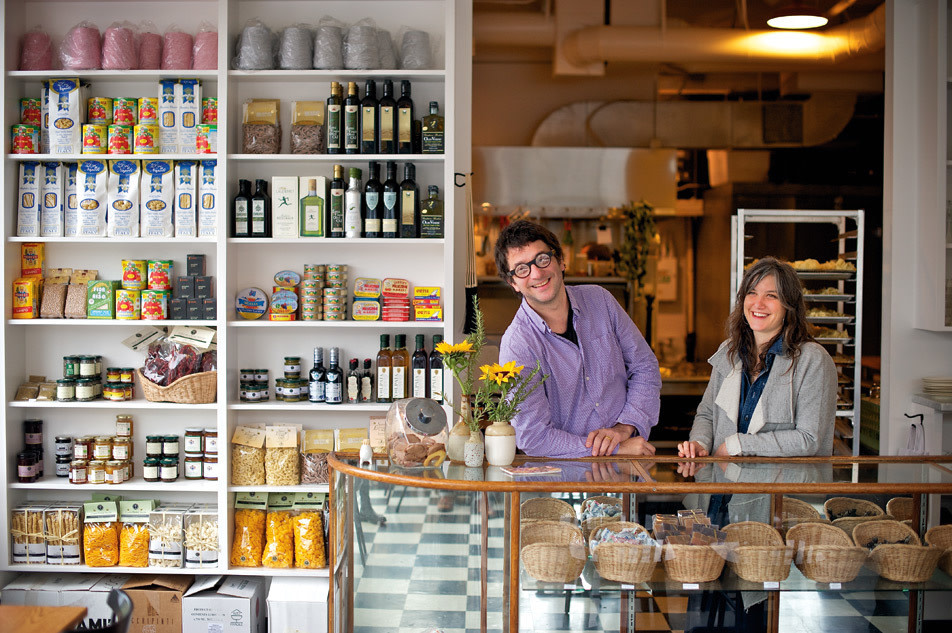 LAST SEPTEMBER, Luce opened its doors in stark contrast to the usual e-mail blasts, sly Facebook leaks, and parade of soft, medium, and loud openings that usually herald additions to Portland's suddenly media-savvy food scene. Not even a peep. To anyone. The biggest clue as to what waits inside lies in a barely legible logo etched on a vast storefront window on a forgotten corner of E Burnside Street. The distressed typeface suggests something lost and found, but also something new and undefined—a sketch of a larger drawing to come.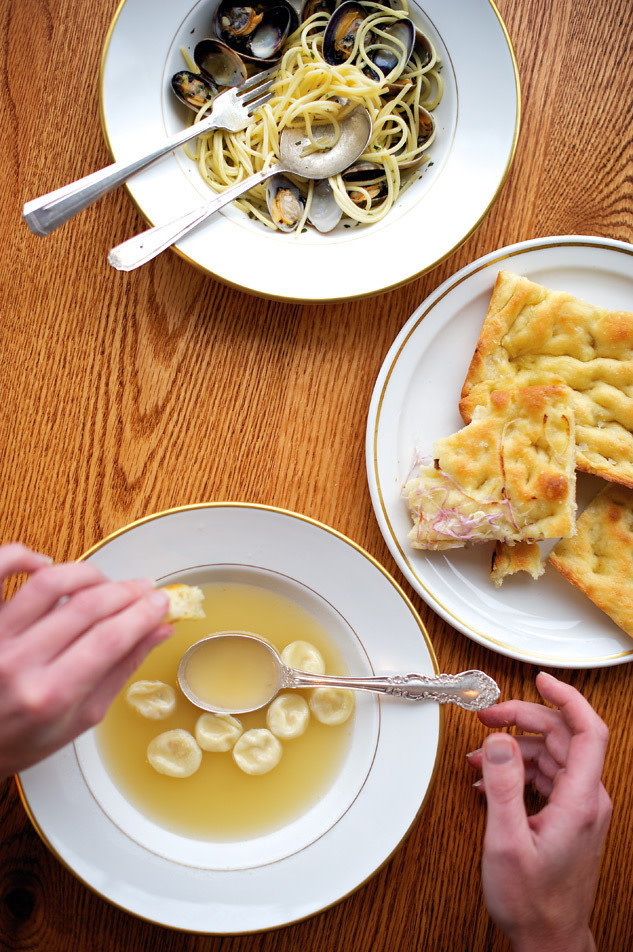 At tiny oak tables set with gold-rimmed plates and antique soup spoons, an understated menu kicks off with a carnival of $2 antipasti ready for impromptu table parties and ends with a slice of double-decker, musty-liquor-soaked sponge cake billowing pastry cream and pistachios. In between come a fine baked trout that tastes straight from the campfire pan and a bowl of "spaghetti, garlic & hot peppers"—the simple clarity of sublime perfection. You can add clams for $2. (Yes, you should.) Two bites in, the question arises: have I stumbled into a Fellini movie, another roadside attraction in Lombardy, or a food lover's minimart as imagined in Portland? Inside the door, the outlines of Luce (pronounced loo-chay) begin to sharpen across a black-and-white checkered floor: the profound smell of a grandma's kitchen, the happy tootle of clarinet music, the clinking of glasses filled with the coolest little collection of Italian wines in the city, and the sense that you are part of something larger.
We don't know. It's not even clear that the owners know. Luce is a spirit and idea, an unfolding work in progress from two eccentrics with great taste and a fondness for Italian comfort cooking. John Taboada is best known for Navarre, his icon of extreme community-farm eating and adventurous wine drinking just up the street. His wife and co-owner, Giovanna Parolari, a scavenger supreme, runs the offbeat ladies' boutique Una nearby, where chic fashions pose next to found vintage pottery. The inspiration for Luce? Their travel haunts: what they call the "old-men places" in Italy, where the locals eat, shop, and drink. 
Candlelit shelves stretch from the floor clear to the ceiling, inviting a treasure hunt for imported foods and household goods that scream small-town Italy, two cobblestone blocks off of the main road. Great spools of blue-striped baker's twine stand proudly among splendid olive oils, controne hot peppers (a pinch gets you there), stacks of sardine cans, and colorful pastas. A humble box hides the flavor-intensive sun-dried sea salt (sale) found in Sicilian groceries.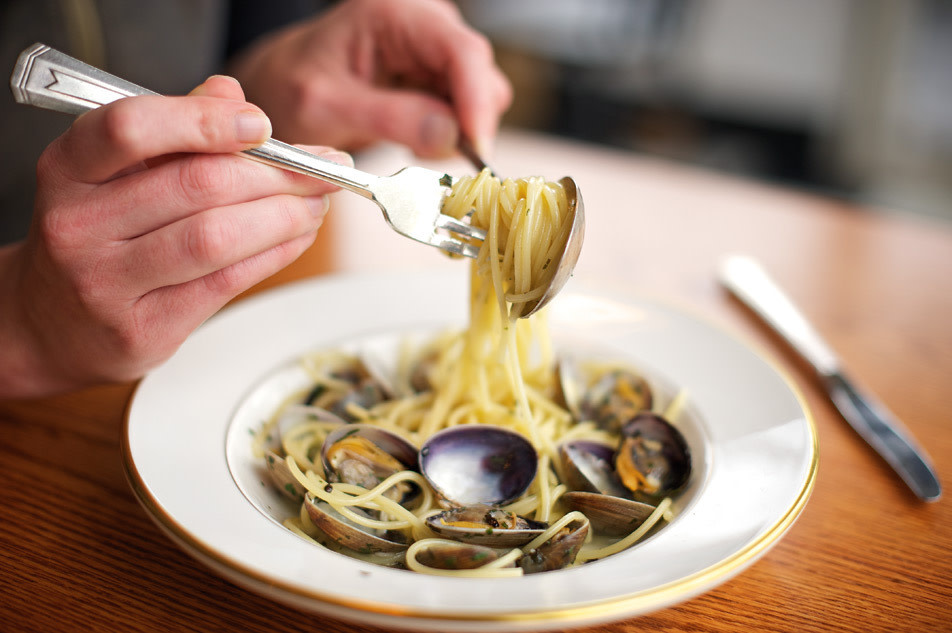 Nearby, an enormous glass antique case holds more curated delights: baskets of hand-tooled crumb sweepers, crazy fish pokers, and deep caramels rendered from buckwheat and goat's milk. These are the culinary artifacts that cooking fanatics smuggle inside their suitcases, but also the building blocks of the kitchen just steps away.
One of the kitchen's offerings, the hanger steak, sums up Luce's authentic quest. The look is bare, even homely, with nary a garnish or plate design in sight. But each slice has been considered, massaged in fresh garlic oil and hot peppers, then quickly seared in a super-hot pan—just enough to get the juices flowing. It's delicious. Cappelletti in brodo (stuffed pasta in broth), destined to become a Luce signature, takes its cues from a grandmother in Parma. The rich yellow broth leeches the essence of whole chickens and short ribs, not the usual bones and scrap meats. Bobbing on top are teeny handmade pasta pillows that yield tenderly to the intense surprise of lemon zest and the flinty pop of parmesan. This is labor-of-love soup, soulful and supremely satisfying. To enjoy it as the elders do, according to Luce lore, spill a little of your red wine into the broth. As Taboada puts it: "Old people know shit."
Sometimes Luce's vision gets a little blurry. One afternoon's kale and farro soup fell a bit too hard for that box of Sicilian salt. The orecchiette pasta cries out for something—anything. Sweet braised fennel is a revelation one night, anonymous the next. Desserts, now limited, could marshal a stronger closing argument for the Old World glory. And depending who has the keys to this tiny kingdom, the lights can be votive-flicker romantic or bright enough to perform open-heart surgery.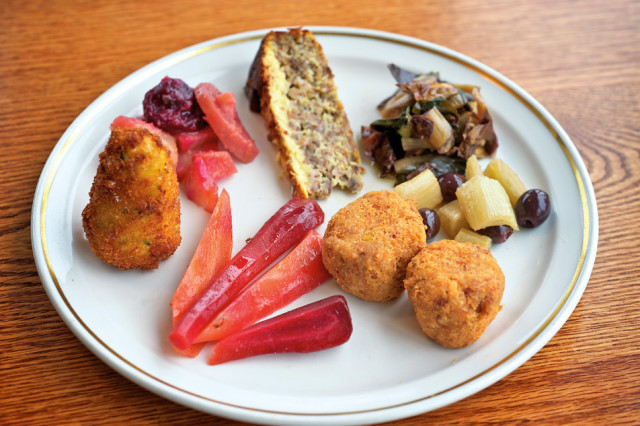 These bumps aside, the kitchen has found a happy groove under longtime Navarre lieutenant John Willis—that aproned figure darting out to deliver a dish and connect with customers. His voice is emerging in a changing list of three-bite starters, now 17 strong and growing. To catch the Luce spirit, take off work early and turn lunch into an afternoon as soft light streams in the window-clad room and the treats keep coming: teeny schmears of ultra-creamy chicken liver mousse over toast; pockmarked rafts of raisin focaccia; a dark melted mound of sweet-and-sour onions, edged with a smoky, slightly burnt flavor—close your eyes and it's brisket from beyond, with the crazy chew of prosciutto hidden inside.
The Italian wine list is priced to produce smiles, with a dozen glass pours from $6 to $12 and extremely well-chosen bottles at retail prices, plus a $12 corkage fee. The house wine is as good as $5 a glass can buy, but you can also indulge in an $80 bottle of Brunello that would be twice the price in most restaurants. Throw a dart and you can't miss … they're all good. That extends to the enlightened chinatos (digestifs for $6 to $18 a glass), each different. Roagna Barolo tastes like a heavenly Coca-Cola juiced with dark wine and coffee, and the Luli, made with white moscado grapes and sipped over ice, captures the faint taste of not just the peach but the pit.
Right now, Luce doesn't look or taste like anything else in Portland. But a year from now, it's likely to look different than it does today. That's the idea: let it unfold, see how customers use the space. The joy is in the journey—for them and for us. Eat, and then browse those shelves again. You may see things differently.