RECIPE
How to Make Alma's Chocolate Bread Pudding
Chocolatier extraordinaire Sarah Hart shares her recipe for a no-hassle dessert.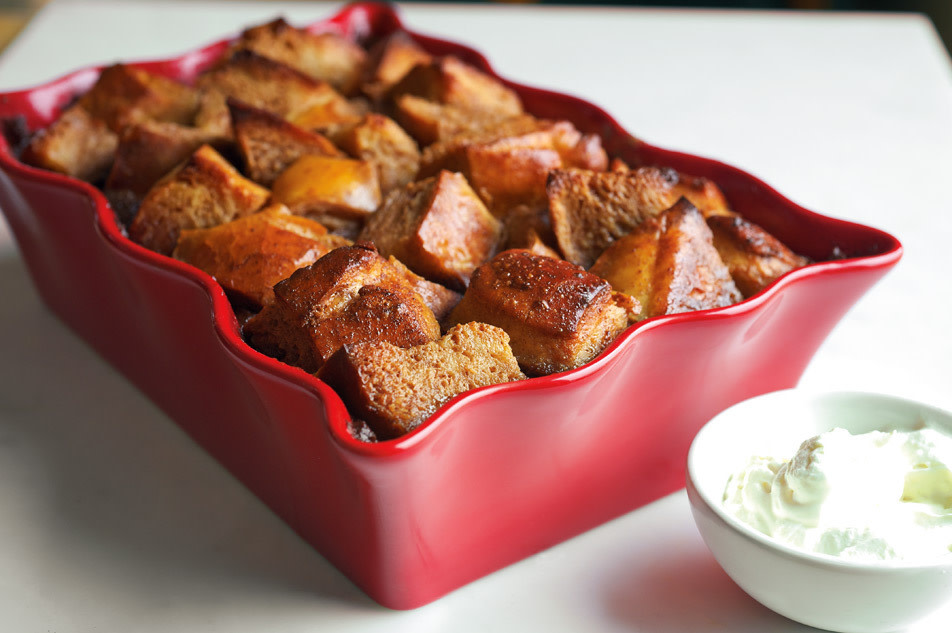 AT ALMA CHOCOLATE, a boutique house of cocoa worship in Northeast Portland, chocolatier Sarah Hart transforms chocolate into devotional relics. Literally. Her edible 23-karat gold icons of glowing Virgins of Guadalupe line the walls next to rotund, laughing Buddhas made of chocolate. For the agnostic indulgers, there's an aphrodisiacal selection of treats in all shapes and sizes, from dark Thai peanut butter cups gushing with nutty, complex spices to a soul-warming Caramelita hot chocolate, spiked with cosmic swirls of caramel-habanero sauce.
Even for Hart, who's been doing this for almost eight years, tempering chocolate and brushing miniscule flakes of edible gold is a painstaking process. But turning out divine confections at home need not be so complicated. For February's Valentine's Day cocoa deluge, Hart prefers something more forgiving. She settles in for a simple yet decadent holiday at home with this foolproof chocolate bread pudding recipe—it's hard to overcook, and you can even melt down leftover truffles, neglected caramels, or long-forgotten Easter bunnies into the custard base.
The most important thing, says Hart, is the chocolate. For her predominant base, she uses a 75-percent-cacao single-origin Ecuadorean bar from Vintage Plantations in Portland. "It's like making beef bourguignonne," she says. "You can use a cheap wine, but if you spring for a good bottle it makes all the difference."
Chocolate Bread Pudding
(Serves 10–12)
8 cups stale baguette, cubed (or a combination of about 6 cups bread, plus any bits of leftover cake, cookies, and brownies) 
1 stick unsalted butter, melted 
3 cups whole milk 1 ½ cups heavy cream 
12 oz bittersweet chocolate (65–75 percent), chopped, plus any sweets left over from the holidays 
1 cup sugar 
6 large eggs, yolks only 
TOSS bread cubes with melted butter and set aside in a large mixing bowl.
HEAT milk and cream to a simmer, and vigorously stir in chocolate until all of it is melted.
COMBINE egg yolks and sugar in a large bowl and slowly temper in the chocolate-cream mixture by adding up at a time and stirring hard.
POUR chocolate custard over the butter-soaked bread and let sit for at least an hour.
BAKE in a buttered 8-by-13-inch casserole dish at 350 degrees for about 40 minutes, or until the center is just set.
SERVE warm with vanilla ice cream, or whipped cream blended with whiskey.