Pour
Puttin' on the Spritz
Clyde Common's Jeffrey Morgenthaler spills the secrets of bottled, carbonated cocktails.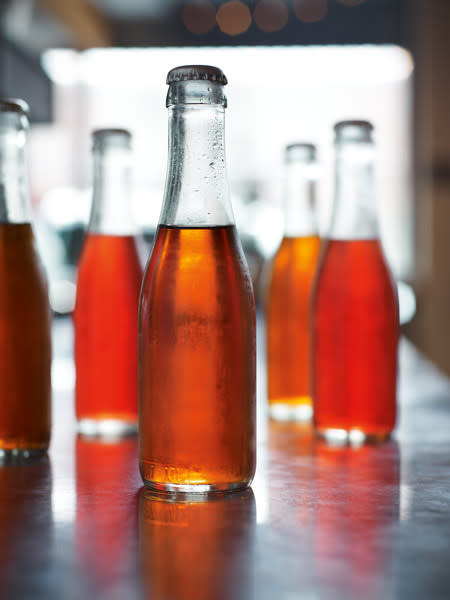 IT'S A BARTENDER'S DREAM: A customer bellies up and orders an Americano. Instead of carefully measuring out jiggersful of Campari and sweet vermouth, peeling and gently "expressing" the oils from an orange, and finishing it with club soda, you grab a bottle from the fridge, pop the cap, and hand it over. Done.
This is how the future looks in Jeffrey Morgenthaler's growing world of carbonated cocktails. At Clyde Common, he mixes European-style "café cocktails" (generally, mixtures of low-alcohol bitters, fortified wine, citrus oil, and a sparkling component) in batches, carbonates each using a CO2 cartridge, then bottles and refrigerates them—precluding any need for club soda or ice cubes. The result is not only charming, it's thirst-quenching and food-friendly, with a long flavor and an essence of sparkle at its core.
Morgenthaler's interest was first piqued when he tried a carbonated pisco and fruit juice cocktail at Chicago's Aviary, known for its mad-scientist approach. He returned to Portland and began experimenting with lighter, spirit-based cocktails that wouldn't spoil—the Americano, the Bicicletta, the Aperol Spritz. It worked. "We go through a case and a half a week, and people just love them," he says. The best part? This party-perfect, bottled blend of earthy, sweet, bitter, and tart can be easily (and cheaply) captured at home.
BROKEN

BIKE
(fills 4 six-ounce bottles)
YOU'LL

NEED

:
iSi Twist 'n Sparkle carbonator ?($46 and up, all prices from amazon.com)
187 mL Champagne bottles ($24/case)
Bottle capper (from $12)
Bottle caps (144 caps for $1.50)
INGREDIENTS

:
5.5 oz Cynar
7.5 oz dry white wine
11 oz filtered water
1 lemon, peeled and zested ?into mixture

(1) MIX ingredients, cover, and chill (with lemon peels) overnight. (2) STRAIN out solids and pour into carbonator. (3) CARBONATE according to manufacturer's instructions, and pour into bottles. (4) CAP with crown caps and refrigerate.