RECIPES
Spring-Fresh Recipes
With the farmers markets back in full swing, we offer five recipes from local chefs and farmers for making magic out of seasonal bounty.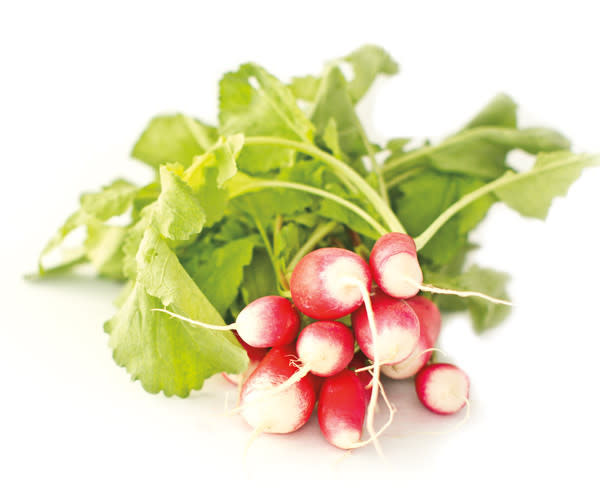 MAY MARKS THE start of our farmers markets' high season. From the region's granddaddy, the sprawling, 150-plus-vendor Beaverton Farmers Market, to the lovely intimacy of the People's Food Co-op parking lot, more than 40 markets across the city and suburbs will be bustling—at least one for every day of the week. We tapped a sampling of our favorite chefs, market vendors, and farmers to share some of their favorite simple, spring-fresh recipes. The results, we promise, will prime your discerning palates for the continuing bounty. 
French Breakfast Radishes
RECIPE FROM Abby Fammartino
FARM-FRESH CREDS Since launching her weekly supper club, Abby's Table, in 2008, Fammartino has immersed herself in Portland's farmers market ethos with unfussy, feel-good cuisine, using fresh produce from all ends of the local spectrum.
WHY RADISHES? "They're a great internal cleanser; they help remove animal proteins and fats from the body, and provide bright color and crunch to a salad."
WHERE TO GET THEM "Breakfast radishes are abundant at many farms in the springtime: Deep Roots Farm, Groundwork Organics, and Winter Green Farm. Gales Meadow Farm sells lemon balm."
FAVORITE FARMERS MARKET Hollywood
FAVORITE COOKBOOK "A Spoonful of Ginger by Nina Simonds. It's one of many long-standing favorite cookbooks that accent fresh, healthy food with bold, bright flavor. And there are great 'food as medicine' tips throughout to educate the reader about how to cook for health."
Shredded Radish Salad with Lemon Balm Vinaigrette
Serves 2–3
2 bunches French breakfast radishes
1–2 cloves fresh garlic, finely chopped
4 heads baby gem lettuce
1 tbsp finely chopped fresh lemon balm
½ cup extra-virgin olive oil
½ cup lemon juice or white wine vinegar
2 tbsp local raw honey
Sea salt and freshly ground black pepper, to taste
(1) SLICE radishes into matchsticks, and toss with garlic. (2) RINSE gem lettuce and carefully section off into cups. (3) WHISK remaining ingredients together for the vinaigrette, and dress the radishes and garlic generously. (4) FILL lettuce cups with radish salad, and enjoy!
Beets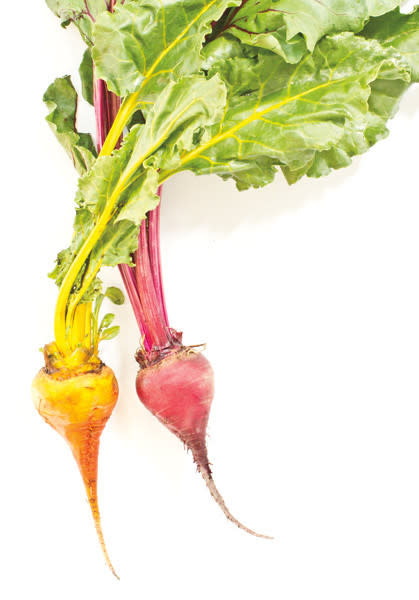 RECIPE FROM Katie & Jesse Hancock
FARM-FRESH CREDS This duo started one of Portland's first commercial pickle operations, Unbound Pickling, transforming farmers market hauls with supreme puckering potential.
WHY BEETS? "They give off such a beautiful color that reminds us of springtime. These pickles are great tossed in a salad, topped with bleu or goat cheese on crackers, or served on the side with sandwiches."
FAVORITE LOCAL RESTAURANT Park Kitchen
FAVORITE COOKBOOK "The Joy of Pickling by Linda Ziedrich. It's the book we used the most when we were learning about pickling—it's very comprehensive, plus the author is local!"
Fennel and Orange Pickled Beets
Makes one 16-oz jar
½ lb beets
1 whole fennel bulb, sliced (¼-inch cut), stem removed
1 sprig tarragon
½ tsp whole cinnamon chunks
½ tsp whole allspice
½ tsp whole cloves
½ cup water
1 cup cider vinegar
¼ cup orange juice
¼ cup brown sugar
½ tsp salt
(1) PREHEAT oven to 400 degrees. (2) SCRUB whole beets, wrap in foil, and roast for 60 minutes. (3) SLIP off beet skins and slice them into ¼-inch chunks as soon as they are cool enough to handle. (4) PACK beets, fennel, and tarragon into a clean, 16-oz glass jar. (5) TIE cinnamon, allspice, and cloves in a scrap of cheesecloth. (6) PUT water, vinegar, orange juice, brown sugar, salt, and spice bag in a nonreactive pot, and bring to a boil. (7) REDUCE heat and simmer for 10 minutes, whisking occasionally. (8) RETURN mixture to a boil, and transfer to a heatproof measuring cup with a spout. (9) POUR mixture into the glass jar, leaving ½ inch headspace. (10) WIPE top edge of jar and seal with a clean lid. (Do not overtighten.) (11) ALLOW jar to cool, and refrigerate. Beets will be ready to eat after a week and will keep for up to two months in the refrigerator.
Radicchio
RECIPE FROM JC Mersmann
FARM-FRESH CREDS As the head chef at Gathering
Together Farms, Mersmann is in charge of transforming each season's crop into a verdant feast.
WHY RADICCHIO? "Because of its beautiful transformation from bitter to savory"
FAVORITE LOCAL RESTAURANT Olympic Provisions
FAVORITE COOKBOOK "My all-time favorite is Cooking by Hand by Paul Bertolli. He has so much passion mixed with so much logic. When he talks about making salami, he oozes enthusiasm, while also explaining the ratios, formulas, history, and sense of place. The guy knows way too much."
Grilled Radicchio with Hazelnut Gremolata
Serves 4
1 large head radicchio
4 tbsp extra-virgin olive oil
2 tbsp balsamic vinegar
1 clove garlic, minced
Salt and pepper, to taste
½ cup toasted hazelnuts, chopped
Zest of 1 lemon
1 clove garlic, minced
½ bunch of Italian parsley, roughly chopped
1 pinch salt
1 tbsp extra-virgin olive oil
(1) CUT the radicchio into 8 wedges. (2) COMBINE 4 tbsp olive oil, vinegar, garlic clove, salt, and pepper in a bowl, and add the radicchio wedges. (3) TOSS well to coat, and marinate for 30 minutes. (4) GRILL wedges over high heat until lightly charred and wilted, turning often to prevent burning. (5) RETURN grilled wedges to the bowl, and leave to steam and wilt a few minutes. (6) COMBINE hazelnuts, zest, garlic clove, parsley, salt, and olive oil for gremolata. (7) TOP radicchio with gremolata, and serve with your favorite grilled cut of beef or lamb.
Pea Shoots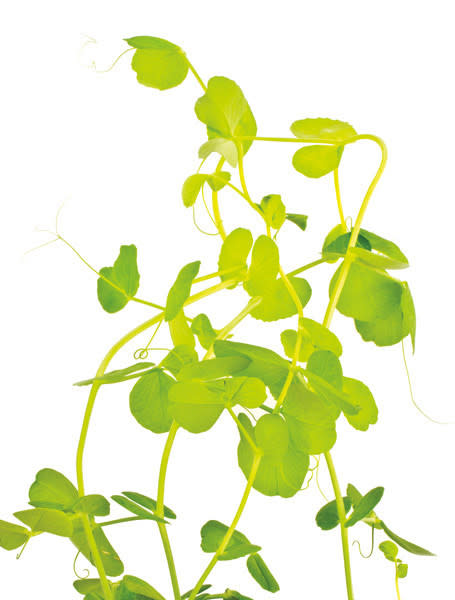 RECIPE FROM Kathryn LaSusa Yeomans
FARM-FRESH CREDS This former Nostrana chef runs
FARMER'S FEAST, a free program dedicated to encouraging domestic culinary arts at the market.
WHY PEA SHOOTS? "Both the pea shoots and the salmon sing of spring. The flavors of this dish are clean, pure, and bright. The combination is just lovely together."
WHERE TO GET THEM "Really anyone who sells peas will more than likely have shoots from March on—DeNoble Farm, Rick Steffen Farm, Gathering Together, Deep Roots, Groundwork Organics, C&K's Flower Garden, Lucky Farms."
FAVORITE COOKBOOK "My favorite kitchen-basics cookbook is La Varenne Pratique by Anne Willan, but I also love all of Lidia Bastianich's cookbooks for Italian inspiration, and Diana Kennedy's cookbooks for Mexican classics."
Spring Salmon with Lemon Cream and Pea Shoots
Serves 4
1 ½ cups heavy cream
1 whole lemon peel, no white pith
½ lb salmon
Salt and pepper, to taste
1 tbsp extra-virgin olive oil
1 bunch pea shoots, chopped into ½ inch pieces
1 lb fresh or store-bought fettuccine
2 tbsp chopped fresh chives
(1) COMBINE cream, lemon peel, and a pinch or two of salt in a pot, bring to a gentle simmer, and cook for 5 minutes. (2) REMOVE from heat and let steep for at least half an hour. (3) PREHEAT oven to 300 degrees. (4) STRAIN lemon cream mixture to remove lemon peel, and reserve. (5) PLACE salmon on an oiled baking sheet, and season with salt and pepper. (6) BAKE until just done (about 10 minutes), and set aside to cool. (7) WARM olive oil in a skillet over medium-high heat, add pea shoots with a pinch of salt, and stir-fry until wilted (less than a minute). (8) BREAK fish into flakes and add to a separate skillet with reserved lemon cream, gently heating through. (9) COOK pasta in abundantly boiling, heavily salted water, remove, strain, and toss with salmon and lemon cream. (10) ADD chives and wilted pea shoots, and serve immediately.
Strawberries
RECIPE FROM Leslie and Manuel Recio
FARM-FRESH CREDS From their fertile plot on Grand Island, near Dayton, the Recios run Viridian Farms, bringing superfresh heirloom varieties from all over Europe to the Northwest's soil.
WHY STRAWBERRIES? "They're the symbol of spring and early summer. Because we pick them in such abundance, jams and desserts are almost second nature during the berry season. What's harder is using a traditional fruit in a new and creative application, like risotto."
FAVORITE COOKBOOK "Cocina en Casa con Martin Berasategui. It's a great cookbook from the Basque Country, conveniently organized by ingredient. It was written by one of the world's best chefs, and I haven't found a recipe in it that my family hasn't loved or that I thought was too intimidating."
Strawberry Risotto
Serves 4
6 ½ cups vegetable stock
6–7 tbsp butter, divided
1 medium onion, chopped
2 cups Arborio rice
1 ½ cups dry white wine
3 cups strawberries, hulled ?(a few sliced and set aside, ?the rest mashed)
1 cup light cream or half and half
Salt and pepper, to taste
1 tbsp balsamic vinegar
(1) BRING stock to a simmer in a large pot, and keep over low heat. (2) HEAT half the butter in a large sauté pan over medium heat. (3) ADD onion to sauté pan and cook over low heat until translucent. (4) ADD rice to onion and cook, while stirring, until coated with butter. (5) POUR in wine and cook until absorbed. (6) SLOWLY add vegetable stock, one ladleful at a time, and stir consistently for 20 minutes, or until the risotto is at desired doneness. (7) ADD mashed strawberries about halfway through the cooking. (8) REDUCE heat to low when risotto is almost finished, stir in cream and remaining butter, and season with salt and pepper. (9) TOP with reserved sliced strawberries and serve.