POUR
Strong Roots
Impress your guests and drink to your health with Kevin Ludwig's carrot margarita.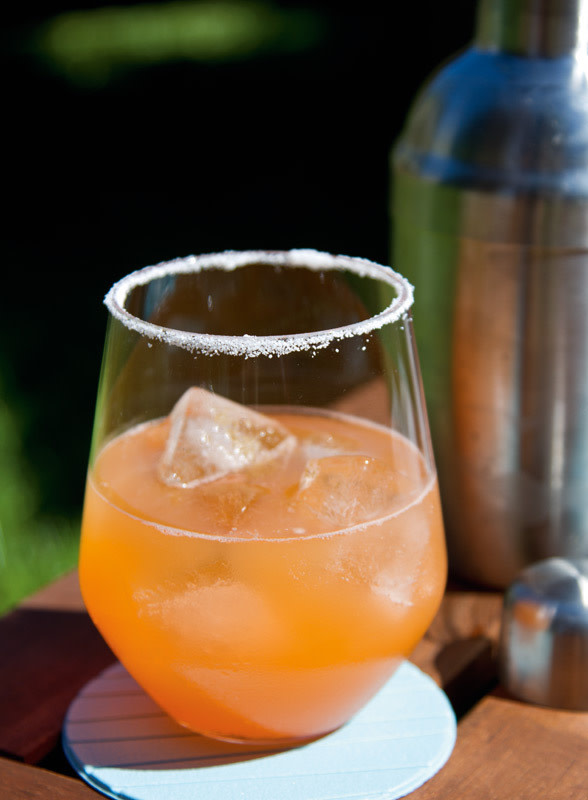 NOTHING SCREAMS SUMMER like a margarita. So sweet, so sour, so festive. But after a couple of rounds, a little limey, a little sugary, a little … boring. Variety beckons. Maybe you blend in a handful of Northwest blackberries. Maybe some fresh herbs. Or, if you're Kevin Ludwig, you go rogue and reach for the carrots.
Ludwig came up with this rooty take on the Mexican standard back when he was tending bar at Park Kitchen, and was in rotation at Beaker & Flask until it closed in 2013. "I was getting into juicing vegetables," Ludwig recalls. "I've tried everything—most of the time it doesn't work." He encountered numerous failures during this period of experimentation (onions were particularly vexing), but endured to discover some unlikely combinations. The potential to spin off a variation on the margarita—what Ludwig calls a "zanahorita" for zanahoria, Spanish for carrot—revealed itself after a lark: adding the pungent tingle of cumin to a glass of carrot juice. He brightened the formula with traditional citrus (orange juice as well as orange-scented triple sec) then added a savory high note of cilantro-infused simple syrup.
Yes, carrots sound like an odd choice for a summer drink. But, as Ludwig notes, "You get a bit more of the vegetal quality out of the tequila, and that pairs well with the carrots." The secret? Ludwig says his concoction is best freshly juiced, capturing that rooty punch before it fades. 
ZANAHORITA
Kosher salt
1 lime wedge
Ice cubes
2 oz tequila (preferably reposado)
1 oz fresh carrot juice
¾ oz fresh lime juice
¾ oz triple sec
½ oz cilantro syrup*
¼ oz orange juice
Pinch of ground cumin
(1) SPREAD a little kosher salt on a small plate.
(2) MOISTEN the outside rim of a chilled rocks glass with the lime wedge,
and, holding the glass at an angle, roll the outside rim in the salt.
(3) FILL the glass with ice.
(4) FILL a cocktail shaker halfway with ice, and add tequila, carrot juice,
lime juice, triple sec, cilantro syrup, and orange juice.
(5) COVER and shake vigorously for 15 to 20 seconds.
(6) STRAIN into the glass, garnish with cumin, and serve immediately.
*CILANTRO SYRUP
½ cup granulated sugar
½ cup water
1 bunch fresh cilantro, stems included
(1) COMBINE sugar and water in a small saucepan, and bring to a
boil over medium-high heat, stirring to dissolve the sugar.
(2) REMOVE from heat and add cilantro.
(3) SET ASIDE to cool to room temperature, about 1 hour.
(4) STRAIN mixture through a fine-mesh sieve into a jar with a
tight-fitting lid, discarding contents of the sieve.
(5) REFRIGERATE until ready to use, up to 2 weeks.