Out and About
English Summer
Celebrate all things Anglo-style without crossing the pond.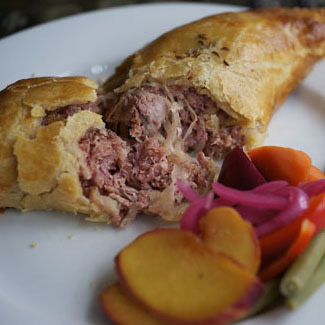 Clearly, the tiny United Kingdom is having a resurgence. Last year's attention-getting royal wedding of that cute couple (Kate and what's-his-name) was just a warm up. This year, Queen Liz celebrated her Diamond Jubilee (that means she's sat on the throne since 1952). Wimbledon, the oh-so-proper annual celebration of tennis played in white clothes on green grass, takes place June 25-July 8 (I always remember it as coinciding with our Independence Day). And the Olympics are happening this summer in London (remember?) beginning Sunday July 29 and running (and jumping and swimming and cartwheeling) two weeks through August 12.
Thank goodness there are ways to celebrate the English Summer at home here in Portland too. Thursday June 21, Anglophilia will erupt in Kenton at Salvage Works, with the opening night party for an exhibit of eight local artists expressing the sentiment "God Save the Queen." Expressions promise to range from "Freddie Mercury to Sid Vicious to queen bee."
Salvage Works co-owner Rachel Browning's generations-old family collection of Royal Family memorabilia was evidently the impetus for said exhibition, but clearly the Britmania in the air gave her an excuse to reveal her and her brother's British heritage and the "queen-o-belia" she has been collecting, having been inspired by "inheriting her English grandmother's starter collection." The exhibit will be accompanied on opening night by appropriately punk live music from "Sex Pistols-inspired" band Gutter.
Check out these other Brit-centric places to keep your own English Summer in Portland rocking on:
The Fish and Chip Shop serves up authentic you-know-what (and Brit beers too), in a hole in the wall spot on North Killingsworth (not far from Salvage Works; stop in if you're still hungry after the cucumber sandwiches in Kenton). 1218 N. Killingsworth Street, Portland (503) 232-3344
For a daintier experience, visit Lady Di's British Store and Tearoom in downtown Lake Oswego. They stock a slew of British packaged grocery items (Marmite Vegemite, Cadbury, plus more obscure brands) and have the trad tea and scones scene covered. 420 2nd Street, Lake Oswego (503) 635-7298
And for a taste of Cornwall via Wisconsin, get a pasty (to eat in or take away) at Saraveza, the Cheesehead-state-themed tavern and bottle shop that makes and serves the best Cornish pasties in town. 1004 North Killingsworth Street, Portland (503) 206-4252
God save the Queen, indeed! What's next, a revival of Laura Ashley and cabbage roses?