Cover Story
Relax: 50 Ways to Spoil Yourself This Season
For a season famous for good cheer, the holidays can prove pretty stressful. Fortunately, we've found 50 ways to soothe your soul (and mind, and body, and appetite) this winter.
We Portlanders know how to do a lot of things well: eat, drink, and—as it turns out—relax. Yup, the Rose City ranked as the fourth most relaxed city in America, according to Forbes magazine's 2010 stress survey. But just in case the hectic holiday season has left you temporarily frazzled, we've mapped out a few surefire paths to peace of mind. Fifty of them, in fact, from soul-soothing comfort foods to knot-melting massages and good old-fashioned retail therapy. So settle in with your coziest sweater and a cup of nog, and indulge in an exploration of Portland's best ways to unwind. (And, no, wearing a Snuggie is not one of them. Ever.)
1

Grown-Up Mac and Cheese

In the pantheon of comfort foods, nothing says home quite like the gooey warmth of mac and cheese. Victory Bar ratchets the Kraft classic up a notch with a German-inspired version: a bowl of tender baked spätzle doused in gruyère cheese with crispy fried shallots sprinkled on top and a house-made pork sausage on the side. Danke, Deutschland!
3652 SE Division St; 503-236-8755
2

Sweet Steams

Sweating doesn't always require a workout, and Löyly's modern steam retreat ($15 per hour) is the proof. The traditional Finnish dry cedar sauna eases your muscles while the steam room revitalizes your skin, lungs, and mind in an opaque fog of herbal scents. And because silence is strongly encouraged, you can enjoy your sweat session without interruption.
2713 SE 21st Ave; 503-236-6850

3

Get Down

When it comes to winterwear, there are down jackets, and then there's Nau's Cocoon Trench ($300). More sleeping bag than coat, this new masterwork from Portland's green-leaning outdoor apparel company is a sharply tailored envelope of quilted 650-fill goose down. Wherever you go, you'll feel like you're bunked down in the coziest cabin on the mountain.
Available at lizard lounge, 1323 NW Irving St
4

Shave and a Haircut … and Scotch

Scruff is often a symptom of stress. Banish both with an invigorating trio of services at the Modern Man Barber Shop & Gentleman's Supply, a new retro-masculine barbering house tucked just off of NE Alberta Street. Forty-two bucks will get you washed, clipped, and clean-cut (or if you're part of Oregon's unemployed 10 percent and have a job interview, they'll shear your head for free). Start with a complimentary beer, whiskey, or scotch; finish with a slap of cologne and cigar. Better already!
5018 NE 22nd Ave; 503-284-6008

5

Super Soaker

Visit any of the Portland salon and spa mini-empire Dosha's five locations, and you're guaranteed to walk out looking, feeling, and—thanks to their liberal use of herbal Aveda products—smelling better. But only the Hawthorne location offers you free access to a gorgeous slate soaking tub. You've got to book either a body treatment or facial to earn entrance to this lavish land of calm upstairs, but it's well worth it. After your pampering, rinse off in private showers big enough to turn somersaults in, then indulge in the steam room before heading straight for that tub … and jets so strong you might not even need a massage after all.
3490 SE Hawthorne 

Blvd

; 503-228-8280
6

Candlelight Yoga

Mellow music, candlelight, and a room for 15? Make a date with Corepower Yoga, complete with flattering lighting. Monday through Thursday evenings the seven-year-old yoga studio's NW Quimby Street location transforms its space with a dozen

LED

candles for an hour of beginning to intermediate yoga ($18) guaranteed to help you stretch your way to serenity (chocolates and flowers not included).
2277 NW Quimby St; 503-226-9642
7

High-Rise Hot Tubs

Plenty of hotels in town have in-room jetted tubs, but the Hotel Vintage Plaza is the only place we know of that affords a private al fresco soaking experience … nine stories up. The chic downtown hotel's little-known garden suites (there are only three, starting at $289) come with cedar tubs on private balconies overlooking the city lights. Frankly, we can't think of a better reason to spend a night away from home.
422 SW Broadway; 503-228-1212
8

Hands-Free Housecleaning
If the impending arrival of your relatives has you sweating the shape of your house, let Scott Anderson help. Just supply Anderson, a full-time family man and professional housecleaner, with your cleaning supplies and let him do battle with your dust bunnies ($20 per hour) while you focus on things that really matter—like ticking off items on that gift list.
503-989-3640

9

Mug Shop

Sellwood's Cypress Beauty & Wellness spa menu boasts not one, not two, but 11 facials, from a 40-minute fast fix to the Platinum Age-Defying facial, a 75-minute time-rewinder that uses customized microdermabrasion and oxygen infusion to erase age's footprint. Whatever you choose, by the time you emerge from Cypress's beds, you'll be wishing you could kiss your own face.
1616 SE Bybee Blvd; 503-236-4654

10

Throw Punches

Pound out frustration on the pads this winter with one of Portland's growing fitness trends: krav maga. This Israeli self-defense technique combines punching, kicking, and grappling into hourlong workout sessions sure to leave you breathless. Get a taste at the newly opened 360 Krav Maga, where head instructor Erik Knoedler (one of only two graduate level 5 instructors in the country) teaches free introductory classes by appointment.
11774 SE Jennifer St, Clackamas; 971-925-6210

11

Snug Sipping

Portland's coziest new watering hole comes courtesy of a local dream team: Stumptown founder Duane Sorenson, former Clyde Common and Olympic Provisions chef Jason Barwikowski, and former Laurelhurst Market bartender Evan Zimmerman. The aptly named Woodsman Tavern is a dark-wooded, heavily wainscoted nook on SE Division Street, with walls covered in framed paintings of woodsy scenes and tables lit by antique sconces. In short, this is exactly where you'll want to crawl into a corner booth, bourbon cocktail in hand, and melt into the dark.
4537 SE Division St; 971-373-8264; woodsmantavern.com

12

Family Face Time

Soften up the in-laws, literally, by booking them a room at the Nines Hotel (from $192). The luxe boutique retreat recently partnered with the Pearl District's Aequis Spa to develop three guest-only treatments. If your mother-in-law doesn't love you after the Elegance 9 Facial ($299), she never will.
422 NW 13th Ave, 503-223-7847; 525 SW Alder st, 800-325-3589

13

Trigger Happy

Unleash your inner Dirty Harry and a little of that pent-up aggression at the Place to Shoot, one of the only indoor ranges in Portland where you can take target practice ($35) without being a member of an exclusive gun club. If you've never shot a gun, the Place to Shoot provides gun safety and handling courses, too. Catharsis never felt so, er, explosive.
904 N Hayden Meadows Dr; 503-283-1995
14

Knotty Pleasures

Tension seems to have a special place in its heart for our neck and shoulders. Fortunately, the muscle maestros at Blooming Moon Wellness Spa know where it likes to hide. Stop into this remodeled foursquare house for a 30-minute head-and-neck massage ($45) … then stay for "Happy Hour," a discounted foot soak and massage accompanied by wine and appetizers from nearby Hop & Vine, every night from 4 to 6 p.m. ($45)
1920 N Killingsworth St; 971-279-2757

15

Little Italy

The moment you walk into

DOC

's intimate, candlelit dining room, your worries will melt like a pat of butter in a cast-iron pan. Submit to the bliss of the chefs' nightly tasting menu, and forget what's going on outside the enormous curtain-draped windows. Six plentiful courses of bright, flavorful Italian food will magically appear in the flickering glow—oysters, soups, risottos, fresh pastas, hearty entrées, and desserts—alongside liberal pours (and refills) of hand-selected worldly wines. Your only job is to enjoy it as it comes. That part shouldn't be too hard.
5519 NE 30th Ave; 503-946-8592
16

Woolly Zen

Skein after skein of tactile therapy—a rainbow of merino, cashmere, and lambswool—spills from the alderwood shelves of Hawthorne's Happy Knits shop. Up your dosage by heading to the back room (a former recording studio), where a pot-bellied stove, crystal chandelier, vintage couch, project table, and kiddie playroom await drop-in crafters looking for a comfortable space to knit and purl their ounce of cure.
1620 SE Hawthorne blvd; 503-238-2106

17

Wear out the Wee Ones

With our eight months of rain, even the most well-behaved kids eventually succumb to cabin fever. Cure their winter woes, and your frayed nerves, at Evergreen Aviation Museum's sprawling indoor waterpark (from $15). With 10 waterslides and a wave pool—not to mention a hollowed-out 747 on the roof that doubles as a waterslide—you'll have a blissfully quiet car ride home.
500 NE Captain Michael King Smith Way, McMinnville; 503-434-4185

18

Find Harmony

Flickering screens, blaring televisions, and clamoring stereos can add up to sensory overload. Opt for complete digital escape with renowned Israeli violinist and conductor Pinchas Zukerman's performances at the Arlene Schnitzer Concert Hall, December 3–5 (from $21). Deftly wielding both his instrument and a baton, Zukerman will lead the orchestra through an evening of pieces by Schumann, Rossini, Tchaikovsky, and Haydn, rejuvenating your mind the old-fashioned way.
1037 SW Broadway; 503-228-1353
19

Beats for the Bathtub

20

Lavish Floor Décor

21

Happy Feet

22

Z-Ohm Out

23

Hot Wheels

24

Soaking Season
25

Wine Tasting Sans Traffic

Skip the drive to wine country by tasting right in town at Enso Wine Bar. For $5, you can sip your way through the winery's current releases, all made on-site from local grapes, plus sample guest wines, beers, salami, and cheese from the comfort of a thick-cushioned couch in Enso's garage-chic tasting lounge.
1416 SE Stark St; 503-683-3676

26

Staycations

Snuggled up on the Willamette's shore, RiverPlace Hotel rewards you just for being you: from now through February, locals can snag a 30 percent discount at this high-end hotel any Sunday (from $139).
1510 SW Harbor Way; 503-228-3233

27

Detail Work

Portland men, we get it: for all your post-metrosexual coolness, spas still give you the willies. And yet you abuse your digits with all that hiking, cold-weather biking, and artisan whittling class. The solution lies in Akasu's special "men's menu." A full "detailing" session ($70)—known, in the women's world, as a mani-pedi—provides much-needed clipping, scrubbing, and cleaning, plus a chance to chill in a beautifully restored Victorian house with enough wood flooring and modern décor to keep your macho side from freaking out.
2037 N Williams Ave; 503-287-3813

28

Mother's Knows Best

Chili is one of winter's go-to meals, in part because of its hearty deliciousness, and in part because a single pot can last days, making dinner (or lunch, or sometimes, yes, breakfast) a stress-free affair. If Grandma hasn't shared her secret recipe yet, try Mother's Bistro chef-owner Lisa Schroeder's easy version, which can be made in just a couple of hours, and probably without a trip to the grocery store. —BT
CHILI CON CARNE 
(serves 10-12) 
¹/³ cup canola or other vegetable oil, divided
2 lbs ground beef
4 medium onions, peeled and chopped
4 cloves garlic, peeled and minced
¼ cup chile powder
1 tsp ground cumin
¼ tsp crushed red chile flakes
1 tsp oregano
2 bay leaves
1 28-oz can tomatoes, NOT drained
3 20-oz cans red kidney beans, NOT drained
1 tbsp salt
2 tsp freshly ground black pepper
3 tbsp cider vinegar
(1) HEAT a dutch oven or wide sauté pan over high heat and add half the oil. (2) ADD ground beef and sauté until slightly browned, about 10 minutes, then season with 1 tbsp salt and ½ tsp black pepper. (3) REMOVE meat from pan with a slotted spoon and set aside, reserving as much fat in the pan as possible. (4) ADD remaining oil and onions, and sauté until onions brown around the edges; then lower heat to medium and continue to sauté until lightly golden and very soft. (5) ADD garlic, and sauté for one minute, then add chile powder, cumin, and chile flakes, and cook while stirring for another minute. (6) RETURN the meat to the pan, and add oregano and bay leaves. (7) SQUISH tomatoes with your hands or a fork, pressing against the sides of the can, and add them with their juices, along with the beans and their liquid. (8) SEASON with remaining 1 ½ tsp pepper. (9) BRING to a boil, then lower heat and simmer, uncovered, stirring now and then, for about 90 minutes. (10) ADD vinegar and simmer another 15 minutes.
29

Sweet Somethings

Since James Beard Award–winning baker Kim Boyce moved to town last year, she's been treating Portlanders to her fresh-baked ideas at local spots like the Daily Café and Ristretto Roasters. (And soon she'll open her own space on NE Sandy Bouldevard.) But her unmatched chocolate orange pecan scones—buttery pillows swirled with creamy chocolate and ground pecans—prove there's more than just comfort in carbs; there's also artistry.
Available at Daily Café and Ristretto Roasters
30

Eastern Art

One of Portland's most-visited tourist destinations, the Japanese Garden ($9.50), actually gets better in the winter, when the crowds stay indoors and the rain provides soothing aural and visual stimuli. You may not be able to move mountains at work, but a calm, clear mind will help you tunnel through them. Find your Zen moment with a stroll through the Japanese Garden's five distinct areas to the karesansui, or Sand and Stone Garden, where carefully placed stones and blank spaces make room for quiet contemplation.
611 SW Kingston Ave; 503-223-1321

31

Fuzzy Feelings

Research has shown that petting animals can reduce stress, enhance your mood, and even lower blood pressure. But if you don't have a furry friend at home, you can still reap those benefits with the Oregon Humane Society's "Running With Dogs" program. On weekends, qualified volunteers can take high-energy canine critters running near the Kennedy School. The dogs earn a bit of freedom and more social confidence; you gain a relentless—and adoring—personal trainer.
1067 NE Columbia Blvd; 503-285-7722

32

Body Work on the Go

If that last meeting with a prickly client left your shoulders in knots, spend your coffee break at Spa Sassé. The underground retreat smack in the heart of downtown boasts a menu of more than a dozen massages including a 15-minute quick fix ($20). Still tied up at the end of the day? Book a 90-minute hot stone massage, guaranteed to gently banish the worst of your workweek woes.
630 SW Alder St; 503-228-8266

33

The Pearl Is Your Oyster

Christmas shopping on your own takes two hours. With the kids, try four. WeVillage Childcare can help you regain lost time. Located right on the streetcar line, this Pearl District center will play, draw, sing, dance, and even whip up organic meals for 2-to 12-year-olds while you enjoy some whine-free browsing ($15 per hour). The best part? There's no need to plan ahead. Just drop your rug rats off and go. And if you get done early, WeVillage gives discounts to members for nearby salons and gyms. After all, a little me-time is probably in order after shopping for them.
424 NW 11th Ave; 503-935-5590

34

Pot of Gold

Some foods have the power to transport you—from your foul mood, from those lingering flulike symptoms, from that deadline bearing down on you. Blueplate, an old-school lunch counter and soda fountain, seems to serve most of them: meatloaf, sloppy joes, grilled cheese, and creamy milkshakes. The real star, though, shows up only on Tuesdays, when the aroma of Grandma's Pot Roast fills this casual eatery, and tender chunks of falling-apart brisket with carrots and whole potatoes fill your plate.
308 SW Washington St; 503-295-2583

35

Chic, Cheap Style Finds

Retail therapy is a lovely thing, but guilt is not. Modo has the answer in its well-curated jumble of designer and used fashion. Here, Louis Vuitton bags commingle with jaunty J. Crew pullovers and excellent oddities. (Zip-up Italian cowhide boots? $80? Si!) The shop's pricing system rewards repeat business, too: items get progressively cheaper each month they're on the floor, with the discount schedule spelled out on the price tag.
729 E Burnside St, suite 103; 503-232-3056
36

Clay That Calms

In our ever so digital world, it can be easy to forget that creating something out of an actual substance can be comforting. Reacquaint yourself with your hands (and your sanity) through the very tactile art of pottery-making at Radius Community Art Studios, which teaches classes for a range of experience levels. If a six-week series (from $200) is too much commitment, you can always use Radius's open studio for a mere 5 bucks an hour.
322 SE Morrison St; 503-231-4145

37

Pamper Your Peds

Give your feet the respect they deserve with a trip to Fit Right NW, where running-shoe specialists will perform a free in-depth gait analysis to ensure you've got the proper kicks. A videotaped treadmill run will reveal any footwork flaws, like overpronation, and then you get to play Cinderella: Fit Right's shoe sleuths will haul out a bevy of sneaks for you to try on until you find your happily ever after.
2258 NW Raleigh St; 503-525-2122

38

Deep Breathes

Decompress, literally, in one of Barre3's yoga-meets-ballet classes, where the focus is as much on breathing as it is on sweating. This Portland-born workout trend (the first studio opened here in 2008) combines Pilates-style core-strengthening with ballet's muscle-lengthening bar exercises in hourlong workouts ($20) that home in on aligning and balancing your body, giving you the energy to make it through another Oregon winter.
Multiple locations; 503-206-4453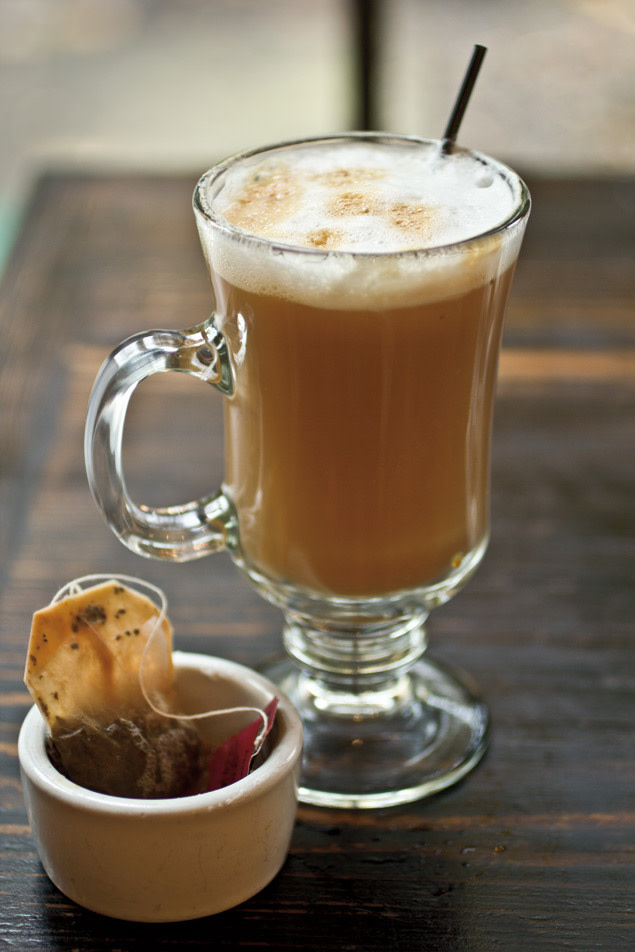 39

Liquid Cures

According to the experts (Café Nell's bartenders), the therapeutic powers of the hot toddy are undeniable. Indeed, their menu of six variations—from the eye-opening Nell Coffee (Buffalo Trace bourbon, Grand Marnier, coffee, cinnamon, vanilla, and heavy cream) to the soothing black tea toddy (rye whiskey, milk, and honey)—all but assures the Dayquil can stay in the medicine cabinet.
1987 NW Kearney St; 503-295-6487

40

The Road to Relaxation

Rushing water is nature's sonic blankie. That makes the Historic Columbia River Highway, just 30 minutes from downtown, an ideal refuge from pressure-cooked days. From the Corbett exit on I-84, turn onto the scenic blacktop and access more than half a dozen roadside cascades, like wispy Latourell Falls and postcard-pretty Multnomah Falls (enjoyed this month with winter-lite crowds). And should your tummy require soothing, Multnomah Falls Lodge dishes comfort in the form of huckleberry pancakes and meaty salmon hash in a setting that's a world apart from Portland's hurly-burly brunch scene.

41

Tropical Salvage

In the last five Miss America pageants, Miss Hawaii has made the top 10 four times—and we think we know why. Discover the secret yourself at Kanani Pearl Spa, where friendly staff specialize in swaddling you in luxurious body wraps inspired by ancient Hawaiian healing practices. The espresso mud wrap ($122) remains a spa favorite. Start with a steam shower, then graduate to a full-body rub-down with an exfoliating mud mixture enhanced by finely ground Arabica coffee, Indian tobacco, and sarsaparilla. After 15 minutes cocooned with this rich mixture, another rinse, and a slathering of skin-softening kukui nut moisturizers, you'll be practicing your own victory wave.
1111 NW Marshall St; 503-242-5500
42

Fan the Flames

43

Little Piggy Perk Up

44

Winter Warmers

45

Medicine That Goes Down Easy

46

Cups That Runneth Over
47

Ball Games

Bad day with the boss? Car costing you a fortune? Head over to Beverly Cleary School's Fernwood campus Monday nights and take your frustration out on some not-so-innocent bystanders at Recesstime Sports' drop-in dodgeball games ($4). What tension you don't relieve by beaning someone with a rubber ball you'll laugh off in this ridiculous (and absurdly fun) sport.
1915 NE 33rd Ave; 503-381-5056

48

Deluxe Dinner and a Movie

The Living Room Theaters' elegant bar-cum-cinema transforms ordinary moviegoing into extravagance with a menu that features divine thin-crust pizza, gourmet panini, and heavenly local chocolates from Missionary. When you're ready, stroll into one of six intimate theaters with your wine glass and sink into a plush loveseat for one of the best selections of indie and foreign films in the city (from $5). You'll find yourself wishing for a double feature.
341 SW 10th Ave; 971-222-2010
49

Tough Day Après

The next time you have a particularly taxing day at the office, try swapping that post-work wine for a cup of kava, the soothing Polynesian elixir. Used ceremonially and medicinally for thousands of years, kava is a mixture of water and Piper methysticum root. For islanders, it has long served as an anxiety and insomnia treatment, muscle relaxant, and social drink. At the Bula Kava House in Southeast Portland, pick your blend from a small menu, sip it from a coconut shell, and let the euphoria blossom. Now that's what we call a happy hour.
3115 SE Division St; 503-477-7823

50

Sweet Dreams

Wrap yourself in luxury with the soft-as-silk Legna sheets (from $912 for a queen set) from French Quarter Linens. Made from Italian beech wood, these woven sheets put your 1,000-thread-count cotton ones to shame.
1313 NW Glisan st; 503-282-8200